College of Engineering Technology
Plastics Technology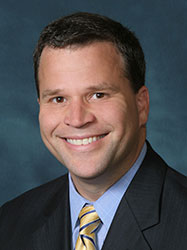 Terry Gohl, vice president of Visteon's global manufacturing operations, quality, MP&L and business practices, leads the drive for quality and streamlined business processes for a company with more than 170 manufacturing sites across 24 countries and its 50,000 employees.
Gohl prepared well for his position beginning with his studies at Ferris State University, where he finished first in his class in Manufacturing Engineering both for his associate and bachelor's degrees. He began his professional career with General Motors' Fisher Body Division as a tooling engineer after his graduation in 1984. By 1998 he was vice president of Lear Corporation's transnational division, becoming vice president of North American operations in 2004 before joining Visteon in 2005.
Throughout his career, Gohl has remained a steadfast supporter of Ferris' College of Engineering Technology through the establishment of co-op and post-graduate programs with the various companies he has represented. He also has served on Ferris' Technical Advisory Board.
Gohl's community service includes his participation in the Visteon Bingo Program at Children's Hospital of Michigan. The program annually has given away as much as $50,000 worth of toys as prizes to raise the spirits of young patients and make them feel like winners.