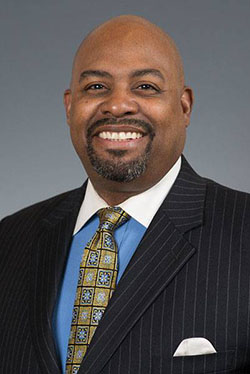 Sean Huddleston, an alumnus of Ferris State University's Doctorate of Community College Leadership program, was recently named president of Martin University in Indianapolis, Indiana.
The Board of Trustees for the private, predominantly black institution, founded in 1977, announced its selection of Huddleston in January 2019. Huddleston previously served as the vice president for Equity and Inclusion at the University of Indianapolis.
"I began my service at the University of Indianapolis in 2017, and as I drove around town, I would see the Martin University sign," Huddleston said. "That is significant to me, as it is my wife's maiden name. I arranged for a meeting with their president, Eugene White, so I could learn more about the university and its mission. I heard about his plans to retire, and he encouraged me to apply."
Huddleston said he was excited about his opportunity with Martin, as the university strives to support students from nontraditional backgrounds, along with those who may have begun their post-secondary education elsewhere.
Word of Huddleston's success brought responses of congratulation from DCCL peers and administrators.
"Sean's passion for and work history with equity and inclusion make him the perfect fit for Martin," said Marsha Danielson, who graduated in the same DCCL cohort as Huddleston. "His DCCL studies prepared Sean to be a mission-driven leader within our ever-changing environment in education. Sean will bring the university to new levels of growth and success."
The DCCL leadership sees Huddleston as a rising star.
"From the time he entered the DCCL program, his classmates and the staff saw Sean as a strong leader who was destined for great things," DCCL Director Roberta Teahen said. "He will do great things for the students at Martin, as well as for all of higher education with his tireless commitment to excellence and equity."