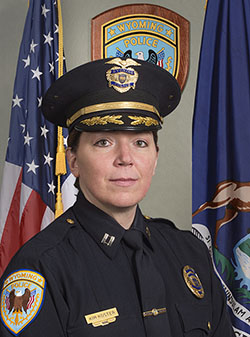 A law enforcement professional who valued the advice of her predecessor is settling into a leadership role with the city of Wyoming's Public Safety operation. Kimberly Koster, who earned her Criminal Justice Administration Master of Science degree from Ferris State University in 2005, has succeeded James Carmody to become the first woman to serve as the city's chief of police and fire services.
"Chief Carmody would say 'Study your craft' to us, which I had already taken to heart," Koster said. "I got into law enforcement due to my love of the job. To progress professionally and explore other opportunities, including the possibility of running the department, I knew I would need more education."
After earning an Applied Associate of Arts, Sciences and Education degree, from what was Grand Rapids Junior College, and a Bachelor of Science from Grand Valley State University, Koster entered her graduate studies at Ferris.
"I chose the Criminal Justice Administration Master of Science program because of its reputation along with positive reviews I had received from peers," Koster said. "I think that choosing Ferris was a critical decision in terms of its impact on my career. The program offered me a greater perspective on considerations like budgeting, planning and critical thinking. I was in class with many of my colleagues in the department and profession."
Koster said she pursued her graduate training along with another Ferris alumnus, Wyoming Patrol Services Supervisor Kip Snyder, who was a standout baseball player for the Bulldogs before graduating in 1992 with his Bachelor of Science in Criminal Justice.
"We take a lot of ribbing from our city manager, Curtis Holt, who is a Grand Valley graduate," Koster said. "When our public safety staff is selecting a program, as part of their continuing education, I don't push them to one university or another, but I am always ready to share my experience and the quality of the learning I found at Ferris."
Koster continued her commitment to training by graduating from the Federal Bureau of Investigation's national academy in Quantico, Virginia, along with participation in Leadership Institute training hosted by the Grand Rapids Police Department, and Police and Command Staff training hosted by Northwestern University in Evanston, Illinois.
"Continuing education is a priority with the city of Wyoming, which they back up with tuition reimbursement," Koster said. "I believe it keeps you fresh as one progresses through their career responsibilities. I have always been impressed with the city's commitment to invest in its staff and its willingness to promote from within so that the community benefits from the learning and experience."
Koster has served the department in a variety of critical roles, including 911 communications supervisor, as a lead detective in homicide investigations, and as a crisis negotiator. Since being sworn in as DPS director, the supervisor for nearly 130 full-time employees, including 86 sworn police officers and 29 full-time firefighters, she has focused her efforts on assembling a leadership team and strengthening her contacts across the city.
"I have been happy to find candidates who are ready for their new roles, with the heart and character necessary to commit to their duties," Koster said. "I value the honest opinions of my staff, who recognize and accept the opportunity to contribute to the department's success. This is also an important time to collaborate with many groups throughout Wyoming and make them aware of my intentions as a leader. I am humbled to be able to take the reins of a first-rate public safety department, with a goal of continuing and furthering the commitment to exceptional service and strong community relations."