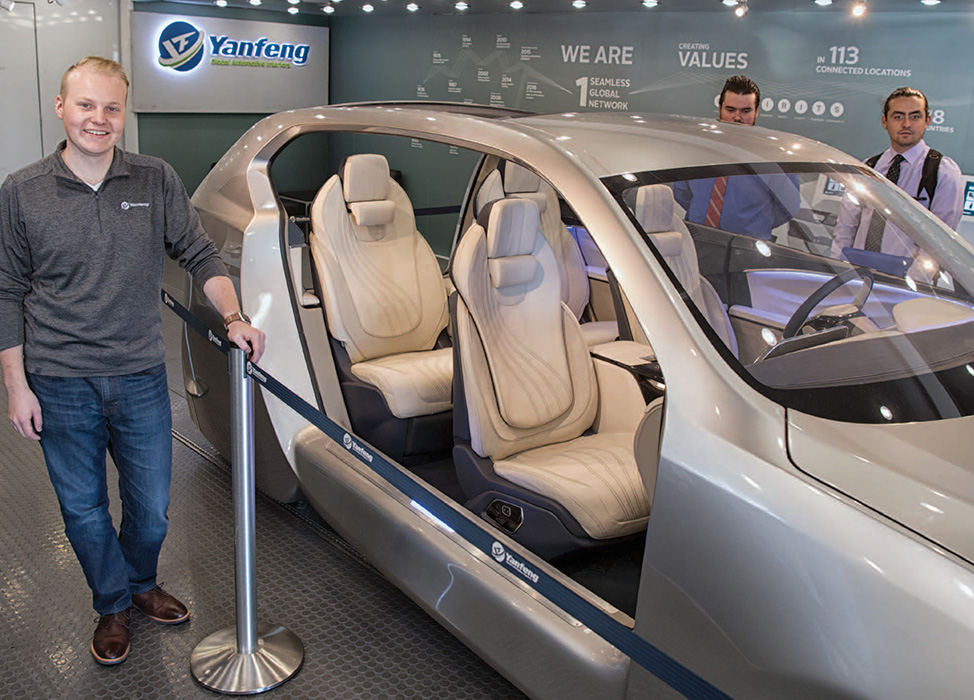 Alumnus Logan England of Hudsonville, Michigan, is used to being on a fast track. In Fall 2013, he enrolled in Ferris State's Bachelor of Science in Business Administration and made quick work of its internship requirement, interning in human resources for Yanfeng Automotive Interiors (YFAI) (then Johnson Controls, of Holland, Michigan) in Summer 2014.
England quickly proved to be a rising star at the organization and was offered a permanent position. Determined to finish his Ferris program while working, he took advantage of its option to complete it online and did so—in only a year and a half. He graduated in December 2015.
"The internship I received through Ferris was instrumental in starting me off on the path to my current career. It allowed me to see, first hand, the industry that I was so passionate about, while being mentored and supported by knowledgeable individuals in the field," said England. "I am certain that I would not be where I am today without that first professional partnership arranged through Ferris' College of Business."
At YFAI, England was named talent acquisition manager for North America in January 2017. He now travels worldwide as a recruiter for YFAI but also makes time to serve as an informal recruiter for his alma mater, as well, returning to campus to share his experiences with prospective students.
On October 5, 2017, he made a return visit like never before, bringing with him YFAI's mobile automotive interiors exhibit for students and staff to tour. Normally reserved for auto shows, the exhibit comprises three semi-truck trailers and includes the ID15, a demonstration vehicle equipped with YFAI's autonomous interior amenities.
"I wanted to share the YFAI Mobile Exhibit with Ferris' campus because I wanted to give back, even on a small scale, for all that the university has done for me," England said. "I hoped that bringing the exhibit to campus would spark interest in students' minds and hopefully allow them to see what kinds of new designs and projects are waiting for them to take to the next level upon their own entrance into the work force."
Professor and Chair of the College of Business' Management Department Gayle Lopez said that England exemplifies the type of connection Ferris strives to maintain with its alumni after they enter working life.
"We ask our graduates to return to campus and become ambassadors for our programs. Logan does that and more," said Lopez. "Alumni like Logan are instrumental for the continued growth and success of Ferris State University."