Alumni Sara and Bob Moylan appeared on an episode of the ABC-TV reality series, "Shark Tank," on Jan. 29, 2016, and accepted investment support from a business tycoon for a women's sports bra produced by their company.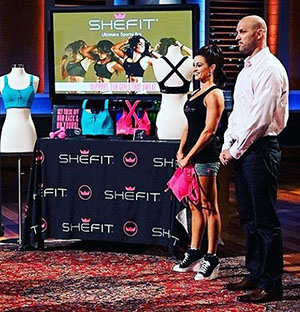 Sara Moylan, the founder and owner of Shefit, was a student in the College of Arts, Sciences and Education in 2000, and a former Ferris cheerleader. Her husband, Bob, is a co-owner of the company. The former Bulldog football player is a 2000 graduate of Ferris' College of Engineering Technology, earning a Bachelor of Science in Construction Management. They agreed to a $250,000 offer from Daymond John, the founder of the FUBU apparel company, in exchange for 33 percent ownership in Shefit.
The Shefit sports bra, in terms of strap configuration and personalized fit, has patented adjustment capabilities. The Moylans incorporated the business in 2013, and have made previous appearances on syndicated and national shows, as well as regional media to promote their products. The majority of their sales are online, with some retail distribution in West Michigan and Detroit-area athletic specialty stores.
The Moylans taped their segment for "Shark Tank" in September, 2015. During the show, participants make their investment pitch to five venture capitalists, who may accept the request individually, work in combination with another investor to accept it, create a counter offer, or reject the proposal. "Shark Tank" has won Emmy awards as the "Outstanding Structured Reality Program" the last two years, and is in its seventh season on the air.