Going beyond translation to reach a fast-growing West Michigan population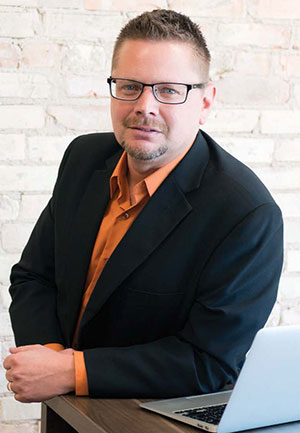 In a 2014 article about business opportunities in West Michigan, Crain's Detroit Businessnotes that the number of Hispanics in Kent County has increased four-fold over the past 20 years, to nearly 60,000 as of the 2010 census. The growth and importance of the Latino community is borne out by Ferris' own fall 2015 enrollment numbers. Latino enrollment increased by 140 students, making it the largest segment of the university's increasingly diverse student body.
One of the businesses looking to serve that fast-growing community is Grand Rapids-based Vias Latino Market Consultants. Co-founded by Ferris and Kendall College of Art and Design graduate Jonathan Barrera Mikulich, Vias helps clients in West Michigan — including ArtPrize, Metro Health and Celebration! Cinema — to tailor their message to Hispanic and Latino communities, which involves more than simply translating from one language to another.
"The majority of the work we do stems from campaigns that have already been developed for a general audience market and making it culturally responsive to the Latino community," says Mikulich, speaking from the company's office in the Madison Square neighborhood on Grand Rapids' south side. "We do that through a technique we call 'transcreation,' which involves a lot more than simply taking a message in English and turning it into Spanish."
An example he gives is a campaign Vias worked on for Experience Grand Rapids, which was promoting the city's hospitality resources for family reunions and other gatherings. A literal translation of the campaign's tagline, "Cool City, Warm Reunions," would lose the phrase's colloquial use of "cool" to mean something that's attractive and in style. Even a translation to capture the colloquial meaning would work for one segment of the Latino community, but not others.
"In Spanish there are words to express 'cool' as an expression depending on what country you're from. For instance, if you're from Mexico you might say, '¡Muy chido!' If you're from the Caribbean you might say, '¡Que chévere!' explains Mikulich. "So the solution we came up with was to use, in place of 'Cool City,' 'Gran Ciudad,' which means, 'Great City.' Plus 'Gran' resonates with Grand Rapids. So we were able to take, not a literal translation, but something that recreated it so that, even though the literal language was different, it captured the original intent of the campaign."
¡Lotería!
As that nuanced transcreation of Experience Grand Rapids' campaign suggests, the cultural landscape Mikulich is working in is not monolithic. While the majority of Latinos in West Michigan are of Mexican descent, the Hispanic Center of Western Michigan notes that the area consists of 11 Latino cultures — to say nothing of the spectrum of mixing that takes place between people of different cultures. Mikulich's own background reveals a complex, multicultural heritage.
Born in Saginaw, Mich., Mikulich grew up in the small town of Marion, less than 50 miles northeast of Big Rapids.
"I'm Eastern European on my father's side, but on my mother's side my grandparents were Mexican immigrants," says Mikulich. "None of my uncles or my mother were bilingual. I became conversationally fluent in Spanish about 10 years ago when I took a hiatus to Mexico for several months. I spent a little time in Puerto Rico as well. The culmination for me was to become interested in marketing to Latinos."
With that interest in marketing and a bachelor's degree in what was then called Visual Communication from Ferris, and an MBA in Innovative ETC from Ferris and KCAD, Mikulich created an infographic for a conference in Chicago about social media as it relates to Latino communities. He created the design in 2011 through his Latino Branding Power, a blog and consultancy that was awarded a 2013 Hispanic Business of the Year Award from the West Michigan Hispanic Chamber of Commerce.
"Latinos are engaging in social media more than other populations — most people don't know this," says Mikulich. "I made the icons in the infographic to resemble a game that's called Lotería, which is a very well-known game of chance from Mexico. It's been around for generations. It's very similar to bingo, except instead of letters and numbers, you have tiny pictures like the sun or a piece of fruit, things like that. So I made the infographic resemble a Lotería game, except that the little icons are images that relate to different social media platforms."
The infographic became part of the Smithsonian's "American Enterprise" exhibition as part of "The Advertising Business" display highlighting Latino marketing after the exhibition's curator found it while researching examples that illustrate cultural and economic trends that impact marketing to the Latino community. The display opened July 1 in Washington, D.C.
"It's truly an honor being selected for participation in the Smithsonian Museum. I would never have imagined," he says.
The Fusion Future
This fall Vias worked on promoting one of the new venues inaugurated by the hugely popular ArtPrize competition in Grand Rapids. In honor of its seventh year, ArtPrize inaugurated a grant program for local venues. One of those was located near Roosevelt Park and Grandville Avenue, an area called the Rumsey Street Project, which is in a predominately Latino area of Grand Rapids.
"It's a separate venue being worked on jointly by Habitat for Humanity and SiTE:LAB, which has been involved with ArtPrize since its conception," says Mikulich. "Through Habitat for Humanity they acquired several buildings and put up galleries and entries. We made sure their materials were in Spanish and transcreated so they related to people in the community. We helped with access to volunteers in the area and with making sure that their outreach was done in a culturally responsive way. They wanted people to be involved and have a public conversation about art right in their community."
Mikulich and his business partner, Gonzalo Ramirez, look to continue expanding Vias and its focus on helping companies reach the Latino community. However, Mikulich believes an even greater trend is toward multicultural communities that transcend traditional boundaries.
"Right now we see things in terms of messaging being differentiated between various ethnic communities — but I see things coming together with marketing taking a more multicultural approach. I see us evolving in the future to respond to that, while retaining some of our Latino core," he says.
If he's right (just think about the popularity of cross-cultural fusion cuisine), he has the background — both personally and professionally — to tap into that multi-ethnic future.