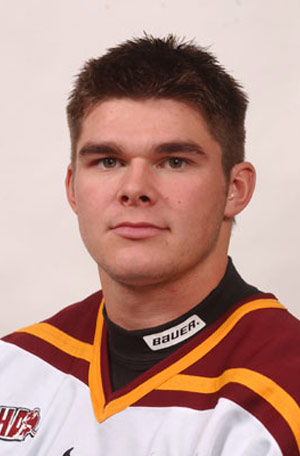 The Ferris State University Bulldog hockey program has its first Olympic champion. Ferris alum and Pittsburgh Penguin forward Chris Kunitz helped Canada defend its gold medal with a dominating win over Sweden in the 2014 Winter Olympics in Sochi, Russia.
Kunitz, a 2003 Ferris State graduate, sealed Team Canada's gold medal victory on Feb. 23 with an unassisted goal in the third period, snapping a shot that eluded goalie Henrik Lundqvist for the 3-0 lead and his first goal of the tournament. The win came on the heels of an exciting 1-0 triumph over the United States in the semi-finals two days earlier.
His Penguins teammate Sidney Crosby also tallied an unassisted goal during the second period, while Jonathan Toews notched the game's first goal in the opening period.
Kunitz played in six games during the Olympics, finishing with a goal and a +2 plus/minus rating with eight total shots to contribute to Team Canada's gold. The team was guided by Detroit Red Wings head coach Mike Babcock.
More than 2,800 athletes from 88 countries competed in the Feb. 7-23 international sports competition that featured 98 events in 15 disciplines.
His former coach was thrilled for the Bulldog hockey alum.
"Wow, what a great honor it was for Chris Kunitz to even play in the Olympics, and it was well-deserved," said Ferris State head coach Bob Daniels. "The depth of talent that Canada had to choose from was amazing and to think that one of our former players was on that team and helped them win the gold is tremendous. It couldn't have happened to what I consider a more humble individual.
"We certainly root for all our former players, but with his personality and the way he stays engaged with our university says so much and we're proud of what he's accomplished."
Canada did not trail at any point over the course of the tournament and finished as the first undefeated gold medalist since the Soviet Union in 1984 in Sarajevo.
Kunitz and his linemate Crosby were the sole members of the Pittsburgh Penguins named to Team Canada for the Sochi games. Crosby's Golden Goal at the 2010 Winter Olympics in Vancouver powered Canada to the gold medal in the final against the United States. Kunitz was a member of the Canadian squad that won a silver medal at the 2008 World Championships.
A year ago, the National Hockey League gave Kunitz First-Team All-Star recognition for the first time in his professional career. Although he didn't establish any career highs due to an abbreviated season, Kunitz enjoyed perhaps his best season in 2012-13, leading the Penguins in goals (22) and power-play goals (t-9), while placing second in points (52), plus-minus (+30) and game-winning goals (t-5). He became the first player not named Crosby or Malkin to lead the team in goal scoring since Ryan Malone in 2003-04.
Kunitz, who agreed to a three-year contract extension in the offseason that will keep him in Pittsburgh through 2016-17, finished the regular season a year ago ranked in the Top 10 in the NHL in goals, points, power-play goals, game-winning goals and plus-minus. His 1.08 points-per-game average was the highest of his career. It marked the fifth time — and second-straight season — that Kunitz topped the 50-point mark and the sixth time he tallied 20 goals.
The 6-foot, 193-pound Kunitz, who hails from Regina, Saskatchewan, was a key member of the Penguins' 2009 Stanley Cup championship squad. Kunitz was acquired by the Penguins from the Anaheim Ducks on Feb. 26, 2009. He went on to register 14 points (1G-13A) in 24 playoff contests that year, helping the Penguins defeat the Detroit Red Wings in the Stanley Cup Finals.
Kunitz established several career highs for the Penguins during the 2011-12 season, scoring 26 goals, 35 assists and 61 points to go with six power-play markers in 82 regular-season games.
Prior to joining the Penguins, Kunitz played four-plus seasons with Anaheim and the Atlanta Thrashers between 2003 and 2009. He was instrumental in helping the Ducks win the Stanley Cup in 2007, scoring six points (1G-5A) in 13 playoff games.
As a collegian at Ferris State, Kunitz excelled during his 2002-03 senior season by garnering American Hockey Coaches Association All-America First-Team honors and was among the final three 2003 finalists for the Hobey Baker Memorial Award as college hockey's top player. A two-time (2001-02 and 2002-03) Central Collegiate Hockey Association First-Team pick, Kunitz became the first Bulldog skater to earn CCHA Player of the Year honors after leading the league in points, goals, assists and plus/minus for the 2002-03 campaign.
Kunitz concluded his stellar career ranking tied for sixth in career points (175), second in goals (99) and 18th in assists (76) in 152 contests at Ferris. He played an integral role in leading the 2002-03 Bulldogs to a school-best 31-10-1 overall record, the university's first-ever CCHA regular-season championship title and the program's first-ever NCAA Division I Championship Tournament appearance.
Kunitz, who earned a Bachelor of Science in Business with a concentration in Marketing, also received the 2002-03 Bulldog of the Year Award, which is presented annually to the most outstanding Ferris State student-athlete.
During the 2012-13 season, Kunitz was chosen to the CCHA's All-Decade Team for his work as a collegian at Ferris State.
A number of former Bulldog hockey players have participated in international competition at various levels, including former Olympians Bob Nardella (Italy, 1998, 2006), Norm Krumpschmid (Austria, 1998) and Jason Blake (United States, 2006), but none claimed gold until Kunitz this year with Canada.
Kunitz and his wife, Maureen, have two children: son Zachary and daughter Payton. Future Bulldogs?