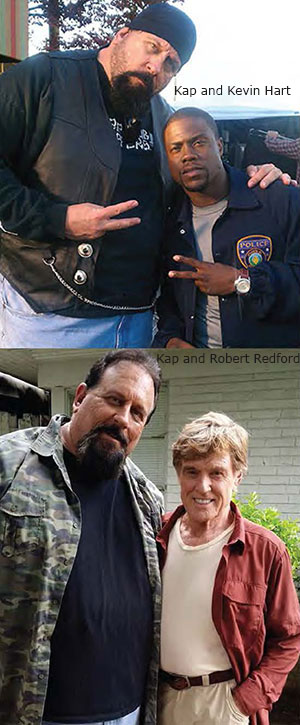 It's hard to keep up with Ferris State alumnus "Big John" Kap. The 6'8' former Bulldog basketball player's acting career is taking off, fresh on the heels of a role in "Ride Along," one of the year's highest-grossing live-action movies.
Kap plays a biker in the comedy, which stars Kevin Hart (pictured at right with Kap) and Ice Cube, and has grossed more than $134 million domestically since its premiere. He's set to appear in the sequel scheduled to open in 2016.
The roles keep coming. He's filming "A Walk in the Woods," an adaptation of travel writer Bill Bryson's 1998 memoir about his attempt to hike the Appalachian Trail, produced by and starring Robert Redford. It's scheduled to open in 2015, according to the Internet Movie Database (imdb.com).
"Yes, Emma Thompson, Nick Nolte and Robert Redford," Kap said. ". . . and FSU's Big John Kap."
Kap also is filming the horror flick "Crinoline Head 2: Dorchester's Revenge" and just wrapped up the TV series "Snapped: Killer Couples" for the Oxygen Network. The former professional wrestler, now based in Atlanta, also recently appeared on Tyler Perry's "The Haves and Have Nots," a TV series on the OWN network.
Kap, who studied public relations and business, speaks fondly of his Ferris years: "I got a great education . . . which has helped me in every aspect of my life — professionally as well as personally. I made lifelong friends I hold dear to this day."
---
John Kap: The Backstory
When the movie Ride Along, starring Ice Cube and Kevin Hart, is released (currently slated for January 2014), look for Ferris alumnus John Kap, who plays the role of Big John, president of a biker gang. Directed by Tim Story, who also directed the Fantastic Four and Barbershop films,Ride Along makes full use of Kap's 6-foot-8-inch, former-professional-wrestler's physique. Kap also combines his acting skills and dominating presence in the new Discovery ID series, "Swamp Murders," playing a Hell's Angel, and co-stars with Diggy Simmons and Bria Murphy as Gorilla Joe in the BET Movie-of-the-Week, currently entitled The Start Up.
Earlier, Kap had a successful career in Ted Turner's World Championship Wrestling, known as Honest John, bodyguard for the late heavyweight champion Ravishing Rick Rude. The experience helped him transition into acting, thanks to friendships with fellow wrestlers turned-actors Kevin "Big Sexy" Nash, who appeared in last year's hit movie Magic Mike, and "Diamond" Dallas Page, who appeared in Ready to Rumble and The Devil's Rejects.
Son of Walter and Delores Kap, and raised since the age of 12 in the Chippewa Lake and Big Rapids area, Kap played basketball at Ferris thanks to the encouragement of coach Gary Waters. Kap transferred from Laramie Community College, where he had a full-ride scholarship.
"Knee problems ended my playing career in my junior year, but three men from Ferris really helped me become the man I am today," says Kap. "In addition to Coach Waters, there's legendary coach Jim Wink. Although I didn't play for him, I spent many hours as a young man hanging out at the gym. He and Coach Waters were like fathers to me! Also, Hockey Coach John Perpich made me head strength coach for the team in 1988."
Now based in Atlanta, Kap says he fell in love with the challenge of taking a character and bringing him to life. "I play cops and killers most of the time, so it's up to me to find the odd or funny aspect of the person I'm playing," says Kap. "There's no better place than being on a TV or movie set!"
Next to recognition, Kap is getting what actors most crave — steady work. He is signed to a small acting role in the reality-based film Pimp, starring Greg Allen Williams of "Baywatch" and "Necessary Roughness," and Escalante Lundy from Quentin Tarantino's Django Unchained. Kap also is the film's head stunt coordinator, which means he will choreograph the film's fights, gunplay and car chases. He is set to do another film with Lundy, The Law of Morality, playing an American terrorist. He will also play the hit man Mr. Pain in The Duel, and portray the bodyguard of a U.S. senator in The Devil's Assessment.
Starring with Ice Cube and Kevin Hart, Alumnus John Kap Enjoys the 'Ride Along'