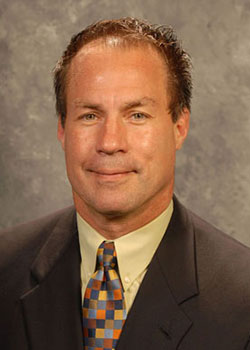 The Big Ten Conference has named Ferris State University alumnus Steve Piotrowski coordinator of men's ice hockey officials for the conference following the 2012-13 season.
Piotrowski, a former Bulldog hockey player, has served as director of officials for the Central Collegiate Hockey Association the last five years. He will continue in that role during the 2012-13 season before he assumes his duties with the Big Ten.
"I am excited to join the Big Ten and truly appreciate this wonderful opportunity which will allow me to contribute in a very positive way to one of the top conferences in the nation," said Piotrowski, a 1982 Ferris graduate with a Bachelor of Science in Health Systems Management. "I look forward to working with an outstanding group of coaches and administrators who I have tremendous respect for. I'm eager to begin developing the Big Ten's ice hockey officiating program and embark on the challenges that will come with this new role."
Piotrowski began his career in the CCHA as a player at Ferris in 1977. He served as a National Hockey League referee trainee and USA Hockey Officiating Program National Instructional Staff Member.
Piotrowski was an on-ice official with the CCHA for 26 years, working 14 NCAA tournaments and six NCAA national championship games. He also was selected by the International Ice Hockey Federation to referee in World Championship and World Junior Championship events.
"We very much look forward to Steve Piotrowski joining the Big Ten," said Big Ten Associate Commissioner Jennifer Heppel. "He brings a proven level of officiating expertise and a strong commitment to the college game. Steve's hiring is a significant step as we move toward the start of Big Ten hockey."
Piotrowski also is on the Hobey Baker Memorial Award Committee and is the Secretary-Rules Editor of the NCAA Men's Ice Hockey Rules Committee.
Piotrowski lives in Troy with his wife and three children.