A Bipartisan Trio of Ferris Alumni Reflects Upon Elected Office
As part of its mission statement, Ferris State University proclaims that it "prepares students for successful careers, responsible citizenship and lifelong learning." Holding public office is arguably the highest form of "responsible citizenship" — especially for graduates of an institution whose founder also served as Michigan governor and United States senator.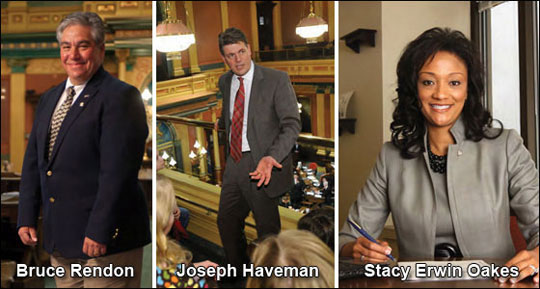 Three Ferris alumni serve in the Michigan State House of Representatives. This article focuses on the highs and lows of being in public service, how these alumni became interested in running for office and how Ferris helped them achieve that goal.
103rd District Rep. Bruce Rendon
Bruce Rendon of Lake City (T' 71) was elected in November 2010 to his first term in the Michigan House to represent residents of Missaukee, Roscommon, Ogemaw and Iosco counties. He has been owner and operator of Rendon Quality Construction Inc. in Lake City for nearly 30 years. Rep. Rendon has been married to Daire Moore Rendon for 39 years. They have two daughters and three grandchildren.
I wanted to run for office because...
As a small-business man, I recognized the only way to make change was through holding office. I started a construction company and became involved in professional organizations, including the Michigan Association of Home Builders, the third largest such organization in the country with approximately 12,000 members. I eventually became MAHB president. I was politically involved as far back as my high school days at Thornapple-Kellogg High School in Middleville. I took a class called "20th Century Problems," which led me to get involved.
Ferris State University helped prepare me for public office because. . .
In high school, I had a talent for art, for being able to put things in visual perspective. I was raised in a builder's home and wanted to go to a trade school for drafting. Ferris gave me that opportunity. I have always been a hands-on person, so Ferris was a good fit for me. The one-on-one attention I got at Ferris made me see that you can make a difference in someone's life.
The hardest part about being a public servant is...
The toughest thing about being a legislator is conveying information back to constituents who are worried about the effects votes will have in their own backyard. We don't want change to affect us. Twenty-nine years of making payroll makes you see the whole story. The toughest thing is to make decisions and cast votes based on all the facts. The media has only so much time to get a story across. With technology, you can reach thousands of people at the same time, but nothing beats one-on-one contact — just like at Ferris.
The best part of being a public servant is...
The best thing is being able to help people. In this life, there are givers and takers. I like to think that I'm a giver. I am in awe of being here. I am one of 110 representatives in the state. Few people get the opportunity to be in my position, and I am truly respectful of that.
The public perception of elected office is changing because...
I think the times are swinging back to there being more respect. It seems like the silent majority is having its due, especially in Michigan. People are resilient — they want to do what's right. When I take tough votes and get pushback, constituents tell me that they sent me to make a difference and understand those votes. I agree with term limits, but in the house, three two-year terms are too short. This keeps us from becoming bipartisan. Everyone is concerned with being re-elected. You're never not running. There were campaigns for seats in Michigan that cost more than $1 million. It shouldn't be like that. There's a loss of experience.
Someone considering running for public office should...
First, consider your family. Second, have an open mind. Third, you need a strong work ethic. This is a 24-hour-a-day job.
My future plans include...
I've had the desire to serve for years. I don't see that changing, so I have no intention of retiring. I have been married 39 years and I celebrated my 60th birthday in September. I have two grown daughters and three grandchildren. At the time that I ran unsuccessfully in 2004, my wife developed a very serious form of cancer. On June 30 this year, she celebrated the four-year anniversary of her successful adult stem cell transplant. At that time, if I'd had to make the choice, I would have chosen caring for my wife over being in office. I think everything happens for a reason.
90th District Rep. Joseph Haveman
Joseph Haveman (AS'83) represents the cities of Holland, Hudsonville and Zeeland, and the townships of Blendon, Holland, Jamestown and Zeeland in Ottawa County. He formerly was the director of business development at GDK Construction, executive director of the Holland Home Builders Association, as well as Holland City Council member and Ottawa County Commissioner. Rep. Haveman has been married to his wife, Kim, for 28 years, and has four children: Brooke, Carter, Hope and Mackenzie.
The best part of being a representative is...
The camaraderie with colleagues is fantastic, and I've been able to meet diverse groups of people — in our community, in Lansing and around the state. I've enjoyed the robust debates, the variety of ideas and the willingness to work together to find solutions. People criticize us for being partisan, but there's a lot more bi-partisanship and friendship than the media or anyone would let you know. I've made an effort to get to know all of my colleagues, from both parties and because of this I'm better able to serve our community and the state.
The toughest part of holding public office is...
I love what I'm doing, so it's hard to come up with something I don't like. You really have to have a focus and a direction, and stick to your convictions because you're not going to make everyone happy. You get bombarded with everyone's issues, and you have to be able to speak intelligently about all of them, understand a little bit and then rely on your people who are the experts. That keeps it interesting, but it's a challenge, too. Then there's the fundraising, which is probably my least favorite. Also, so much of the public's perception comes from, I believe, what they see in Washington. People don't differentiate between Washington D.C. and Lansing. I think we're tarnished by that.
Ferris helped prepare me for public office because...
I was president of the student body. I came to Ferris in 1979 and started with a general Business degree. I majored in Public Administration with the idea that I would gravitate toward city management. I graduated in '83 and worked on a campaign in '84 for Al Hoekman, who became a state representative. Later on, I rubbed elbows with him on a monthly basis, talking about legislative issues. I ran in 2008 and took office in 2009. I just turned 50. People ask me, "How long have you been thinking about running?" I tell them, "Since college." I'm a slow starter.
Someone thinking about running for office should...
Do your homework, plan early. Set your sights on when you want to run, make sure you have family support, and then start making your contacts early. There is a lot of legwork up front, then it's a year of just hard work. Make sure your family is behind you. I had talked about running back in my 30s, but my wife and I decided it wasn't going to happen when our kids were that age. There are some legislators who are young enough to be my kids, and there are others in-between, with young kids at home. I say, "More power to 'em, if they can do it." We decided that wasn't going to be good for us. You've got to have an understanding spouse or family to put up with the lifestyle.
My future plans include...
I really mean it when I say, "I don't know." We'll cross that bridge in a couple of years. I'm not going to wait until the last minute, obviously. I don't want to have one foot in Lansing while also handing out resumes because then I'd be short-changing the public. I'm very close to being an empty nester; I've got a house that's going to be way too big for me. I would like to stay involved in some kind of public policy or community service. My wife and I will talk about where the Lord wants to take us, and we'll go from there.
95th District Rep. Stacy Erwin Oakes
Rep. Stacy Erwin Oakes (EHS'94) obtained her bachelor's degree in Criminal Justice from Ferris and earned her teaching certification while working as a corrections officer at the Saginaw Correctional Facility. She went on to earn her law degree from Michigan State University Law School while working for the Michigan Department of Civil Rights. She and her husband, Michael, have two children, Michael II and Kingston.
I wanted to run for office because...
As a former teacher, corrections officer, attorney and mother, I felt that I would be an effective voice for advocacy for both the 95th district and the state of Michigan. From my observations, it is only when an individual has made him or herself an instrumental part of the political process does one truly get a place at the table thus allowing them to exercise influence. This is true for grassroots advocates and public servants alike. Political muscle needs to be exercised just like any other.
Ferris helped prepare me for public office because...
Ferris allowed me, as a young adult, to establish a solid educational foundation upon which the rest of my adult career would be built. I was provided a rigorous yet economical education in a diverse and unpretentious atmosphere. These attributes definitely proved to be beneficial in the legislative process. By attending Ferris, I was able to graduate certified in law enforcement without going to the police academy. This distinction often times set me apart from others, represented commitment, and provided options over and above those of my peer group.
The hardest part about being a public servant is...
The hardest part is facing the reality that you will run into roadblocks which are difficult to overcome. Explaining separation of powers and the difference between local, state and federal issues to our constituents can be tricky. For instance, we have constituents who come to us with issues which may be local or federal in nature. Try as one might, since we are elected at the state level, we are in a position to most effectively deal with affairs at the state level, not the federal. We can engage with federal agencies and elected officials, but we may be unable to resolve the issue as our constituent would have liked. Be it a local, state or federal issue, we own it simply by merit of being in elected office.
The best part of being a public servant is...
The best part is the immense and valuable gratification you receive when you are able to assist someone in a matter which is important to them. As an advocate for my district, I assist my constituents in everything from resolving issues with the Department of Treasury, to clarifying issues with the unemployment agency, to state licensure issues, etc. New issues pop up every day, and with every issue resolved comes greater institutional knowledge from which I can draw upon in assisting constituents who contact me in the future who may have a similar issue.
The public perception of elected office is changing because...
In this era of term-limits, the electorate no longer has as much time to cultivate the strong familiarity with their elected officials. Technology can help in filling the void of interpersonal interaction. One must tread cautiously, however. As we have seen, technology can be unforgiving and the media scrutiny given to gaffes can border on the sensational. In addition to term limits and technology, I would be remiss if I didn't mention the hyper-partisan political culture which has seemed to infiltrate our political discourse. Most, if not all, public officials serve for one reason: to ensure that they leave their township, city, state or nation a better place for their family, neighbors and community. Even if we have different ideals as to how to achieve those ends, we should respect one another's good intentions.
Someone considering running for public office should...
Someone considering running for public office should remember that they are not out to serve or represent themselves, but that they are always in the service and representation of others. I encourage political engagement for people of all ages, backgrounds and affiliations. Being in the service of others is one of the most rewarding experiences I have had in my life.
My future plans include...
My future plans include running for re-election for the 95th district. I am honored to serve the good people of my district and that they saw fit to cast their vote for me is not something I take lightly. I will serve with full knowledge of the responsibility which I carry in any elected office.