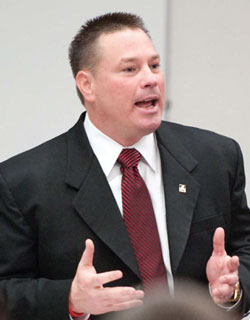 Former Ferris State University player and assistant coach Butch Jones (B'90) continued his impressive climb up the collegiate football coaching ladder when the University of Cincinnati named him its new head coach in December 2009. Previously, Jones was head coach of Central Michigan University where he guided the Chippewas to two Mid-American Conference championships and three consecutive bowl appearances. Jones replaced the same man at Cincinnati that he replaced three years ago at CMU—Brian Kelly, who became the new head coach at Notre Dame.
Under Jones', CMU posted an 11-2 overall record in 2009 (8-0 MAC), which earned it a No. 25 Associated Press poll ranking and an invitation to play Troy University in the GMAC Bowl.
"Butch Jones has proven himself to be a championship-caliber football coach," Cincinnati Athletics Director Mike Thomas said. "We're proud to welcome him to the UC family." Cincinnati went 12-1 in 2009 and was ranked third in the nation before losing to the University of Florida in the Sugar Bowl.
In 2007 the Saugatuck, Mich., native returned to Central Michigan, where he had previously been offensive coordinator, after spending the 2005 and 2006 seasons as an assistant coach at West Virginia University.
A two-year letterwinner at Ferris, Jones broke into the coaching ranks while still an undergraduate by serving as intern for the Tampa Bay Buccaneers from 1987-89. He spent the 1990-91 seasons as a graduate assistant at Rutgers University before taking over as the offensive coordinator at Wilkes University. He directed an offense at Wilkes that led the Middle Atlantic Conference in both scoring and total offense in 1993, a season in which it won a conference title and qualified for the NCAA Division III Playoffs. Jones returned to Ferris in 1995 as the Bulldogs' running backs coach under current head coach Jeff Pierce. He spent three seasons as a Bulldog assistant from 1995-97, including the final two as offensive coordinator.