At the beginning of the third decade 1904-1914, W.N. Ferris had many good things to say about his school.
"The Ferris Institute," he said, "occupies a unique position in the educational system of the state. It is not a high school; it is more. Its business is not the exploitation of some pet system, or the grinding out annually by hook or crook of a certain number of graduates. The questions of systems and the graduation are made secondary; the questions of development and acquisition of power are primary."
Ferris did offer commencement programs combining departments of the school beginning in 1906. Up until that time the graduation exercises had been held by department.
The College Preparatory Department, according to W.N. Ferris, was organized for two distinct lines of work -- to prepare students to enter the regular literary departments (liberal arts programs) of the colleges and universities and to prepare students for technical and professional schools such as law, medicine, or dentistry.
Separate from the College Preparatory Department was the College Department. W.N. explained it by saying "Increasing demand upon the Ferris Institute for collegiate training has led to an important addition to the courses of study heretofore offered. There are two courses in Greek, two in Latin, six in German, twos. in French, two in Spanish, one in mathematics, one in geology, three in chemistry. By electing from these courses the subjects required, the candidate can obtain one year's college credit toward any one of the degrees: A.B., Ph.B., B.S., or B.L."
W.N. Ferris played up the Normal Department of the Ferris Institute equally with the Commercial (technical) Department. He still had not sold the philosophy of a technical school to the general public.
At the beginning of the third decade he said, "Of the 15 thousand pupils or more that have gone out from the Ferris Institute, a large number have been teachers. From this class has drawn the largest patronage; and it is a significant fact today, notwithstanding an increase in numbers of state normal schools and a multiplicity of smaller institutions, the enrollment in this department of the Ferris Institute shows each year a steady gain. The Normal Department . . . has succeeded wholly because of its own merits. It has prepared its students to pass their examinations; and better than this, its work has made for higher scholarship among teachers . . . ."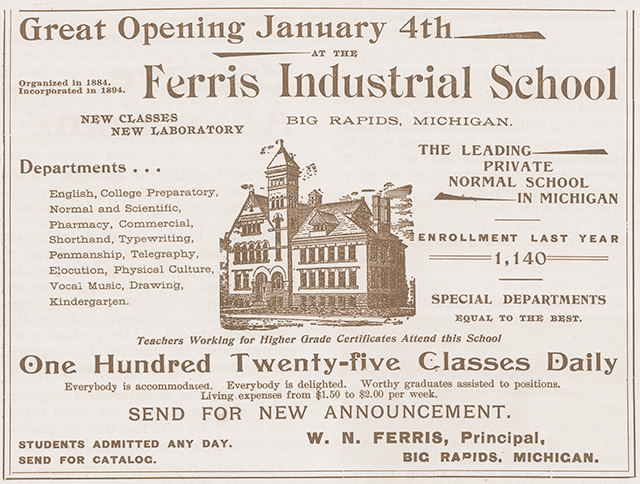 This advertisement for the Ferris Industrial School was published in 1897 in "The School Moderator," a periodical for educators in the state. W.N. Ferris limited his advertising to educational publications.
Teacher certification in those days was based on examinations by the State Board of Education, which met at least once a year to examine teachers and issue certificates to those who had taught in the schools in Michigan for at least two years and who, after a thorough and critical examination in every study required for such certificate, were found to possess excellent scholarship ability and good moral character. Applicants were required to present written testimonials from responsible persons as to their moral character; testimonials from present or former employers as to success in teaching; and a statement of the length of time taught by the applicant.
The candidates had to pass satisfactory examinations in orthography, reading, penmanship, arithmetic, algebra, geometry, grammar, geography, United States history, general history, civil government, theory and art of teaching, physics, physiology and hygiene, botany, zoology, geology, chemistry, rhetoric, general literature, and school law of Michigan. Latin or German could be substituted for zoology, geology, or chemistry. In order to meet the requirement in Latin, candidates had to be able to translate selections from Caesar and Nepos. In German the candidate had to be able to read at sight such poetry and prose as "Immense," "Hoeher als die Kirche," "Das Kalte Herz," and "Burg Neideck."