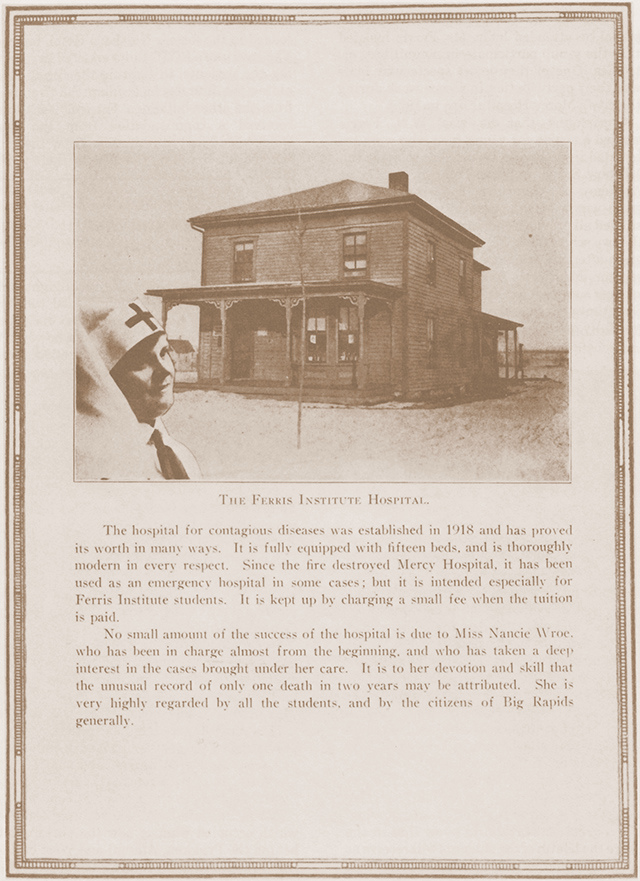 In 1918 a 15-bed hospital for contagious diseases was established for Ferris students. The 15 beds were housed in two large rooms, one for men and one for women. Located one-half block from the school, the hospital was well-equipped and was considered one of the most modern facilities in the state.
During the influenza epidemic of 1919, the hospital was filled to capacity. Students paid no extra charge for hospital care, except for the doctor and necessary medicine.
The 1919 Crimson and Gold said of the flu epidemic that the hospital's service at that time was of inestimable value, both to the student and the school. "Without its aid, many students would have been unable to receive prompt medical attention and trained nursing. It is a great satisfaction to know that in the future the health of the students will receive as much attention as if they were in their own homes."
On Dec. 1, 1919, a year after the armistice was signed, the community's Mercy Hospital, lodged in the former Northern Hotel, burned. The Institute's ROTC units assisted in removing the patients, in fighting the fire, and in aiding the firemen in keeping the fire away from the other buildings. For this work they received a commendation from the War Department and a resolution from the city commission thanking the men for their work.
The Mercy hospital fire brought still another town-gown benefit.
But the Mercy Hospital fire brought still another "town-gown" benefit. Until the city could get a new hospital going, city residents used the Ferris hospital. There was, however, a misunderstanding between the Institute and the town over how much the city residents should pay for hospital care.
But the scope of the influenza epidemic soon forced Ferris Institute officials to limit public use of the hospital.
To provide adequate hospital space, several of the community's larger residences were pressed into service. Largest was the Doucette house, which provided 25 beds. This building, which stood next to where the present Big Rapids Post Office is located, was later the residence of the late W.C. Taggart.
These ad hoc facilities sufficed until the city hospital was established in 1926. That hospital forms a wing of the current Mecosta County General Hospital.
As a state institution, Ferris opened its first student health service in 1955, using one room staffed with two part-time medical doctors and a full-time registered nurse.
In the 1957-58 school year, the college opened a regular student health center which provided three part-time medical doctors, two part-time registered nurses, and a part-time secretary. To provide for this "spacious" facility which preceded the present student health center facility, one of the war surplus barracks which occupied what is now the parking lot behind the Prakken, Alumni and West buildings, was extensively refurbished.
During the fall term of 1957, 4,000 students availed themselves of the health center services.