When he was four years old, his father walked Woodbridge Nathan Ferris to the rural school house, a distance of about one-half mile. There he began school which, he said, for the next eight years was the horror of his life. His unsatisfied craving for something to do forced him into mischief which brought him in conflict with the teacher and oftentimes resulted in floggings.
He did learn to read fairly well there, however, and by the age of 10 was reading the Civil War news to his father. His father was slightly deaf and Ferris had to learn to speak clearly in order for his father to hear, because his father objected to the practice of merely reading loudly. The practice of clear enunciation, learned at an early age, was a great help to Ferris in his later life as a speechmaker.
When he was 14 years old, Ferris entered the academy at Spencer, N.Y., three and a half miles from his home. His ill-fitting clothes and awkward manners made him the object of ridicule by the village boys and girls. The teachers did not attempt to protect him from this ridicule.
"For the next eight years school was the horror of my life."

He made up his mind once he was grown that he would not deride anyone, but as principal of Ferris Institute, W.N. Ferris was considered very sarcastic and to many it seemed he used derisive terms. The term "pinhead," coined to describe Ferris students, was used even as late as the 1950's. Sometimes the school was called "Pinhead Tech," and Mr. Ferris seemed to have no aversion to using the name, "pinhead," which apparently originated with the Third Ward (a section of the city) toughs who warred on the Ferris men students because they raided their girls.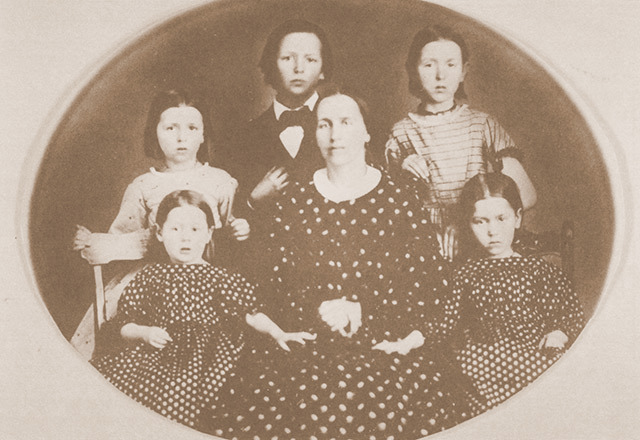 This portrait of the Ferris family, taken in 1863, shows young Woodbridge Ferris standing behind his mother, flanked by sisters Sarah, Anne, Mariette and Olive.
W.N. spent nine months at the Spencer academy, but returned to his home district for his last year. His teacher was a Cornell University student named Frank Tibbetts, whose athletic prowess enchanted the girls and kept the boys in the school from throwing him out of the schoolhouse. Anyone who had the slightest desire to learn could not avoid doing so under Tibbetts' guidance.
At the age of 16, Ferris attended his first teaching institute at Waverly, N.Y., and shortly afterwards began his first teaching job. Frank Tibbetts' approach to teaching had early influence on Ferris' methods.
On his first day of classes Ferris told the students, some of whom were older than he, that he was there to help. Apparently they bought the theory, and W.N. Ferris was not an unpopular teacher his first year.
He got the opinions of those who had little interest in public schools.

In those days teachers were paid about one dollar a day and were given their board and room by parents of the pupils. The system was called boarding around. Ferris hit on the idea of boarding around with families who didn't have any children in the schools. He claimed this system taught him a great deal about administration of schools, because he got the opinions of those who had little interest in public schools.
In April 1870 Ferris began attending Owego Free Academy at Owego, N.Y. because the Spencer Free Academy he had been attending was not recognized by the New York State Regents. Owego was.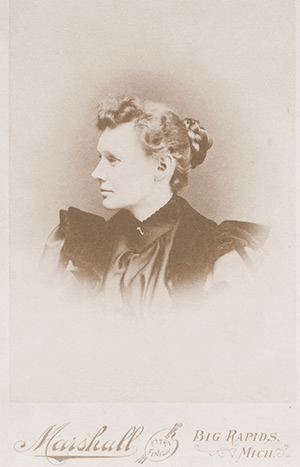 Helen Gillespie Ferris in 1884, as she appeared while accompanying her husband to Big Rapids.
Later, in early spring of 1871, Ferris entered the Oswego Normal and Training School at Oswego, N.Y. At Oswego (now the State University of New York at Oswego) Ferris came under the tutelage of Hermann Krusi, instructor of drawing and geometry. Krusi was the son of the chief assistant to Johann Heinrich Pestalozzi at Pestalozzi's school in Switzerland.
Oswego Normal during its formative years was pushing the Pestalozzian theory of learning by doing rather than through theory, and W.N. Ferris was considerably influenced by it. At Oswego, Ferris met Helen Gillespie, who later became his wife. She had four years of training under Krusi.
After a year at Oswego, Ferris found his funds running short, and he embarked on a lecture tour to help fill his purse. He did not earn his degree at Oswego Normal School, lacking what is today called directed teaching experience. Instead he we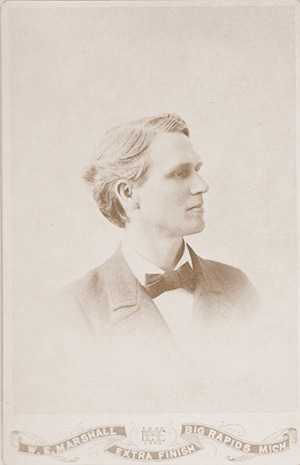 nt to the University of Michigan hoping to take a course of lectures at the College of Physicians and Surgeons.
In early 1874 Ferris became the principal of Spencer Free Academy. He married Helen (Nellie) Gillespie who also served as a teacher at Spencer. At the end of the second year at Spencer the Ferrises decided not to continue in public school work but rather to follow his dream of founding a private school.
With his schoolmate, E.B. Sherman, Ferris went to Freeport, Ill., where the two purchased a run-down business college and opened the Freeport Business College and Academy. The two did all the teaching in the school whose maximum attendance was approximately 90 students. But in the spring of 1878, McKendrie Tooke persuaded Ferris to abandon Freeport and come to Rock River University. Sherman went to Beatrice, Neb., to engage in business.
Tooke bought the equipment from the Freeport Business College and moved it to his university. Ferris soon learned that Rock River University existed primarily on paper. He was never fully paid for the equipment or his salary. Ferris says he and "Nellie" managed to eat because they boarded in the main university building.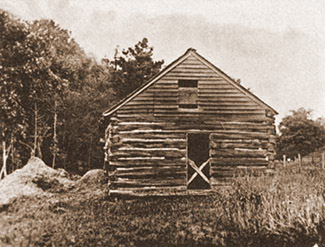 At the end of the year Ferris withdrew from Rock River University and organized the Dixon Business College and Academy in the rented rooms over the post office. For the first year he had a partner, but later operated the school with his wife.