Three young women -- they were called young ladies then -- wrote a journal, illustrated with their own drawings, about life at Ferris Industrial School in the 1890's. The three titled the book, "Reminiscences of Faith, Hope & Charity."
One of the three needed to earn a living; the other two accompanied her to school as a kind of "lark."
Early in October their trunks were packed and the three said "good-byes" to their families. They said the people at home looked upon their plans with an air of amused wonder as to what they would do next. Their hometown people regarded them as being on a picnic and as Big Rapids was a cheap place to live, they indulged them for the sake of seeing what they would do next.
Their hometown people regarded them as being on a picnic.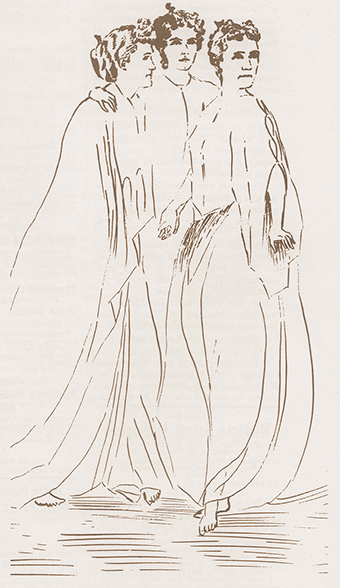 Faith, Hope and Charity, as they depicted themselves in their illustrated booklet on life at the Industrial School. Correspondence which came with one copy of the book identified Charity as Evalyn Peterson, and Faith or Hope as Lola Louise Peterson. Evalyn became a teacher; Lola a stenographer. The third girl was unidentified, and may, in fact, have been one of several persons.
Upon arriving in Big Rapids, the first thing that had to be looked into was a home. Many of the students had someone to look out for them, finding them housing before the student got there. These three were not so fortunate. After wandering about all one Saturday in the rain, they found rooms over a store which they decided to take until the school was moved into the new building.
Their first task was to clean the hallways and notify the seven other lady students in the same building that they would see to half of the hallway if the others would clean the other half. But the other ladies chose to leave things as they were and the "three graces" did likewise, indicating that things haven't changed much over the years.
According to their report, their first mishaps were on the icy city streets. It was almost impossible, they said, to go downtown with a dozen books under each arm and a pocket full of inkstands without making spectacles of themselves, especially in front of the men who stood on the corner by the bank watching the girls go by.
One morning Hope changed ends three times in as many seconds and came down on her back with a force that sent her home to bed. The dozen draymen on the corner didn't smile, but one made a few appropriate remarks.
One Saturday morning at the suggestion of their landlady the whole group decided to go on a picnic and visit a fortune teller. Three of the girls rode in a cutter pulled by a horse; the others walked.
The fortune teller had a son, and after a while Hope begged to be excused from the room saying she had cold feet. Later the girls found her in the living room seated on a couch very close to the fortune teller's son.
As the Christmas holidays approached, the graces decided to spend the holidays away from school. In those days there were no Christmas holidays, and to get away students had to apply for reduced rates for that week. This meant a special letter written to Mr. Ferris.
Mr. Ferris did not let their requests go unnoticed and took several occasions to mention the matter of their extravagance before the whole school. He did not mention any names, and the girls pretended the criticism did not apply to them.
There were no Christmas holidays; to get away students had to apply for reduced rates for the week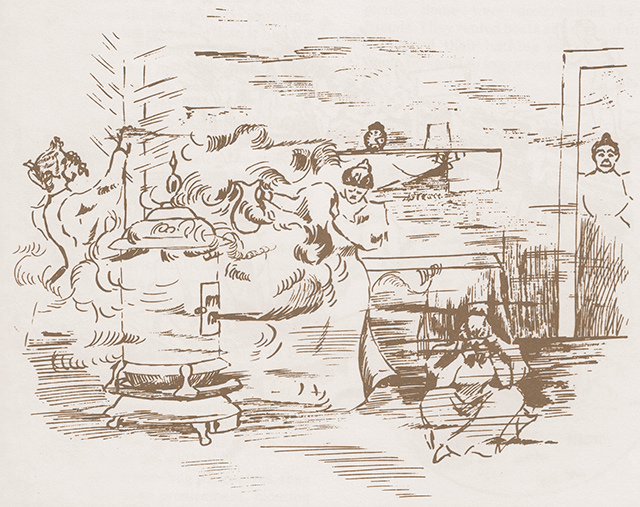 As the winter wore on, the three decided to have their pictures taken together. With much advance preparation they fastened their hair up on top of their heads in the new style and put on ruffled party dresses. The three had to sit twice and couldn't agree on which picture looked best of each of them. A visiting relative offered to pay the dollar difference so that each could have half a dozen.

The three girls survived many adventures, including one posed by a somewhat tempermental wood-burning stove in their bedbug-plagued rooming house.
They paid 50 cents to the photographer expecting to get the pictures the following Wednesday. However, it was several months before they got them. When they were returned, the photographer printed some extra large to compensate for his lateness after the girls threatened to haunt him all summer. He did not invite them to come back.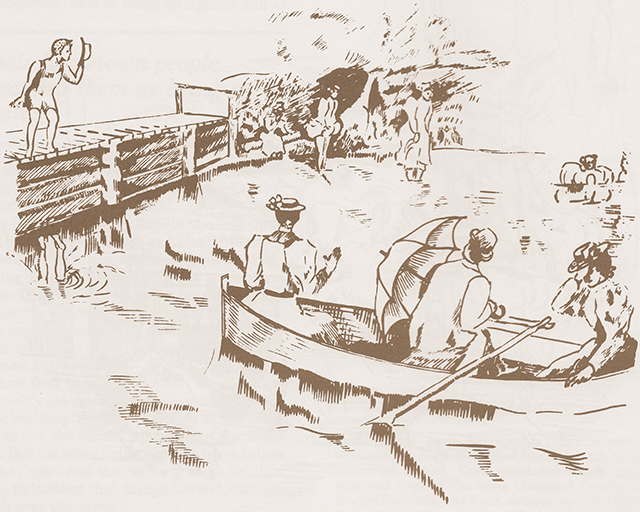 The girls reported that it must not be supposed that the period of their stay in Big Rapids was one of continual hard work and study. Some relaxation was necessary. "An occasional solitary stroll down by the river, or tramp in the country in search of arbutus and some other specimens said to grow in profusion thereabouts furnished us with the needed recreation. Air, exercise, briars and wintergreen berries being all we ever found, except lost articles from some previous visitor which we could pick up in nearly every cool spot."
When spring came the graces decided they wanted to change rooms, not for any reason other than they were stricken with an attack of economy and a desire to flit. After going the rounds, they became enamored of an Irish lady with "rooms to `rint' and everything furnished." She even offered to cook their dinners and bake their bread for 50 cents a week each.

Among the illustrations in the saga of Faith, Hope and charity was this one of a waterside picnic attended by a number of students.
But all was not as well as expected. They were a week late getting into the rooms, arriving there on a Saturday. They had no wood so they had to sneak some from the landlady and try to start a fire in the sitting-room heater. The wood was wet and the chimney had no draft. Finally through the smoke of a can of kerosene oil they were able to cook a little oatmeal and some coffee.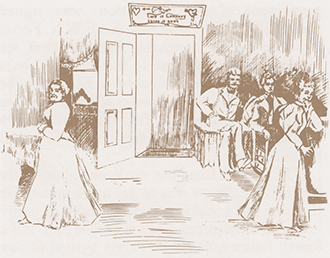 All the indoor parties were chaperoned.

In the afternoon they went to the woodshed and chopped up an old pine box with an ax expecting to get up at five the next morning to get some breakfast and get to school just in time to slide in as the last gong was sounding. The stove cooperated no better than it had the day before and smoke poured out.
But their trials had just commenced.
Hope was taking a nap. "She suddenly woke up with a thrill of horror. The cold chills ran over her while drops of perspiration stood on her brow. After gazing wildly around the room and sniffing the air, she located the object of terror which her unerring instinct had told her was near -- traveling across the pillow with the speed of a man on a bicycle." And so began her fight with bedbugs and other things.
After the stove exploded, the girls went out seeking other accommodations. As a result they expected to have a stormy interview with their landlady, but she took the matter quite calmly, informing them that she had not expected them to stay as she had heard they moved a dozen times since they came to Big Rapids.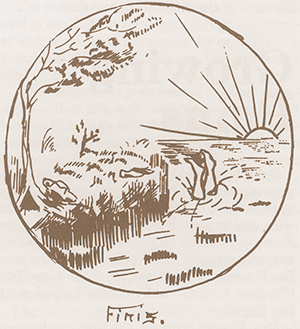 They did not mince matters and told her in plain terms why they left. Shortly afterwards they heard her explaining to the neighbors across the way, "The gurrls was movin' out. hey couldn't stand the walkin'."
After one week of boarding themselves, they were back in the same predicament, rooming in a boarding house. They already had bought a barrel of provisions and had them at the depot, but they were too tired to have them moved.
Mr. Ferris tried to help them personally and inserted an advertisement in the paper for furnished rooms, and Mrs. Ferris had the kindness to come up one day in the rain to tell them of some rooms, but they had already inspected those rooms and found them undesirable.
Finally the girls found some rooms to their liking and moved in the following week. After they had moved in and began inspecting their room, Hope held up a pillow with a bug crawling on it. With horror they all exclaimed, "What will we do?" But when they recovered they searched thoroughly, finding no additional bugs. Finally Charity decided the bug must have been in the banjo, and they all realized they hadn't played the banjo since they left bedbug haven.
On one exceedingly hot day the girls and some other friends went to Clear Lake for a picnic. Some were accompanied by men friends. They rented boats and some of the party donned their bathing suits while others "bade farewell to every fear and boldly waded in."