W.N. Ferris had his own ideas about advertising his school, and he did not mind sharing them with his friends.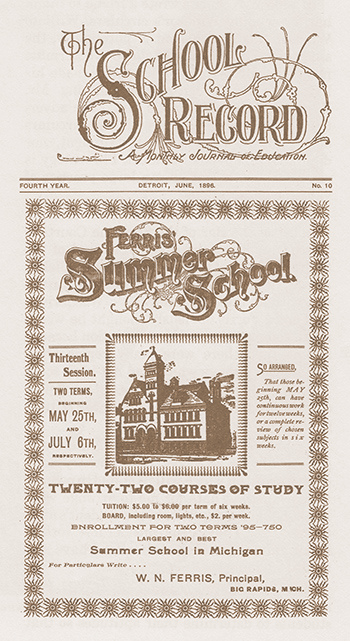 "The only journals that do me any good are those that are distinctly educational," he said. "If I had a thousand dollars to spare I would invest it in the best educational journals, but I would insist on such positions as I think suitable . . . . I sincerely hope that you will not be obliged to put a solicitor in the field . . . . My objection to solicitors is not so much that they do not bring value received as that it is a practice that should be beneath reputable institutions. Solicitors pass through Big Rapids north frequently, but I have some old students out who will defeat a solicitor every time provided he chances to be in the same locality.
"I appeal to my old students. I write them three for four times a year. Before I send them advertising material I write them and ask them if they will distribute it. Within the last six weeks my old students have furnished me with a list of two thousand names. Beyond a doubt, the most valuable list that is now in my office.
"Within the last six weeks my old students have furnished me with a list of 2,000 names."

"One of the best means that I have of obtaining students lies in my lectures. I speak on an average of 60 to 65 times a year. I am on the regular course and special courses. Have managed to run for Congress once, fortunately was defeated, but got my advertising just the same.
"I charge $10 and expenses and have the following lectures to present: `Success,' `How to Make the World Better,' `Education, the Old and the New,' `Human Nature,' `The Age We Live In.'
"The lecture that gives me the best satisfaction is 'How to Make the World Better.' The lecture that I think the most of is entitled 'Human Nature.'
"I know the lecture system is unique. I know it is a success. It is the opinion of those who know that the Ferris Industrial School gets 50 percent of its students that way. I manage to receive for my lectures about $1,000 a year -- at the same time secure other results.
"I also believe in the personal letter. I know it is not fashionable now-a-days to write with the pen. Time is exceedingly valuable. However, it pays to send a beautifully hand-written letter."