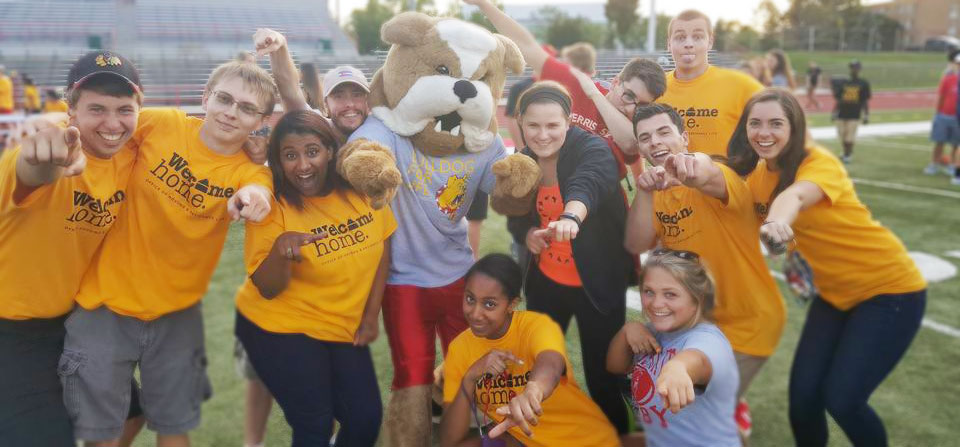 Contracting Information
We are pleased that you have made Ferris State University the college of your choice. What sets Ferris State apart from other universities is the holistic approach to learning; Ferris State recognizes that learning is not confined to the classroom.
Experiences gained from living on campus augment the formal classroom instruction. Living on campus allows students to fully immerse in the university experience. Ferris housing provides a safe, comfortable living environment in which students learn, mature and reach the fullest of their potential. It is this full engagement with college that best prepares students for success at Ferris State and for the rest of their lives.
Important Dates

New Student Spring Contracting begins | October 5, 2020 @ 9:00am
Thanksgiving/Spring Intention Survey | October 5, 2020 - October 18, 2020 @ 11:59pm
Early Contracting Kickoff Week* | October 26, 2020 - October 30, 2020
*Students who sign both housing and dining contracts (125 express plan or higher) during Kickoff Week will be eligible to win a free month's rent (five prizes available!)
Same room selection begins | October 26, 2020 - November 4, 2020 @ 11:59pm

Open room selection begins | November 5, 2020 @ 12:00pm

Early Contracting ends | January 17, 2020 @ 11:59pm
New Student contracting | January 19, 2021 @ 9:00am
New Student room selection begins | February 2, 2021 @ 9:00am
Summer Contracting opens | February 16, 2021 @ 9:00am
Rates
Contracts
2020-2021
2020-2021 Housing & Dining Contract PDF
2020-2021 East Campus Suites Contract PDF
2020-2021 Apartments Contract (Single) PDF
2020-2021 Apartments Contract (Family) PDF
2021-2022
Coming Soon
Information
Current and Returning Residents: Contracting for current residents opens in October.
New Residents and Freshman: Contracting for both new residents and Freshmen opens in January with room selection beginning in February for the next academic year.
Requirements, Policy, and Appeals
Housing Holds
Registration access may be denied (a registration hold placed on a student's record) because of academic dismissal, not fulfilling required faculty advising, a disciplinary problem, money owed to the University, failure to return library books and/or other supplies, or non-compliance with housing and health center regulations. The University places "Housing" registrations hold on the account of each student who by age may be required to live on campus. Holds are cleared from student accounts only by the issuing office and only after students meet the criteria that created the specific hold. New and returning students, required by policy to live on campus, are not eligible to register for classes for the coming year until the Housing and Dining Contract has been signed. New students must also have paid the $200 contract guarantee to the Business Office. Please note that Housing holds will not be lifted, even temporarily, until the Housing contract signature process is complete.
Summer Storage
Apartment summer storage application can be found in My Housing under contracts. You must be register and have a housing contract for the same space for fall semester. This application must be approved by the assignments coordinator. The rate is $375 for summer storage. Summer storage form applications are due by April 1st.