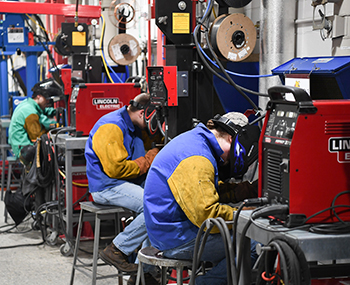 The Ferris State University Welding program is offering its Welding Engineering Technology (WELE) BS degree program cohort commencing in the summer of 2020. The program will start in May 2020, and conclude in August 2022. This program will have a limited enrollment and all classes will be held at the Big Rapids, Michigan campus. The summer cohort program was previously offered in 2009, 2012 and 2015, with a total of 39 students obtaining a WELE BS degree.
If you are interested in this educational opportunity, please download, complete and return the Interest Application (Word Document). Forms are to be returned via USPS to the address below or attached in an email to [email protected].
Ferris State University
FSU Welding Engineering Technology
ATTN: Mr. Jeffrey Carney, Program Coordinator
915 Campus Dr., SWN 220
Big Rapids, MI 49307
Students may not meet the FSU WELE program admissions requirements at this time. The Interest Application requests that students provide their academic plan for fall 2019 and spring 2020 in an effort to meet the entry requirements.
WELE BS Degree Program Schedule:
June, 2019 – Program announcement
Applications accepted – Official announcement date through March, 2020
Summer 2020 – WELD courses
Fall 2020 – Technical-related courses at FSU – 3XX level courses and others
Spring 2021 – Optional semester based on individual student academic standing
Summer 2021 – WELD courses
Fall 2021 – WELD 393 Internship
Spring 2022 – Optional semester based on individual student academic standing
Summer 2022 – WELD courses – Program completion
More information regarding the Ferris State Welding Engineering Technology (BS) is available on our website: https://www.ferris.edu/welding.
Additional information is available by contacting Jeffrey Carney, Welding Program Coordinator, by telephone (231-591-2952) or via email at [email protected].