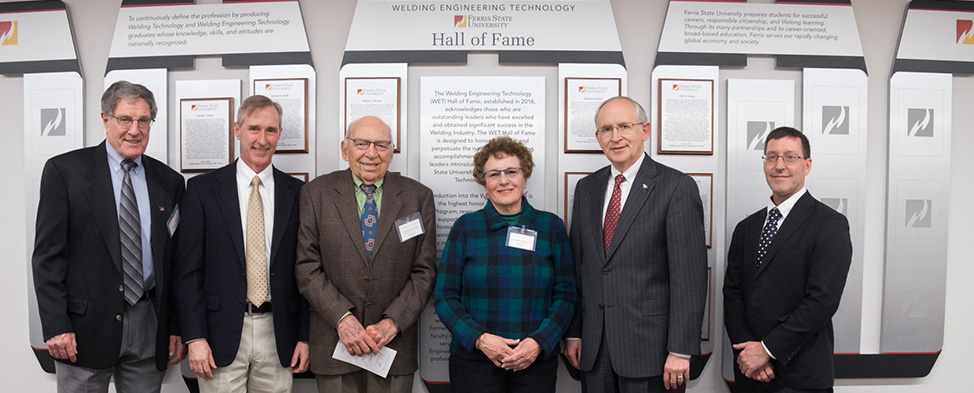 Pictured above are Welding Engineering Technology 2018 Hall of Fame inductees and alumni Joe Mikols, Dave Snider, Raymond Fayer, Carole Pullen, Dave Eisler and Harlon Neumann.
David Eisler
David Eisler, the 18th president of Ferris State University, has served the institution since July 2003. Before joining Ferris, President Eisler served as Provost and Vice President of Academic Affairs at Weber State University, as Dean of the College of Fine Arts at Eastern New Mexico University, and began his academic career as a music instructor, rising to the position of assistant dean of the School of Fine Arts at Troy State University.
President Eisler earned his bachelor and doctoral degrees in Clarinet Performance from the University of Michigan and his master's degree from Yale University. With over 30 years of experience at regional universities, President Eisler believes in the importance of higher education as a catalyst for economic development and is actively engaged throughout the state of Michigan and nationwide. He serves on the boards of the American Association of State Colleges and Universities, the Presidents Council for State Universities of Michigan, the Talent 2025 initiative, and the Midwestern Higher Education Compact.
In 2013, Dr. Eisler was selected as the Newsmaker of the Year in Education by the Grand Rapids Business Journal while Ferris State University was chosen for the Uncommon Greatness Award by the Center for Community Leadership. In April 2014, Dr. Eisler attained the interest of Michigan Governor Rick Snyder to visit Big Rapids and tour the Swan Annex. Working diligently, he secured the $30 million State Capital Outlay funding from the State of Michigan in November 2016 to renovate and expand the Swan Annex. The funding allows the size of the Welding Engineering Technology laboratories to double and will create a Center for Welding Excellence, as well as a Center for Advanced Manufacturing. His strong leadership and steadfast partnership has provided essential resources for the Welding Engineering Technology program to continue its growth and serve the welding industry.
Harlon Neumann
Harlon Neumann began his welding career nearly 28 years ago in Davenport, Iowa. In his first job after graduation, Harlon moved to Iowa in 1990 to work for Genesis Systems Group. Genesis specializes in factory automation with robots for welding, cutting, non-destructive inspection, adhesive application, material removal and material handling.
Harlon has held several positions throughout his career at Genesis and has been responsible for project development, research, and engineering sales. Having spent the last three years working for Genesis' Japan location, Harlon now serves under the Chief Technical Officer for the Genesis Systems Group based in Nagoya, Japan. Growing up in Sebewaing, a small farming community in Michigan's thumb, Harlon came to Ferris State University where he excelled as an Honors student, was on the Dean's List, and graduated with High Distinction in 1990 after earning his a Bachelor of Science in Welding Engineering Technology.
As a student, Harlon became a member of the American Welding Society (AWS, 1986), serving on the Communications for Welding Devices committee, and continues to maintain his membership with AWS today. He is a past member of the Society of Manufacturing Engineers (SME), was a Certified Manufacturing Engineer through SME for many years, and was nominated several times for Marquis Who's Who. Harlon has been a dedicated and active alumnus for Ferris' Welding Engineering Technology program, serving over 25 years on the advisory board, hiring interns and graduates, and has championed many contributions and equipment donations in support of the program.
David Snider
David "Dave" Snider has spent nearly 40 years in the welding industry despite a different path embarked upon to start. Snider had initially enrolled in Mechanical Engineering at Ohio State University and found his enthusiasm wane shortly thereafter. His father, a materials engineer, saw his struggle and introduced him to a professor in the Welding Engineering program at OSU where his passion ignited and he thrived when he earned his Bachelor of Science in Welding Engineering in 1979.
After graduation, Dave landed at Lincoln Electric, a global manufacturer of arc welding products, robotic arc welding systems, plasma and oxyfuel cutting equipment, as well as the welding consumables market. After a nine-month technical training course for field representatives at Lincoln, Dave was assigned to the Milwaukee district office where he worked with heavy plate manufacturers. Dave spent five years in Milwaukee and was promoted to a sub-office in Dayton, Ohio, working independently in a very diverse market where he got his first taste of the automotive industry. The 10 years in Dayton gave him the opportunity to work closely with the Detroit and Grand Rapids offices, and it was then that he met Ray Fayer, his predecessor and fellow Welding Hall of Fame Inductee -- Class of 2016, where they collaborated to support a major Lincoln customer, General Motors. Ray soon began talking to Dave about becoming his successor, and in 1995, he became the District Manager for the Grand Rapids market. Dave has been an industry partner, advisory board member and a friend to the Welding Engineering Technology program for over 20 years. He was an integral part of the program's accreditation, has hired many interns and graduates, and has championed essential equipment donations in support of the program.
Return to Welding Engineering Technology Hall of Fame Homepage