PEDIATRIC VISION EXAMS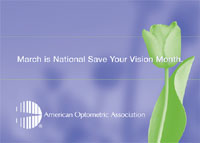 It is important to have your child's eyes examined early in life. Rapid development of many aspects of vision occurs between birth and 6 months of age. Successful treatment of vision anomalies can be obtained more quickly with early detection and correction of vision problems and may prevent the occurrence of a more serious vision anomaly.


The American Optometric Association recommends that a child's first complete vision examination take place during infancy, approximately at 6 months of age.
If there is any complication during the pregnancy or delivery or if there are any other developmental risk factors, we recommend your child be examined by 3 months of age.
Even if there are no recognized vision problems, we recommend subsequent comprehensive vision examinations at 3 years of age and again before school (5 years of age).
Vision Screenings, such as those provided in elementary schools, frequently miss significant vision problems. A comprehensive vision examination will identify vision problems, inform the parents about the condition and determine the most appropriate treatment. The benefits of a comprehensive vision examination have been well documented by the Infants' and Children's Vision Coalition. Click here for more details.
Repeated eye examinations every year or two, sooner if there are any known vision problems, serve to monitor the continuing development of your child's vision status and reduces the risk of vision loss.
The Pediatric and Binocular Vision Service serves the entire West Michigan community. Primary care vision examinations are provided at the Big Rapids campus. Specialty diagnosis and treatment for severe and rare visual problems is also available. The Michigan College of Optometry is committed to supporting doctors statewide through consultation and co-management, go here for referral information.
The Pediatric and Binocular Vision Service is staffed by pediatric optometrists. Student doctors in their third or fourth year of optometry school conduct the examinations under direct supervision of one of the pediatric faculty.
Types of Vision Examinations
For an appointment call (231) 591-2020
PEDIATRIC FACULTY:
Emily Aslakson, OD, FAAO, FCOVD
Sara Bush, OD, FAAO
Alison Jenerou, OD, FAAO, FCOVD
Paula McDowell, OD, FAAO Chief of Pediatrics
Avesh Raghunandan, OD, FAAO, Ph.D.
Mark Swan, OD, MEd, FAAO
Daniel Wrubel, OD