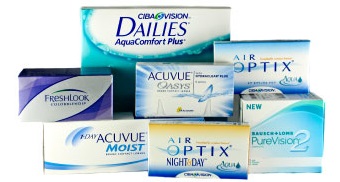 Order Contact Lenses From Us Online Here
The University Eye Center is excited to announce the arrival of a new technology, the Acuve Oasys with Transitions. The number 1 prescribed contact lens in the United States is now available with Light Intelligent Technology, meaning now your contact lenses can now have the ability to darken or lighten in response to changing light conditions. Theses lenses are not intended to replace the need for sunglasses but have been shown to greatly help patients who are sensitive to glare and bright lights, both inside and outside. They are currently available in spherical prescriptions from +8.00 to -12.00 meaning both near-sighted and farsighted patients can benefit from this new technology. Call the UEC today to schedule a contact lens fitting appointment to try them out! http://clresourcelibrary.com







At the MCO Cornea & Contact Lens Service we provide comprehensive eye care including cosmetic and specialized correction of myopia (nearsightedness), hyperopia (farsightedness), astigmatism and presbyopia using both rigid and soft contact lenses for patients of all ages. Recent developments in high-performance lens materials and designs often allow patients to excel with contact lenses who were previously told that they could not wear them.
Our faculty doctors are continuously trained on the latest technologies and often are involved in contact lens research and called on to provide continuing education of optometrists across the state and nation. Our highly trained student clinicians are in their third or fourth year of professional school and provide care under the direct supervision of the faculty. This team approach to eye care provides our patients with very thorough examinations, the newest treatment options, and years of combined experience. We combine this cutting-edge technology and expertise with a thorough assessment of each patient's lifestyle, visual demands, and ocular health to prescribe the most convenient, comfortable, and healthy contact lenses.
Non-Surgical Alternative to LASIK
Cornea and Contact Lens Service Referral Form
If you are interested in ANY type of contact lenses, schedule an appointment with us today to find out what lenses our doctors recommend for your needs. If we do not have what is best for your eyes and lifestyle in our inventory, we will order them. Call (231) 591-2020 today to set up an appointment at your convenience.