Alumni Feature: The Peters Family
Ferris State University and MCO are in the blood of the Peters family. Attending MCO became a legacy when Dr. Edward Peters and then his sons Dr. Eddie and Dr. Zach Peters all became alumni. The Peters Family continues to support MCO through their generosity and time. Dr. Edward Peters received his Doctorate of Optometry in 1986 from Michigan College of Optometry at Ferris State University. MCO was a perfect fit for him because of state funding at the time and the small class size, allowing him to foster lifelong friendships. Dr. Peters is originally from Mason, MI, but he currently resides and practices in St. Johns, MI with his son Eddie. After graduating, Dr. Peters worked in a corporate setting for 3 years and, in 1988, he bought his own practice, Avery Eye Care Center. The practice has grown since then and added three other optometrists. In addition, Dr. Peters also owned and operated Professional Eye Care Center of East Lansing with another MCO graduate between 1991-2000.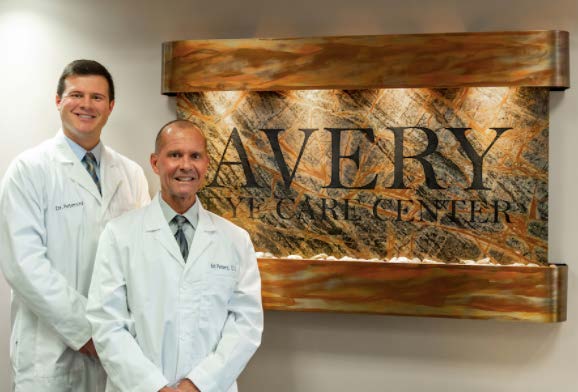 Drs. Eddie and Edward Peters in their practice

When asked about his favorite part of being an optometrist, Dr. Peters said, "helping patients every day and running the business end of my practice. I believe in America and there is no better career than to be your own boss". Dr. Peters is a member of a Vision Source Leadership group that meets 2 times a year in Houston. Outside of his practice, Dr. Peters enjoys spending time with family, golfing and traveling. He looks forward to a smooth transition and practice growth with the addition of his sons Eddie and Zach. Dr. Peters believes that despite the increase of internet sales of glasses and contact lenses, it cannot replace the personal relationship that optometrists build with their patients. Dr. Peters advice to MCO students is to, "Enjoy your time, ask more business questions, and invest in retirement ASAP. Be proud to be a part of MCO and don't forget where you came from."
Dr. Eddie Peters is a graduate of the Michigan College of Optometry, Class of 2018. Growing up around optometry, Dr. Peters realized quickly that he enjoys the freedom and diversity that private practice has to offer. This being said, he has experienced other modes of practice during his rotations at Grand Rapids VA, private practice in Saginaw, and Cherry Street Health Services in Grand Rapids, a federal public health center. He further explained that walking into private practice, you never quite know what will walk in the door each day which requires him to stay informed and educated on all aspects of optometry, and makes his day go by quickly. To Dr. Eddie Peters, the most rewarding part of a career in Optometry is helping people in a situation where they can't help themselves and have nowhere else to go. Dr. Peters' advice to MCO students is, "Don't be a hero when it comes to refraction. If the patient has no visual complaints and is seeing 20/20 or better, don't go more than 0.25 either way on sphere or cylinder." Dr. Eddie Peters enjoys golfing, fishing, and watching any sporting event involving our Detroit teams. He enjoys talking optometry with his father and brother and has been a wealth of growing knowledge over the past 12 years while working at Avery Eye Care Center.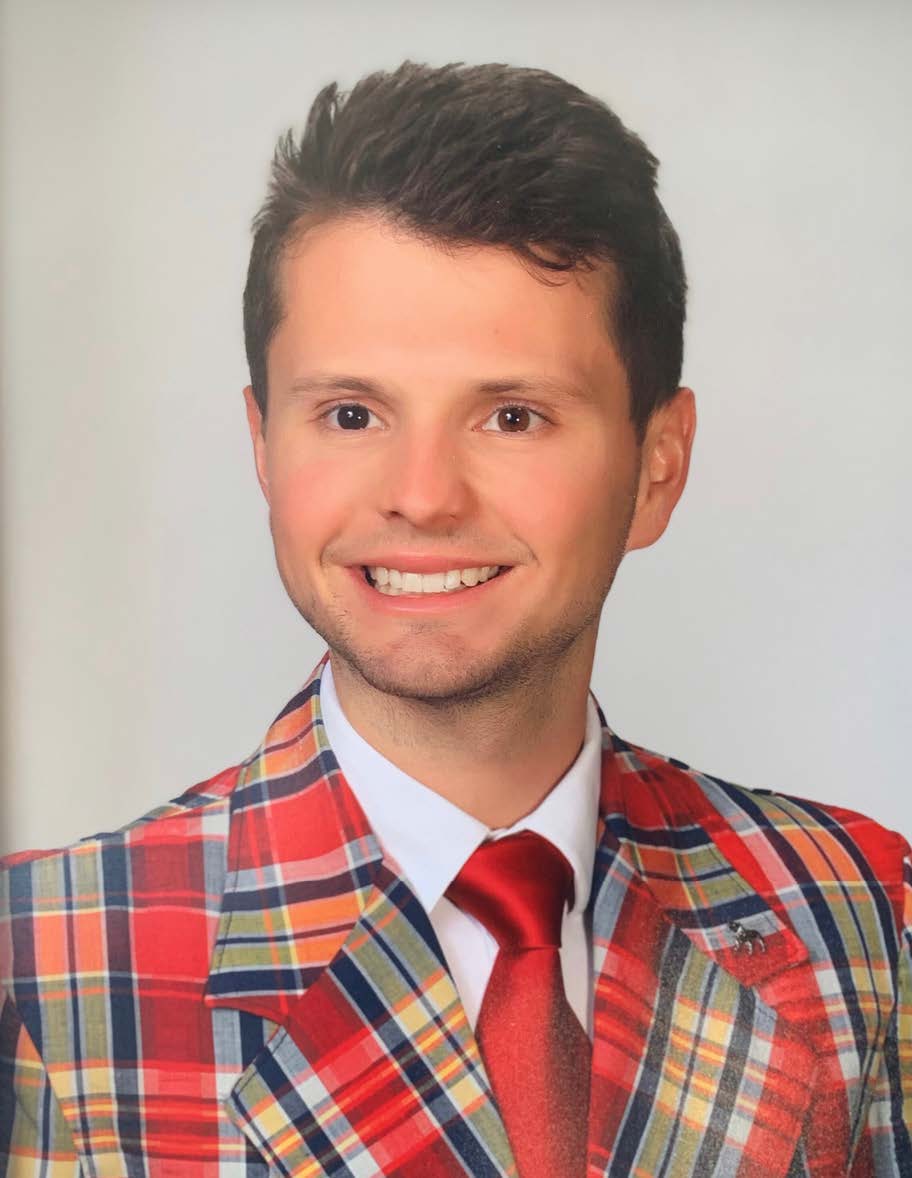 Zachary Peters in his upcoming graduation photo wearing his dad's plaid blazer

Zachary Peters earned his bachelors in 2017 from Ferris State University, and he is looking forward to graduating as a Doctor of Optometry in May 2021. While currently on his fourth year externships, he is planning on practicing in St. Johns with his father and brother upon graduation. Zach looks forward to expanding the
already successful practice that his father has built over the past 30 years. Becoming a respected and trusted doctor for those in his hometown is one of his long term goals. Zach's answer to his favorite part of being an optometrist is, "I enjoy talking with and answering various questions patients have. When patients say, 'This is the clearest I've seen in years!' it is always a rewarding feeling and makes me feel awesome about my profession
and work."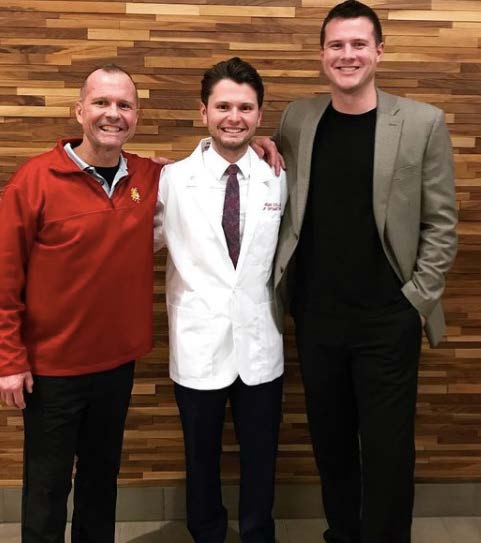 Above: Dr. Edward Peters with his sons Zachary and Dr. Eddie Peters at Zach's White Coat Ceremony

Zach's hobbies include playing sports with friends and family outside of optometry. One of his favorites is golf. He, his dad, and brother have some great matches and memories on the golf course. Zach received the Ferris State Alumni Legacy award during his time at FSU/MCO. He was the president of the Student Alumni Gold Club, and he is a member of the AOA and MOA. Some fond memories of MCO are seeing his first patient in the clinic, and playing intramural sports with his classmates.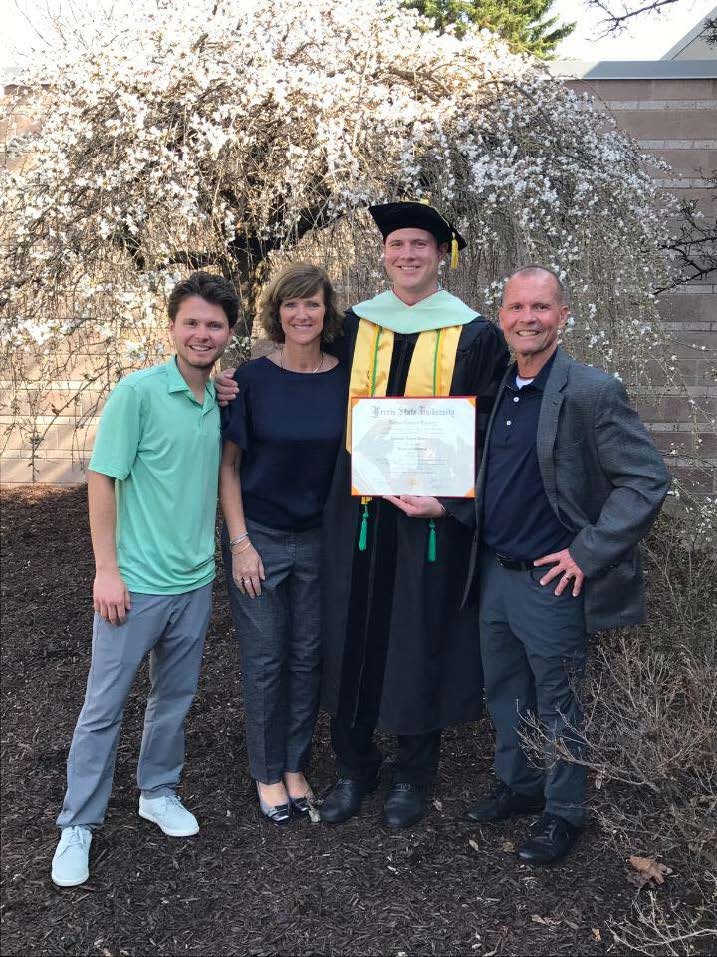 The Peters Family at Dr. Eddie Peters's graduation. From left to right: Zachary Peters, Mrs. Peters, Dr. Eddie Peters and Dr. Edward Peters

His advice to current MCO students is this: "Have fun! Don't forget to spend time outside of school to relax and
unwind. There is more to life than a perfect grade on that exam!" In a word to MCO alumni, Zach said: "Stay involved in MCO and give advice any chance you get! Students love hearing advice and experiences from
young and old alumni alike."