by Leilani Sigsbey
Student Marketing and Communication Assistant,
The Ferris Foundation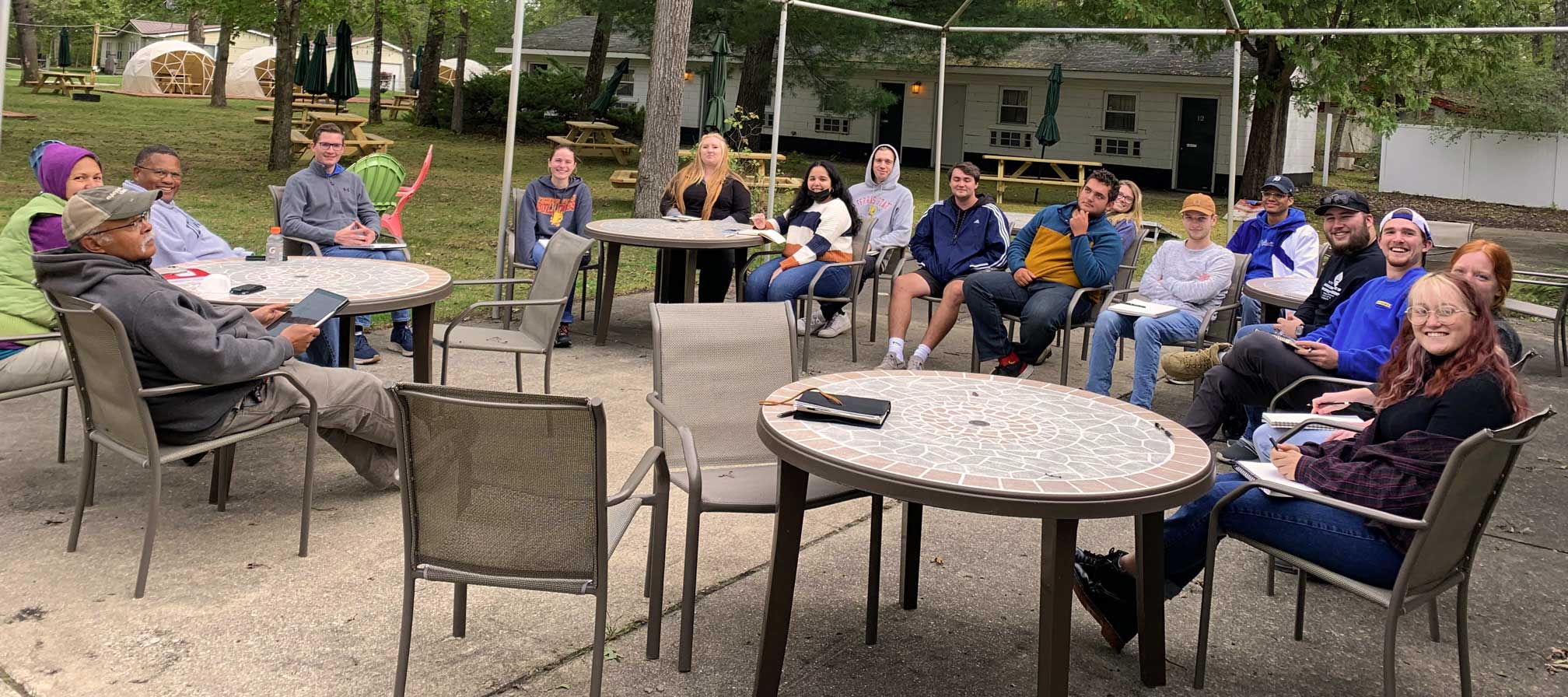 Kate O'Connor's professional design mission is to plan architecture holistically and sustainably through the 'Triple Bottom Line.' "Through economy, through the community, and through the environment," she explains.
An associate professor of Architecture at Ferris State University, O'Connor grew up in New Jersey and attended school in Washington D.C. O'Connor received her Master of Architecture II from Tulane University, focusing on Public Interest Design. Her education shifted her professional goals, developing the "Triple Bottom Line" mindset. O'Connor then went to Colorado in 1995 and started her own firm in 2000.
But in 2005, when the news hit that Hurricane Katrina had ravaged the New Orleans area, O'Connor decided to move to New Orleans and assisted in rebuilding the community using her architectural knowledge and industry skillset. This was an opportunity for her to help a devastated community by putting her theory into practice. While there, she and others from Tulane found motivation in creating architecture for the community's benefit. The area was rebuilt through the mindset of its residents based on how the community functioned, allowing architectural students' design work at the end of the semester to be showcased by this pop-up gallery.
Her time in New Orleans exemplifies O'Connor's professional motivation for creating substantive and responsible architecture. She believes that the architect can influence society and challenges the profession to become unique leaders in solving the various challenges and problems today. This idea of "designing with empathy" has guided O'Connor as a faculty member at Ferris. She is now the university's lead coordinator of the Small Town
Studio.
Small Town Studio serves small-town populations in Western Michigan. This project recognizes that "more than half of the world's population lives in cities and towns rather than rural or agricultural settings." This trend is a fundamental shift in development from rural to urban, recognizing that small-town rural development is often overlooked. On their webpage, the question is posed: "What is the role of small towns in this new urban age?"
Under O'Connor's leadership, Small Town offers architectural design services not typically found in these communities. Most recently, the group has worked with the rural community of Idlewild, MI.
Located in Northern Central Michigan, Idlewild has a storied history as one of the oldest and largest African-American resort communities. During much of the twentieth century, Idlewild served as a place for rest, relaxation, and community. It was where the "luminaries of the black community could gather at a time when African Americans were systemically pushed to the margins of society." The prosperity of the area lasted into the 1960s. With the passage of the Civil Rights Act and the end of legalized discrimination, vacation opportunities opened up for the black community, creating competition that became too much for businesses of Idlewild to overcome.
This partnership offers a rare opportunity for students to work with Stakeholders and develop their architectural designs to grow and sustain their community.
To help the Small Town Studio to develop, O'Connor was awarded the Exceptional Merit Grant from the Ferris Foundation. The grant will provide funding for site visits and community workshops, allowing students to meet and work with community stakeholders. This will give students a chance to learn about the area's wants and needs to enhance the rehabilitation of the area.
O'Connor is now the lead communicator and direct instructor for architectural students to help guide them through their projects. The current project she is pursuing intends to create and support a "pop-up" gallery to present and showcase student design work from the Small-Town Architecture Studio with a website to connect others online.
Having been awarded this merit grant, O'Connor comments, "It's the world. It enables me to give the students a voice through communication, visual communication, and be able to showcase their work." Throughout this entire project, she notes that Ferris has supported her in what she does and all her passions. "My department supports me in what I do, and I appreciate the collegial relationships I have established because that's unique. It doesn't happen everywhere."
If you would like to support O'Connor or view the progress that the students have been making, go to the Small Town Studio page for more information.