Woiderski's Seek to Inspire Others to At With the Creation of Two Endowed Scholarships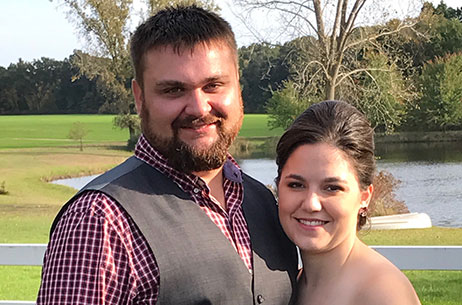 Travis and Jacquelyn Woiderski

Travis and Jacquelyn Woiderski are strategic thinkers
and not afraid to seize a moment of opportunity. On his first visit to Ferris State University, Travis drove through a terrible snowstorm to complete an application essay for the Honors program. Upon his acceptance, he chose to pursue a Welding Engineering Technology degree from Ferris's College of Engineering Technology. While Jackie was still attending high school and Travis was at Ferris, the young couple from Cheboygan began dating. They saw each other mainly on the weekends. Travis would drive two and a half hours to work and visit her, then drive back to campus each week in time for Monday classes.
When Jackie graduated high school, she too went to Ferris with a plan. Her father, Michael Kane, RPh, was a Ferris pharmacy graduate of 1979. In 1990, he became the owner of a local pharmacy in Cheboygan. Since his passing in 2007 Geri, Jackie's mom, has kept the business thriving. Mike Kane, RPh served his career as a community independent pharmacist and dedicated time to work with Hospice. Everyone in town knew his name and understood how much he gave back to the community he loved. He was Jackie's inspiration to pursue a career in pharmacy.
Travis and Jackie Woiderski were married in 2016, just after her graduation from the Ferris College of Pharmacy. Today, this young family is busy. Jackie became the Pharmacist in Charge at her family's pharmacy in Cheboygan after a second location was opened in Indian River. She is a community healthcare provider and continues her father's dedication to supporting Hospice. Travis works for ITW/Miller Welding as a Welding Engineer; but, also in mobile marketing, planning logistics for the companies Road Show assets and some trade shows. He is the company's Ferris recruiting team lead, engaging new talent with the same Miller Welding Road Show Truck that contributed to his own decision to pursue the Welding Engineering Technology program at Ferris. He travels extensively in the summer months to events, but has had the opportunity to continue Miller's dedication to attending Ferris two to three weeks before the career fair each fall with the Road Show truck. This year, the family also welcomed a baby girl, Madalyn.
The couple knew early on they wanted to help others. They had a long-term goal of eventually creating a scholarship to help others succeed at pursuing additional education. When they learned about the Ferris Futures Scholarship Challenge, and the possibility of paring that investment with an employer match, Travis and Jackie decided that someday should be today. "It's earlier than we planned," Travis confided, "But it was the opportunity we couldn't pass up. We always knew we wanted to create some sort of scholarship but to be able to create it this early in our careers by having ITW and Ferris match our gift was unexpected. The matching programs will allow us to create a bigger impact over the years on a much larger number of students than we would have on our own." Referencing the endowment, Jackie noted, "This early in our lives, to see that gift go on in perpetuity. It's the opportunity that will continue to help others, even after we are gone."
Travis and Jackie originally talked about creating one scholarship fund that covered both the welding and pharmacy programs at Ferris. They ultimately decided to endow two scholarship funds over two years, "The Travis and Jacquelyn Woiderski Welding Engineering Technology Scholarship Endowment," and the "Michael W. Kane Memorial Endowed Scholarship,".
The couple shared their story with an eye to encouraging others, "Hopefully we can inspire someone else in a similar situation to what we were to act. Do it now, even if it seems earlier than you were planning because the foundation match could greatly impact the amount of people you could help in the future. Take the opportunity while it's there," Jackie said. Travis added, "If we wouldn't have followed the paths we did through Ferris, and have the amazing people influencing our lives that we did, there is no way we would be able to give back now to the level that we are, especially where we are in our careers. For both of us, there have been a couple key influencers who helped guide us down these strategic paths. Neither of us would have the opportunity we do today without them or without Ferris." In their work and their giving, Travis and Jackie are becoming the next key stakeholders, those who guide others to be strategic and seize the moment, for generations of Ferris students to come.