Ferris Foundation Board Member Dedicated to the Philosophy of Ferris State University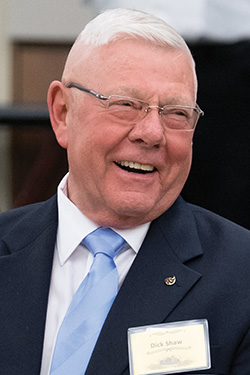 Dick Shaw

Former Ferris State University student and professor, Dick Shaw has shown great dedication to giving back to the university, its students, and his country.
Shaw graduated in 1962 with an associate degree in Heating, Ventilating, Air Conditioning, and Refrigeration (HVACR) from the College of Engineering Technology. He proudly served our country in the United States Army and was honorably discharged in 1970. Then, he graduated in 1971 with a bachelor's degree in Technical Education from the College of Education and Human Services. He returned to Ferris to be a professor and was a director for the HVACR program, retiring in 1998.
As a director, he worked hard to find scholarships for students. The goal going forward is that every student in that program will get a scholarship.
"It's a goal that alumni and contractors, people who need the students, should want to be a part of. They should want to be involved in and want to have their name on a scholarship. They know that they're helping their industry, company, society, and making for a more sustainable program at Ferris," Shaw said.
When Shaw joined The Ferris Foundation board in 2005, he saw it as a natural progression.
"I've always had a passion for Ferris, it's philosophy, what it does for higher education and Michigan, country, and the world. It was a good way to give back in a meaningful way to me."
As a board member, Shaw feels that the largest way that he has made an impact is through helping students come out of college with less debt. Shaw has also worked to positively impact recruitment to the university by advocating for the availability of scholarships, particularly for the HVACR program.
"If students are looking at our HVACR program website and see the scholarships offered, they will look twice," Shaw said.
Growing up, Shaw and his siblings sold Christmas trees to save up money to attend college. Shaw believes that if it wasn't for Ferris, he wouldn't have aspired to earn a bachelor's degree. The associate's degree he received from Ferris helped him get a good military job when he was drafted. He credits his Ferris education with giving him the skills to have a good income and the ability to advance.
"We have something that the compass schools in Michigan don't have and that's an applied education where every class has hands-on application tied in with the curriculum and theory. When a graduate comes out they are work-ready. So many employers have recognized that and appreciate it and have given back, and they should give back. They are hiring people that can improve their bottom line," Shaw said.