Internship Story: Hanna Zimmer - Proos Manufacturing, 2020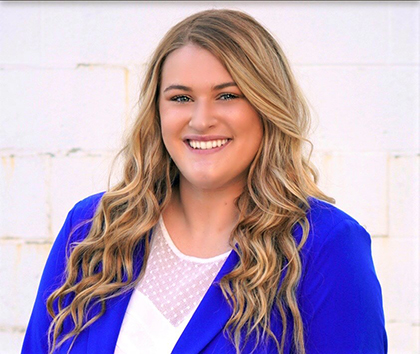 Hanna Zimmer is an Operations and Supply Chain Management major who expects to graduate in May 2022.
How did you get your internship? I came across the Proos Manufacturing booth at the Fall 2019 Ferris Career Fair. There, I met with human resources, gave them a resume and took a business card. This initial interaction didn't necessarily "land" me the internship. I followed up with the information on the business card by email and phone to keep my name fresh in their minds. Soon thereafter, I was asked to interview. After the interview, they offered me the job, and I signed in the fall for the upcoming summer.
What are your primary responsibilities? My primary responsibilities surround the topic of continuous improvement, a subject that I am so intrigued by in operations. My responsibilities are strategic versus tactical. I analyze past, present, and future purchase orders within the entire supply chain realm to determine which partners or suppliers are the most beneficial to the company in the short and long run. Within this supply chain research, I focus on capacity and the internal and external factors affecting it daily. I am also creating an RFQ (request for quote) module within the ERP system at Proos that will be configured and tailored to the purchasing department's needs and will be used internally. This module will bridge gaps between various departments, including engineering, sales, purchasing, and finance/accounting. I also have created a supplier scorecard here, measuring and ranking suppliers based on critical factors such as on-time delivery, cost and quality- all of which are crucial to the success of ANY business.
What have you learned so far? The main thing that I have learned from both internship experiences is that it's OK to ask questions. Asking questions does not point out your flaws, but offers an opportunity for growth. Employers favor employees that ask questions as they exhibit curiosity, motivational drive, and an eagerness to learn by asking.
What is the most significant thing you have done during your internship? The most significant thing I have done in my internship is configuring the new module (described above) that works to bridge gaps in the current ERP system, thus, strengthening the internal control/tracking of our supply chain as a whole.
How did Ferris help you get this internship? Without attending the Ferris Fall 2019 Career Fair, I wouldn't have received this internship. I learned about Proos there.
Did this internship help you decide what you want to do after graduation? My first internship during Summer 2019 was when I learned that not only did I enjoy supply chain management, specifically working in purchasing, but I had a natural talent for it. When I first applied for Ferris, I decided my major would be Mechanical Engineering. This decision quickly changed at my first internship when I realized that my true passion was in the purchasing department. I went back to Ferris that fall and changed my major. Internships teach you a lot about yourself, your work ethic, and your talents you may not have even known you had.
Have you had previous internships? I had an internship during Summer 2019 at Stanco Metal Products in Grand Haven, Michigan. I found that I enjoyed working in the metal stamping and fabrication industry so much that I took my current internship at Proos, in the same industry. Working in the same industry for multiple years has allowed me to grow my network with key manufacturing companies in West Michigan. These contacts in conjunction with combined experiences in the field will help me find a job in this industry when I graduate.
What is your most memorable day at your internship? My most memorable day was the first day. The first day of a new job is always nerve-wracking, but I met so many friendly coworkers that truly made my transition easier, especially in the time of our world pandemic (COVID 19).
Are you involved in other Ferris groups? (Greek life, sports, professional/ student organizations, etc.) I am the secretary of the Operations and Supply Chain Management Association RSO on campus.
Why are internships valuable for students? Internships are the most valuable "college experience" you can have. They employ the skills and lessons you have learned in previous classes and provide real-life examples crucial to understanding the subjects. They also provide an environment for networking, potentially offering opportunities for new friendships in the workplace. Internships offer a glimpse into the working world, while still allowing you the freedom to learn more about yourself and what experiences will make you happy and successful in the future.
What advice would you give to someone looking for an internship? The biggest piece of advice I would give to someone looking for an internship is to spread your name in the business world wherever you can. I would strongly recommend creating and maintaining a professional LinkedIn Profile, as many industries utilize this resource to its full extent. Always follow up on opportunities; don't wait for them to come to you. If you want an internship, put your name out there and work to earn the opportunity. Be persistent, bold, and use your attributes and experiences to sell yourself. Attend campus career fairs, even if you aren't looking for a job at that moment, because in the future you will, and you'll have countless resources and contacts to reach out to at that time. Keep business cards, buy a folder so you don't lose them. Having contacts when starting new internships or job positions helps to sell you as a potential employee further.
Related Programs