Five professors receive Sytsma Faculty Award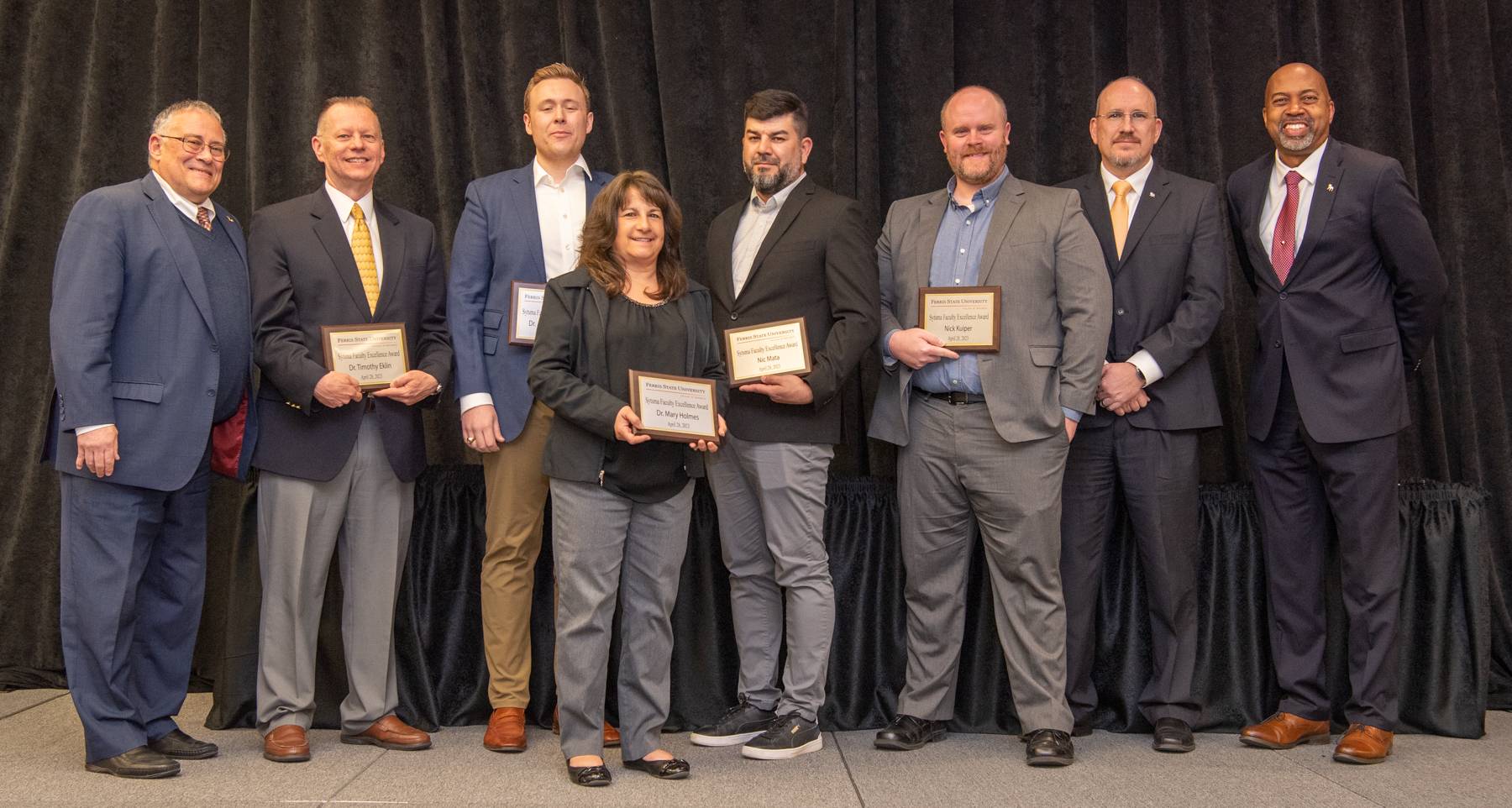 On Friday, April 28, the College of Business hosted its annual Sytsma Faculty Award Ceremony. Recipients were welcomed to the David Eisler Center to be presented their award over dinner, featuring a keynote speaker.
The Sytsma Faculty Excellence Award aims to promote, encourage, recognize, and reward faculty performance excellence and improvement. Three essential requirements must be met to qualify for this award: the candidate must have a track record of excellent teaching, be an active professional association member, and offer concrete examples of improvement efforts. Five professors are noted as incredibly hard-working and continuously going above and beyond for their students, program, and Ferris State University: Alex Cartwright, Nick Kuiper, Tim Eklin, Nicolas Mata, and Mary Holmes.
Alex Cartwright works in the Management Department and is an associate Economics professor. He does fantastic work for the new Economics program with student recruitment by providing high school teachers with continuing economics education. Cartwright has also taken leadership responsibilities on campus as chair of the Academic Program Review Committee.
Nick Kuiper, a Television & Digital Media Production professor, has supported various initiatives across his program and university. He currently serves on the academic senate, several tenure committees, search committees, and COB committees. Nick is also working with students on the production and editing of a second feature episode of Mystic Michigan.
Tim Eklin is a Criminal Justice professor who has supported multiple efforts within his program by engaging his colleagues on behalf of the various committees that he serves. He completed the review of course-level faculty credentials for the school, and Eklin plans to continue advancing the curriculum for the School of Criminal Justice. He is also an active member of the Curriculum Committee.
Nicolas Mata, an associate Design professor and program coordinator, has contributed to various activities within his program and university. Mata has been an active American Institute of Graphic Arts (AIGA) member and leverages his connections with the design industry to ensure his curriculum stays updated on the latest design practices. He is also an active member of the College Website Advisory Committee.
Mary Holmes is an associate professor of Computer Information Technology, and her commitment to teaching her students is unsurpassed. Mary is a Ferris VR research team member and has attended VR Course Development Training, where she fosters connections with industry to advance her curriculum. She is also a Ferris ITS department consultant and is a member and chair of the Michigan Blackboard Users Group.
The Sytsma Award is made possible by a gift from professor emeritus Sid Sytsma to recognize faculty members who have contributed by their work and example, often at a personal sacrifice, to improving and furthering the educational mission of the college. 
To read more about individual faculty achievements, visit Ferris State University College of Business on Facebook.