Elliot Silvernail

Shares his Experience at

SpartanNash
July 10, 2023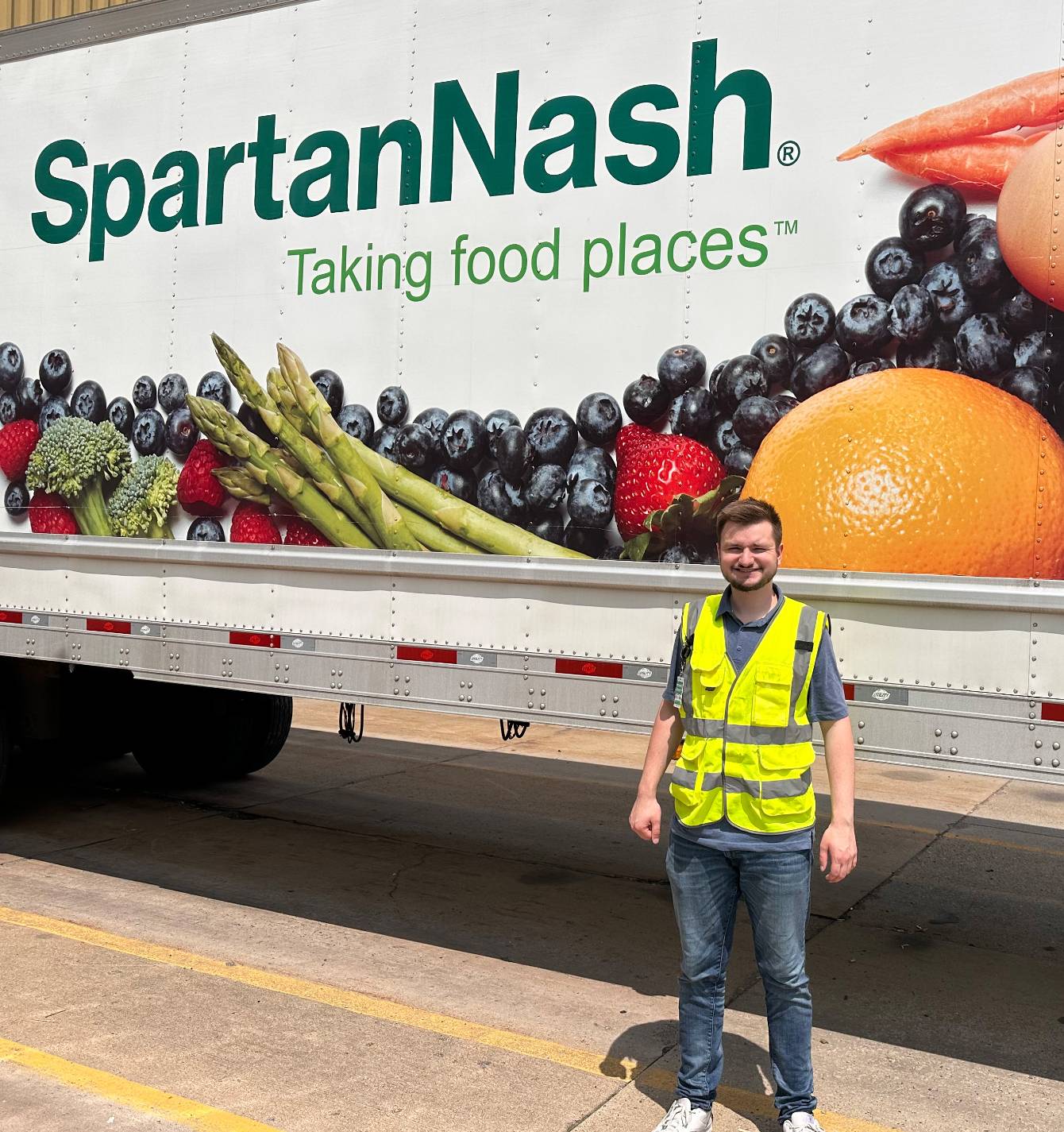 Elliot Silvernail pictured on the job.
SpartanNash, Grand Rapids, Michigan.
Elliot Silvernail has a minor in Computer Information Systems and is studying Business Administration at Ferris State University. He is a Senior, set to graduate with a bachelor's degree in May 2024. Through Silvernail's time at Ferris and his internship at the SpartanNash, he's gained on-the-job knowledge necessary to set himself apart from other candidates in the workforce.
When it came time to search for an internship, Silvernail realized it required a great deal of persistence. He started at SpartanNash as an order selector last summer, collecting items for customer orders and assembling them into trucks. He decided to return to this position for three weeks over winter break with the hope that it might get him a better chance at landing an internship with them. Unfortunately, his first six applications were denied; however, SpartanNash had more than 100 open internship opportunities for the summer, so he kept trying. On the seventh application, he was accepted to the position of Inventory Control Management due to his previous knowledge as an order selector within the company.
Stepping out into the workforce and finding an internship can be scary. When asked what advice he had for someone looking for an internship, Silvernail said, "If you're interested in a particular company or field, don't let some denied applications get you down." He remarked, "Keep applying to the same positions as I did. If I had decided I wasn't good enough to work for SpartanNash, I would not have gotten this internship."
SpartanNash is an American food distributor and grocery store retailer headquartered in Byron Center, Michigan. Silvernail's focus during his summer internship was comprised of various projects where he had to oversee different processes and catch any costly errors. This includes controlling SpartanNash's slot labeling situation and managing the auditing process. His tasks included determining what Distribution Center warehouses had the necessary printers, supplies, labels, and to correct them if not. He also had to intimately understand the auditing processes across all the warehouses to ensure they were similar enough for auditors to be shifted around.
Silvernail's next upcoming project will be the re-racking project, a delicate task requiring careful thinking and detailed strategy. He described the project as "in line with a project I might do at school." He feels nervous but is also excited at the prospect of successfully coordinating it, which will result in the racking system becoming more efficient and boosting productivity in the future.
Silvernail also learned many important things during his internship while determining how to manage SpartanNash's operations.
Silvernail explained, "I learned quite a bit about how to run our operations and the related software, EXE." He added, "I've had the opportunity to add items back to inventory using this software and use it to assist in the auditing process."
Silvernail's most memorable experience he won't soon forget was during his orientation. He was caught off guard by SpartanNash's core belief of "We have fun." For the first two days of orientation, all interns had the opportunity to go to Craig's Cruisers and a bowling alley. Beyond being a fun experience, this also helped him immensely with getting to know the interns he would be working with over the summer. He connected with them over LinkedIn and found out who would be in his department.
In addition to all his incredible experiences and challenging projects, Silvernail believes that this internship has prepared him for what he wants to do after graduation.
"The amount of data SpartanNash collects and manages is fascinating to me." He shared, "Even if I don't continue in inventory control, there are many other aspects of the company that I see myself having potential in."
Internships can be very enriching experiences. When asked why Silvernail valued his internship opportunity, he commented, "Classrooms only give you a glimpse at some of the tasks that you might perform at a real job." He shared, "In an internship, you get a glimpse at what the real world is like, leaving you to adapt, learn quickly, and find solutions that may have never been thought of before."