Brooke Baker Shares her Experience at Meijer
August 04, 2023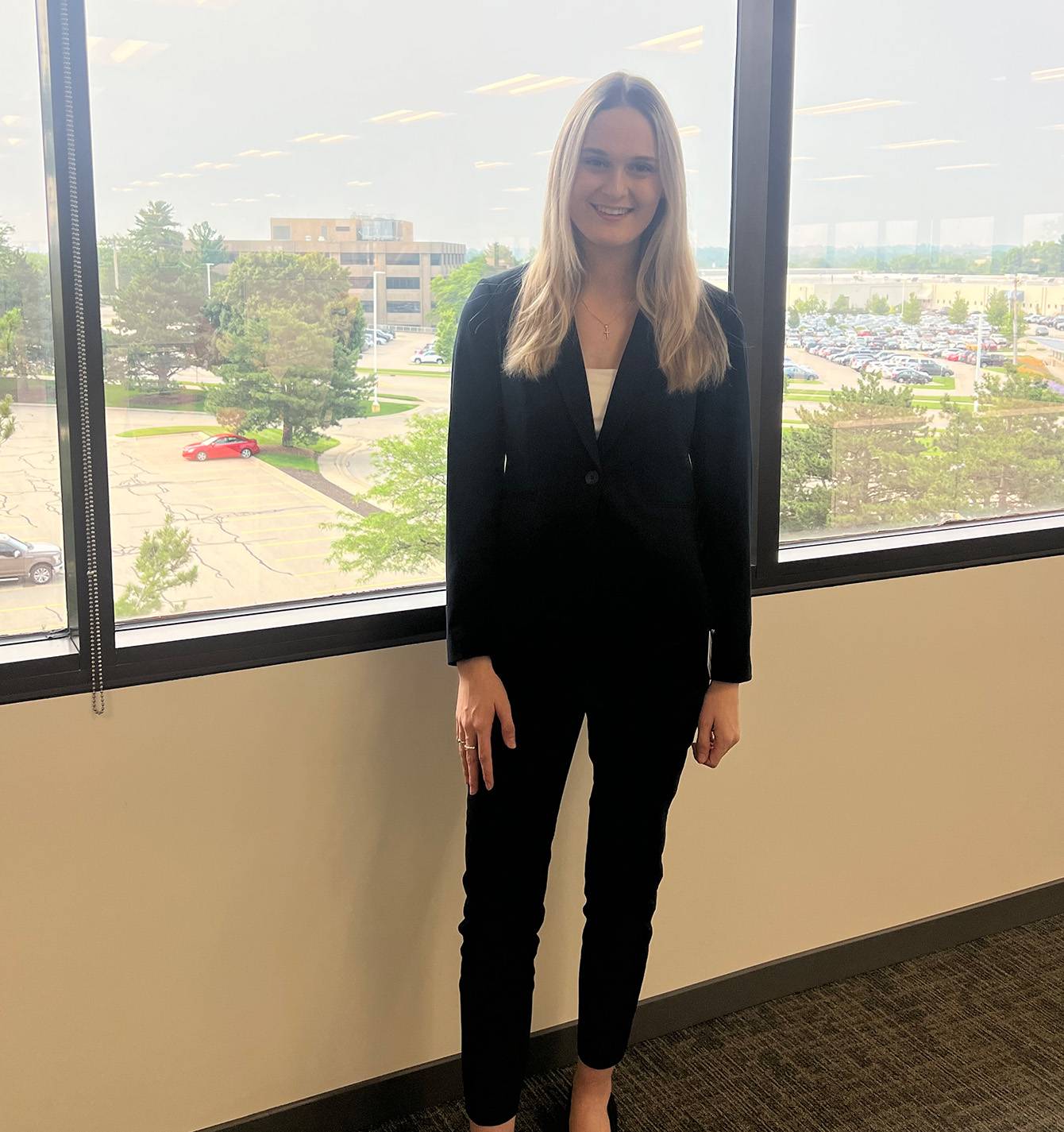 Brooke Baker pictured on the job.
Meijer, Walker, Michigan.
Brooke Baker is a junior studying Risk Management & Insurance with a minor in Legal Studies at Ferris State University. She is the president of Gamma Iota Sigma, a professional fraternity for students seeking a Risk Management & Insurance job, and is from Sault Ste. Marie, Michigan. She is also set to graduate with a bachelor's degree in Spring 2025. Baker gained important on-the-job experience this past summer through her internship at Meijer Corporate Office.
During Baker's freshmen year, she learned that there was a possibility that Meijer would be offering a Risk Management Internship during her college career, and this was confirmed at the beginning of her sophomore year at Ferris. She immediately applied for the internship in September of that year. Baker's application was accepted, and she went through the interview process and was awarded the Meijer internship in November 2022.
Stepping out into the workforce and finding an internship can be intimidating. When asked what advice she had for someone looking for an internship, Baker said, "My advice to someone looking for an internship would be to take the initiative to research opportunities, explore your choices, and talk with professors/professionals in the industry for insight and recommendations." She remarked, "Also, take any opportunity you can to build your resume, especially in the things you're passionate about.
Meijer is an American supercenter chain primarily operating throughout the Midwestern United States. Its corporate headquarters are in Walker, Michigan, part of the Grand Rapids metropolitan area. For Baker's summer internship, her main responsibility was to help benchmark for the Claims Team, where she was able to collect and interpret data from Meijer systems and conduct a time study for a project and final presentation. During her internship, she presented her findings and ideas to her team, executives, finance department members, and other Meijer interns.
One of the most important things Baker learned during her internship was how to handle internal and external communications within corporate retail. Baker also wrote, "I have learned a lot about risk management, including claims handling, insurance coverages, risk mitigation strategies, and contract review."
A memorable experience Baker had during her internship was when she traveled to one of the Distribution Centers in Pleasant Prairie, WI. Baker met up with the property insurance carrier for insurance renewals at the center, and she was able to participate in the renewal process and tour the plant.
Internships can be very enriching experiences. When asked why she valued her internship opportunity, Baker commented, "I believe that internships are a great opportunity to apply what you've already learned in classes, as well as to understand the functionality, opportunities, and routes you can take in your field of interest."
Besides all her incredible experiences, Baker believes that this internship has prepared her for what she wants to do after graduation. Baker remarked, "This internship helped me understand more of the direction I want to go with my education. "After experiencing all of what a job in Risk Management entails, I made the decision to change my minor to Legal Studies." She shared, "I believe this change is the best choice for me, personally and professionally."
If you are interested in getting an internship, Ferris State University's College of Business has an Internship Director who can assist you in your search for an internship. For internship assistance, contact Jennifer Njenga Kinuthia at [email protected].
When asked if there was anything else Baker wanted to add to the article, she said, "Before deciding what I was going to college for, I took time to understand my strengths, interests, and opportunities in various fields. I was curious to learn more about insurance when I was in my business class in high school." She wrote, "I was already thinking that I wanted to go to Ferris, so I looked up programs and saw that they offered a degree in insurance. I am so glad that it worked out, and now I find myself in such a great experience at my first internship in the industry."