Abigail Meyers Shares her Experience at Amway
July 24, 2023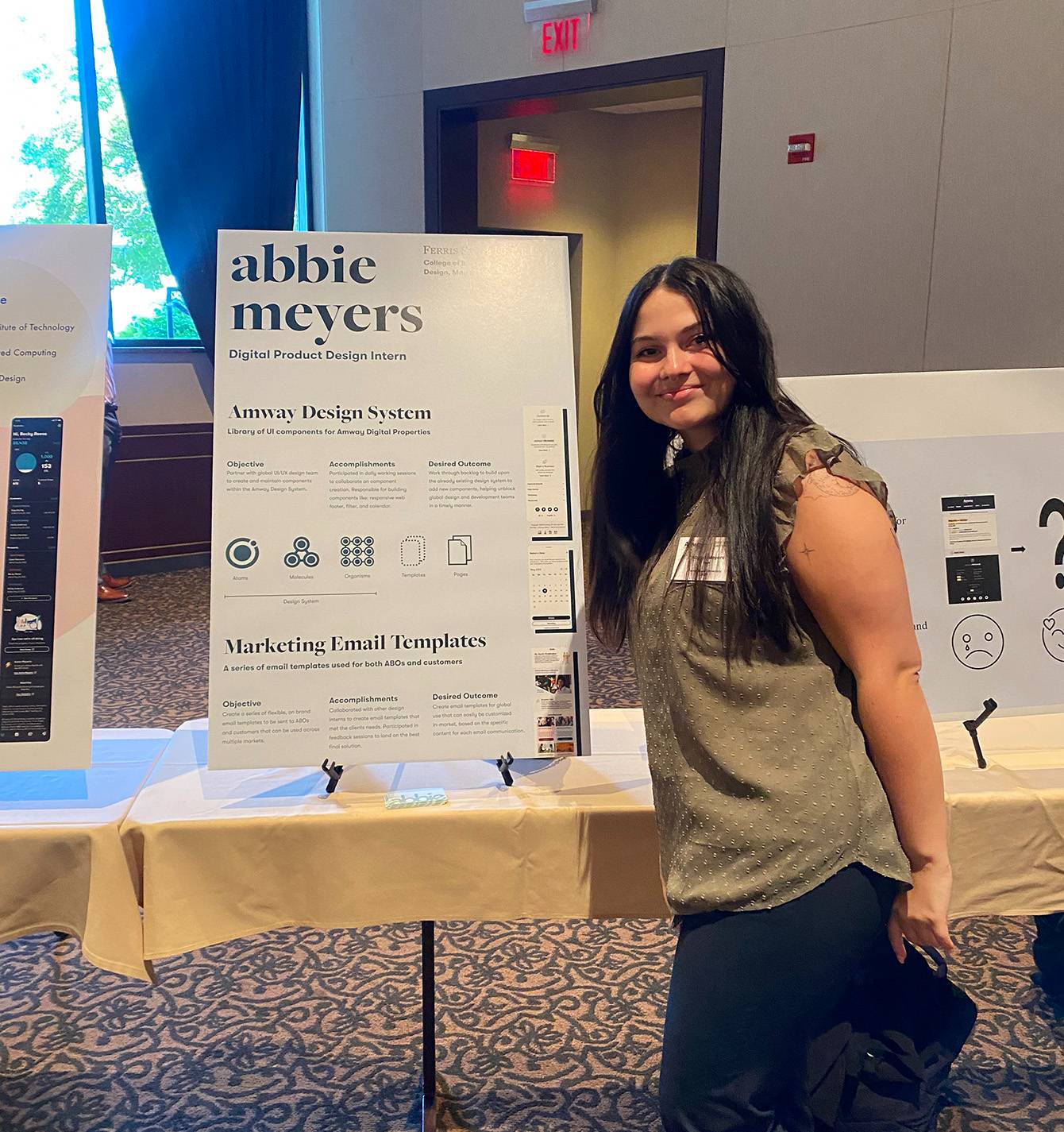 Abigail Meyers pictured on the job.
Amway, Ada Township, Michigan.
Abigail Meyers is a senior studying Design at Ferris State University. She previously served as president of the AIGA student group and is set to graduate with a bachelor's degree in Spring 2024. Through Meyers' internship at Amway, she's gained the on-the-job experience necessary to distinguish herself from other candidates in the workforce.
When it came time to search for an internship, Meyers applied for an internship at Amway at the beginning of January and got an interview by the end of the month. She had one interview with Amway's lead team members and walked them through one of the apps she created on her portfolio. Meyers also discussed what she would do to update her app, demonstrating a commitment to continuous improvement. By the end of her first interview, Meyers was offered a Digital Product Design Internship position.
Stepping out into the workforce and finding an internship can be intimidating. When asked what advice she had for someone looking for an internship, Meyers said, "I think the biggest advice I would give is, to be honest about your capabilities as well as your eagerness to expand on those abilities." She remarked, "Interviewers want to know what you can bring to the table, but they also want to know that you know what you need to work on. That ability to critique yourself shows your ability to grow."
Amway is an American multi-level marketing company selling health, beauty, and home care products in Ada Township, Michigan. For Meyers' summer internship, she works with Amway's UX team. She assists with building and testing components, prototyping, and layout building. One of the most important things Meyers learned during her internship is how to work in a company with a massive design system and all its standards, including communication, creating iterations, critiques, and testing.
A memorable experience Meyers won't soon forget occurred during her first two days at the internship. She had a wonderful time meeting the interns and her new team members. Meyer's noted, "It was definitely overwhelming at first, but I think that was part of what made it so exciting, the unknown!"
Internships can be very enriching experiences. When asked why she valued her internship opportunity, Meyers commented, "There's only so much a classroom can teach you; you never really know what a career is going to be like until you get into the field." She shared, "I think an internship not only sets you up for success with experience and connection, but it also gives your perspective on whether you are going into the right field."
Besides all her incredible experiences, Meyers believes that this internship has prepared her for what she wants to do after graduation. Meyers remarked, "I knew I was interested in UX design, but I didn't really know what a UX designer does on a day-to-day basis. Having this perspective has helped me solidify in wanting to explore the UX design field."
Everyone should take the opportunity to gain real-world experience. Getting an internship is a great way to test if your career path is right for you.
If you are interested in getting an internship, Ferris State University's College of Business has an Internship Director who can assist you in your search for an internship. For internship assistance, contact [email protected].