Melody DeJohn shares about her time at the John Ball Zoo
January 24, 2023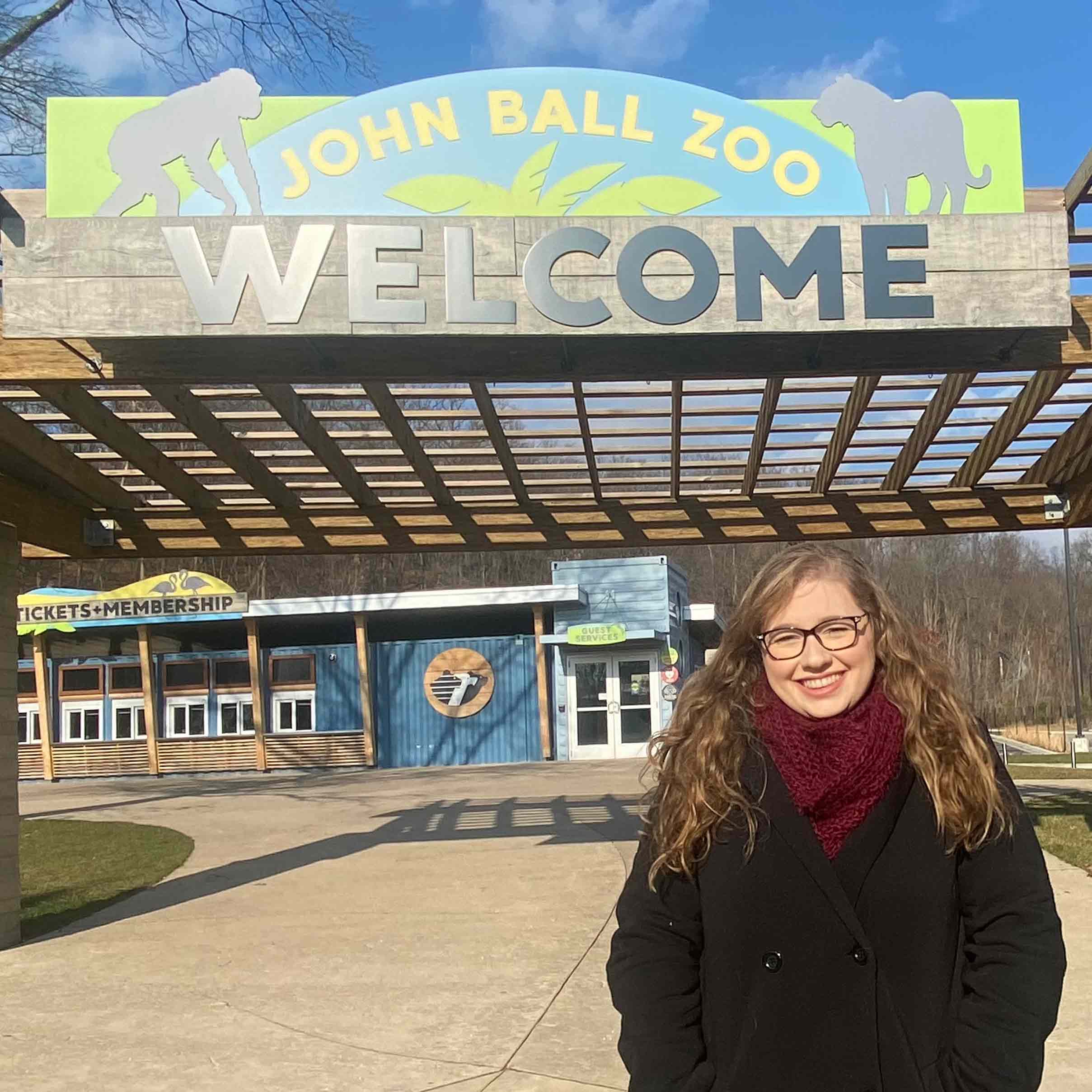 Melody DeJohn pictured on the job.
John Ball Zoo, Grand Rapids, Michigan.
Melody DeJohn is studying Human Resource Management at Ferris State University. She is a Senior, set to graduate with a bachelor's degree in January of 2023. Through DeJohn's time at Ferris and her internship at the John Ball Zoo, she's gained on-the-job and classroom knowledge necessary to set herself apart from other candidates in the workforce.
When it came time to search for an internship, DeJohn searched job listings on Indeed. She saw that John Ball Zoo had an opening for a Human Resources Intern and swiftly applied for the position. A short time later, DeJohn received notice that John Ball Zoo was interested in her application, and she underwent a series of interviews.
John Ball Zoo is one of the largest zoos in Michigan, nesting in Grand Rapids. DeJohn worked alongside several departments at the zoo, helping those who needed it. When DeJohn got to the John Ball Zoo, the Human Resources department was restructuring. DeJohn's primary responsibilities during her internship included inputting new hires, collaborating with departments to see where additional employees were needed, and more. DeJohn said, "At first, I didn't feel like I was helping, but I've begun to see that my efforts have been a big help to that department and my superiors at the zoo." Overall, DeJohn feels she has been able to tackle the amount of responsibility she's been given at the zoo.
DeJohn's studies at Ferris State University helped prepare her for the role she took at the John Ball Zoo. She recalled, "The importance of time management has been a vital skill I took from my studies and applied at my internship." DeJohn added, "Often, another team member is depending on me to complete my tasks in a timely manner so they can complete theirs." DeJohn related this situation to group projects she's had in her courses while at FSU.
A memorable experience DeJohn won't soon forget occurred at the beginning of January 2023, when she was fortunate enough to sit in on a Brand Ambassador meeting. Here, she listened as the various zoo departments collaborated with ideas on how to grow and expand business and brand awareness.
DeJohn noted, "It's a really good experience to take the things you've learned while attaining your degree and apply them to real-life scenarios and see the connection to your classes."
Internships are commonly looked at as a way for students to gain experience in their field before graduation; however, DeJohn also sees it as an excellent opportunity to analyze how you are as a worker in your field and identify where your strengths and weaknesses may be.
She also recognizes that it can be scary to look for an internship; DeJohn said, "I had so much anxiety surrounding my internship search that I kept putting it off. Once you get out there and start looking, it is a lot easier than it seems to be." She recommends, "Apply for anything and everything that you might be interested in. Don't be afraid to ask for help if you're having trouble finding anything either."
Ferris State University's College of Business has an Internship Director who can assist students in their search for an internship. If you could use assistance preparing for an internship, contact [email protected].
DeJohn felt the full effects of an internship, stating, "This internship definitely helped me to decide what I want to do after graduation." She shared, "I was a little nervous that I went into the wrong field as I have many different interests and passions, but my internship solidified for me that HR is a field I can see myself being successful in."