Why Choose the School of Digital Media?
The School of Digital Media at Ferris State University is the place to find majors aimed at students who want to be creative storytellers. The school boasts of four programs that are unique, state-of-the-art and forward thinking.
Seeking to develop both the creative spirit as well as the technical know-how to deliver stories effectively, students engage with industry standard software and equipment through project-oriented course work to learn their craft. In each major this applied approach to learning is coupled with small class sizes, internships with industry leaders, a proven track record of success and faculty who bring the perfect blend of education and industry experience.
Digital Media
BIS 303
1349 Cramer Circle
Big Rapids, MI 49307
(231) 591-
2712
Tel
(231) 591-
2060
Fax
[email protected]

Digital Media Faculty and Staff
Center for Virtual Learning
We will be moving to the brand new Center for Virtual Learning (CVL) for the Fall 2023 semester. With next-gen classrooms and labs, an advanced Cyber Competition Center, and cutting-edge esports arena, the CVL will put you at the center of a new era of education.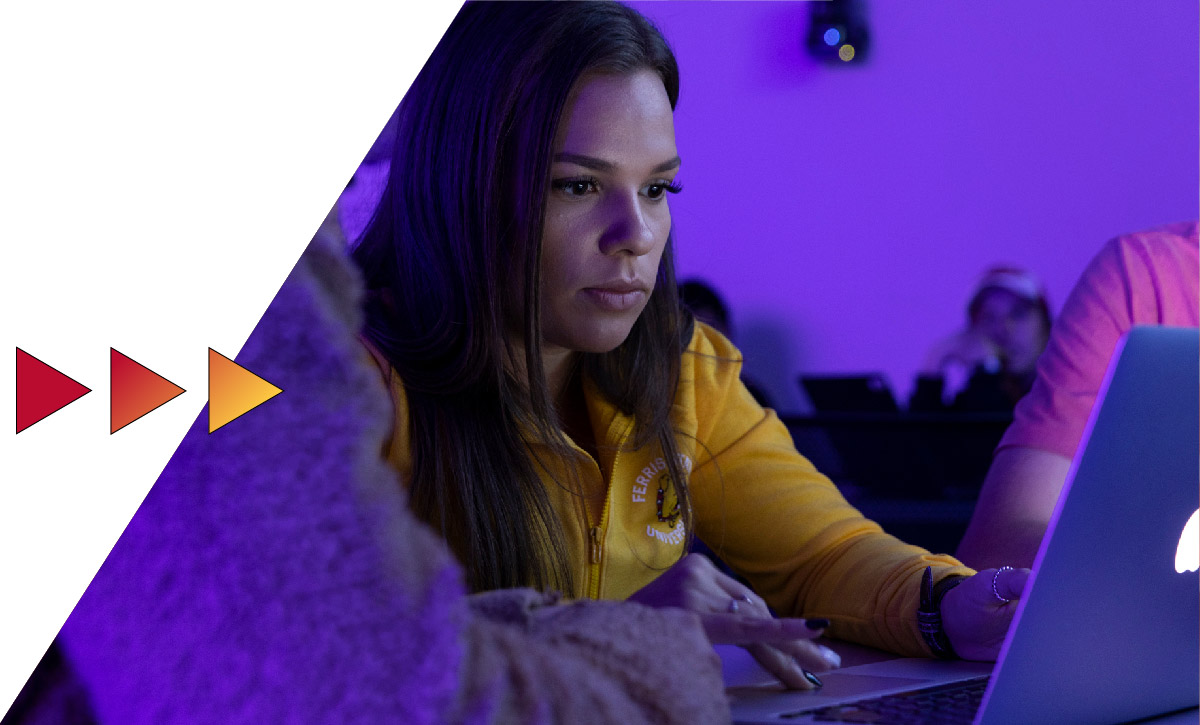 SDM Programs
Advanced Studies in Autonomous Vehicle research
Smart and driverless cars are revolutionizing the automotive industry. Our fully online Advanced Studies in Autonomous Vehicle Research (ASAV) certificate will position you to be a part of that revolution. In this graduate-level program you will build the skills to become a leader in an emerging billion-dollar industry and help launch the next era of transportation as an autonomous vehicle engineer.
Digital Animation & Game Design
The Digital Animation and Game Design (DAGD) program is focused on educating students in the latest tools and technology used to create digital and interactive content.
Digital Media Software Engineering
The Digital Media Software Engineering program teaches software development from design to delivery. You will understand software engineering as a process and best practices that will prepare you for careers in informatics, business, health care, automotive, robotics, smart devices, and entertainment.
Television & Digital Media Production
Whether you enjoy learning how movies are made, producing your own show to broadcast over the Internet, working behind a camera or editing images and sound, the Television and Digital Media Production (TDMP) major is the best way to reach your television or digital media goals. Combined, our award-winning faculty have over 100 years of experience working in professional television and digital media production settings and are well respected around the nation for preparing students for a myriad of related careers.
Broadcast Engineering Minor
The Broadcast Engineering Minor will give you the basic skillset to keep stations on the air. You will learn the critical role that Broadcast Engineers play in the field. As the backbone of the television and radio industry, broadcast engineering will you give you a better sense of how to keep a local and national station up and running for their viewers and listeners.
Broadcast Engineering HOMEPAGE
Digital Media Associate Degree
The associate degree combines existing courses within the Digital Animation and Game Design (DAGD), Digital Media Software Engineering (DMSE) and Television and Digital Media Production (TDMP) programs into an introductory and exploratory degree within the School. It allows students to complete their general education requirements while enrolling in courses from across the digital media curriculum.
Upon completion of this two-year degree, students will be better positioned for success if they transfer to Ferris' Grand Rapids campus to complete a bachelor's degree in either DAGD or DMSE while exposing all students to a variety of media, better positioning them as they choose their specialty.
This 2 + 2 degree is designed to provide students a smooth transition into any of the three bachelor's degrees within the school, although completing this degree prior to entry into the bachelor's programs is not necessary.
Professional Esports Production
The Professional Esports Production program is the first of its kind in the state of Michigan focusing on roles surrounding the athlete. Combining creative prowess with technical expertise and communication skills, the degree will prepare you for careers in media production, content creation, streaming, casting, and user interface design. You will build the skills to produce and distribute content, setup, host, and stream professional esports events, and develop programmable screen overlays and user interfaces. You will also gain professional equipment and operational knowledge enabling to start your own, in-house, streamer setup.