Just how much stock car racing owes its origins to running moonshine is open to debate. More important is the outlaw mythology that clings to the sport, along with a paradoxical sense that this racing that came up out of Southern dirt tracks is simultaneously home-grown and larger-than-life.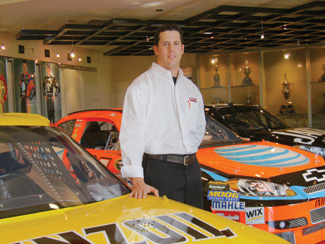 NASCAR (or, more formally, the National Association for Stock Car Auto Racing) began standardizing the sport in 1948, putting an end to cars tweaked for performance in bootleggers' garages — if they ever were. Today, a high-performance engine capable of producing 850 horsepower can by itself cost upwards of $70,000 to produce. And at Earnhardt-Childress Racing Engines in Welcome and Mooresville, N.C., they build approximately 700 engines a year for the Sprint Cup, Nationwide and Craftsman Truck Series teams for Richard Childress Racing and Dale Earnhardt, Inc.
Jim Suth (T'04), ECR's quality engineering manager based at the RCR complex in Welcome where the Sprint Cup engines are made, has to make sure those engines have the power and reliability to do what they have always been designed to do — outrun whatever's behind them.
Welcome to Speed
Richard Childress Racing's Cup shop building on its Welcome complex is close to the size of a couple football fields put side-to-side — excluding the huge hauler bay area where semi-trailers load up the cars for race weekends. In the assembly area are dozens of cars in various stages of completion. Outside the paint stalls, a row of newly sprayed cars await application of sponsor decals. A few are nothing but almost robotic-looking frames, while a nearly completed No.7 car with a distinctive Jack Daniels logo has a NASCAR specification template — which looks like a huge metal spider — lowered over its gleaming black body. The whole area is high-ceilinged, and the white tile floor gleams. It looks as clean as a surgery room.
"One of the first things my boss told me when I came here — and I've heard Richard say the same thing to people — is that you can't work and focus when there's chaos around you," says Suth.
With about 400 employees at RCR and another 130 at ECR, there's no single employee who has a hands-on, beginning-to-end role in assembly of the cars.
"Last year RCR was a three-car operation — Clint Bowyer in the No.7 Jack Daniels car; Jeff Burton in the No.31 AT&T car; and Kevin Harvick in the No. 29 Pennzoil/Shell car. This year they've added Casey Mears in the number No. 33 car," Suth says. "On the weekend you only see the guys at the track, the pit crew guys. People don't understand what goes into it back here at the shop so those guys can do what they do every weekend. You're only as good on Sunday as the work you put in the previous week at the shop."
Childress founded RCR in 1969 with himself as driver of the team's first No.3 Chevy in that year's Talladega 500. In 1981 Childress retired as a driver, which began RCR's relationship with Dale Earnhardt who drove for the team in '81, then again from 1984-2001, winning six of his seven Cup titles with RCR. His tragic death at the 2001 Daytona 500 was a pivotal moment for RCR.
"That was a point in the company where it could have gone either way. Richard very easily could have said "˜That's it.' He went the other way, and you can see where we are now," says Suth.
In addition to its Cup assembly building, the nearly 35-acre RCR complex includes, among other buildings, a 20,000-square-foot CNC Technology Center it runs in cooperation with its partner, Okuma America; a Pit Stop Practice Shop (the pit crew has daily workouts in the Cup building gym complete with industrial-strength free weights, treadmills, elliptical machines and requisite flat-screen televisions); Engine Shop; and Museum, which was the complex's original fabrication facility when the company had just 20 employees.
As the museum helps document, NASCAR drivers have moved from a reliance on mechanics and mechanical processes to relying on engineers who can protect against variations so small you need a room protected against the heat and humidity of North Carolina to measure them.
Winning by a Micron
Kevin Harvick won the 2007 Daytona 500 by finishing in front of Mark Martin by .020 of a second. With strict NASCAR rules determining so much of a car's potential, every little bit of performance within those parameters has to be wrung from an engine. For Suth, controlling variables down to the level of the micron (one millionth of a meter, or 1x10-6 m) can mean prevailing by a couple hundredths of a second on the track.
"This is my baby. I put a lot of hard work into putting it together," Suth says, in a hallway beside a picture window, looking in at ECR's climate and humidity-controlled metrology lab where a worker is calibrating a large Metris coordinate measuring machine. "We split hairs in this room, literally. Hitting our dimensions and tolerances are so critical — we have to be able to measure them with great accuracy and repeatability."
Suth has been in charge of providing that accuracy and reliability since joining ECR in 2005. He says that the challenge is to work hard during the week to make sure there's no problem on Sunday.
"An engine failure is not just a $70,000 investment lost. It hurts sponsorships, it hurts you in points. It's bad media and hurts morale. We've had people come into the sport and get out because they can't handle the pressure."
Appropriately, perhaps ironically, it is Suth's familiarity with failure — as in material failure analysis, which he studied at Ferris — that helped prepare him for success in such a highly competitive environment.
"I evaluate components after they've failed. Those parts usually get brought back to me as a pile of rubble in someone's hands. They ask, "˜Jim, what happened here? Why did this break and what broke first?' The sooner we can understand why a component failed, the sooner we can put a corrective action in place."
And because the team behind a car is 400 or so people and not just a driver and his pit crew, Suth also credits classes in Industrial Organizational Psychology and Communications with his ability to be an effective member of that team. "It's critical to have good communication skills. You can easily come off the wrong way with people when you're working with them under this kind of pressure."
That pressure comes from success. In 2007, NASCAR made a profit of nearly $3 billion, and only the NFL manages higher television ratings. The intense brand-loyalty of fans makes those sleek, shiny cars perhaps the country's most sought-after (and certainly fastest) billboards. Beneath those logos for AT&T, Jack Daniels, Shell and Pennzoil, Suth's handiwork is helping to ensure that some of the most finely tuned pieces of machinery on the planet keep making the NASCAR world go 'round.