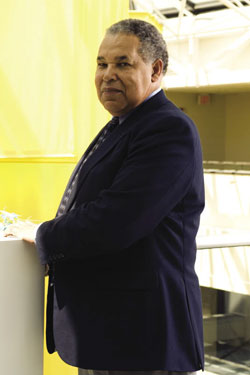 Embarking on a new adventure to parts unknown, John Matlock got on a bus and headed to Ferris State University in the spring of 1968.
It was the beginning of a remarkable journey that took the Detroit native from being a high-school dropout at the age of 16 to earning a Bachelor of Science degree from Ferris in 1971 -- to securing a Master of Arts degree and his Ph.D. from the University of Michigan. Matlock went from wondering about his personal future to positively impacting the lives of others as chief of staff for U.S. Representatives John Conyers, of Michigan, and Harold Ford Sr., of Tennessee, and by his involvement with students at several college campuses.
His work with Conyers allowed him the extraordinary opportunity to get to know a person who had influenced not only him, but his entire generation -- civil rights pioneer Rosa Parks. "I still can't believe that for years I had the chance to chat with her almost every day when she served on Congressman Conyers' staff. Mrs. Parks never changed her commitment to social justice and equal opportunity," he says.
Parks was an inspiration to him on many different levels, and even before meeting her Matlock embraced Parks' goals, and like Parks was not content to wait for change to happen by itself.
Blazing a New Trail
Matlock's own journey to fulfillment started more than 40 years ago when he arrived at Ferris as an introverted young man who soon matured and learned to stand up for himself and others during the height of the civil rights movement, which was especially intense on college campuses.
"I was accepted at Ferris and honestly, I really didn't know where Big Rapids was located. But, I hopped on a bus with my life's possessions in a footlocker and headed for Brophy Hall," says Matlock, who today serves as associate vice provost in the Office of the Provost and Academic Affairs at the University of Michigan and also directs its Office of Academic Multicultural Initiatives. "I was from Detroit and I had been working on an (auto) assembly line, but I knew that I wanted to go to college. When I was accepted at Ferris it gave me an opportunity to live out that dream. Ferris was the only college that would accept me and give me a chance."
At Ferris, Matlock became editor-in-chief of the student newspaper, The Torch -- something that had been almost unthinkable for an African- American prior to his ascension to that post for the 1970-71 academic year. He also was the first African-American to receive the "FSU Man of the Year" award. Additionally, Matlock served as (acting) student publication adviser and taught journalism for two years at Ferris after earning his master's.
"Ferris was an excellent place for me to develop, and I honestly don't think that development could have happened at any other school," says Matlock, who also interned at the Detroit Free Press prior to earning his master's in journalism. "When I was at Ferris there was no doubt in my mind that I was right where I needed to be, having a chance to meet a group of folks, in my various capacities, who would go on to be lifelong friends, including current Ferris board of trustees member Ronald Snead. I also had great professors who encouraged me -- in particular, professor John McNamara who believed in me and my capabilities much sooner than I did."
The late 1960s and early 1970s represented a period of significant social change as the civil rights movement was still in full swing. Young people, like Matlock, came of age during that period in U.S. history.
"People gave up their lives so that individuals such as me could have educational and voting opportunities," he notes.
For Matlock and others, Ferris was the place where they grew into awareness and activism.
"A lot of students made significant personal sacrifices at Ferris in their efforts to improve the climate for black students. These are the real heroes."
Coming of Age in Big Rapids
Coming to Ferris in the spring of '68 was a life-changing event that put Matlock on track for the career and family life he cherishes today.
"I came in as a pretty shy person. Ferris allowed me an opportunity to get to know myself and to become comfortable dealing with others," says Matlock, who married his wife (Margaret Scisney-Matlock, a professor of nursing at U-M) both in Detroit and, at the invitation of Nigerian friends, in Africa. The couple has one daughter, Robin. "Getting involved in social activism and standing up for a greater cause allowed me to blossom. I always tell my students that activism is not confined to just experiences on a college campus -- you need to commit your entire life to trying to make a difference."
Another Lens to See Through
Thanks in part to his extensive travels, Matlock has acquired a strong affinity for photography. He has mounted numerous exhibits of his African and Caribbean photos. As someone who is a restless and active adventurer at heart, he takes pleasure in his opportunities to travel. Through his job, Matlock recently has visited Ghana, South Africa and China. Over the next couple of years, he plans to hike to the top of Mt. Kilimanjaro in Tanzania to fulfill a lifelong dream.
Matlock also remains an activist at heart, one who is hopeful that diversity at Ferris will grow so others can benefit from the opportunity he was given when he arrived in Big Rapids. "We still have a long ways to go in creating educational opportunities and access for students of color and employment opportunities for minority faculty and staff. I often think of the students who may not have the same opportunities that I have. For me, Ferris was a place to put it all together. It made the next steps for me that much easier, and that's why Ferris will always be a special place for me. As a matter of fact, it really prepared me for my continued studies," says Matlock.
He is a crusader determined to help others believe they can emerge from humble beginnings to achieve great things.
"Given the racial, ethnic and gender demographics of the future, all colleges and universities have no choice but to diversify as a matter of survival," declares Matlock, who hopes others can draw inspiration from his personal story, but also says it's important to listen to others as well. "In the last presidential election we got a quick snapshot of how rapidly the country is changing, and nothing is going to stop those future trends. It's going to be a fascinating future for those who are prepared and a pretty dismal one for those who are not."