Nearly 600 Ferris State University supporters, alumni, friends, students, faculty and staff crowded the Ambassador Ballroom in Grand Rapids' Amway Grand Plaza Hotel on the evening of Friday, Nov. 7, 2008, to celebrate The Ferris Foundation's 10th annual Foundation for Excellence benefit. That evening also saw the presentation of the University's first-ever Humanitarian Award to a man who truly embodies the sentiment that it is better to give than to receive.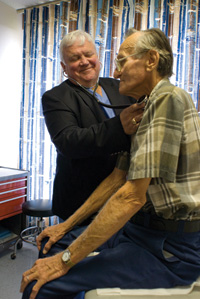 Growing up in the small Michigan town of Standish, Dr. Ronald P. Mahoney (P'59) didn't know what path his life would take. He remembers working at a very young age to help his parents - doing everything from selling cans of Cloverine brand salve to peddling the weekly newspaper Grit. He understood early that he needed an education to make something of himself; however, with two brothers also hoping to attend college, Mahoney wasn't sure how he would get there.
Although he played three sports in high school and was quarterback of the football team, he also worked at the local Standard Oil station to make extra money. It was while attending cars that his life changed forever.
"My high school superintendent told me I needed to get out of the filling station -- that I would never go anywhere pumping gas for a living," Mahoney remembers. "He encouraged me to visit the Rexall drug store, because there was a job waiting for me as a pharmacy apprentice."
And so began his life in medicine.
The Education of a Doctor
Mahoney arrived at what was then Ferris Institute in 1955 to formally study pharmacy. He quickly immersed himself in the college experience, making the football team and becoming an advisor in Masselink Hall his freshman year. In 1959, his senior year, he received the Bulldog of the Year award, the most coveted award for Ferris student-athletes.
While Mahoney was president of the Newman Club (now the Newman Center for Catholic Students), he was encouraged by Club Chaplain Fr. James Cusack, his close friend, to apply to Loyola Stritch School of Medicine.
"I almost didn't make it into Loyola," Mahoney laughs. "My application had fallen behind a filing cabinet, and just before the semester started a janitor found it."
He graduated with his medical degree in 1963 and was the first person to apply for an internship at Chicago's Cook County Hospital. He was also the last intern drafted by the Army out of the internship program and headed to Vietnam on the U.S.S. Gordon.
As a captain and doctor in the 1st Infantry Division, 1st Battalion, 7th Artillery, Mahoney treated wounded U.S. soldiers, and Vietnamese soldiers and civilians, some of whom were likely Viet Cong.
He regularly traveled down dusty, unsafe roads in his jeep to remote villages and hamlets outside the war zone. He risked his life to help save those suffering from tuberculosis, pneumonia, malaria and other life-threatening diseases. Those rural villagers were initially wary of the American doctor. To gain their trust, he brought candy, gum and toys for the children. But more importantly, he brought life-saving medicines and treatments.
Mahoney was awarded a Bronze Star for meritorious achievement in ground operations against hostile forces. He was also awarded the Vietnamese Medal of Honor. His daily, elemental experience making life-and-death decisions changed his life.
Manners, Values and Honors
Currently, Mahoney is director of cardiology at Methodist Sugar Land Hospital in Sugar Land, Texas, after founding the heart program at Houston's Memorial Hermann Southwest Hospital. Throughout his career he has spent many years and thousands of his own dollars establishing outreach clinics in rural communities, such as Eagle Lake, for patients who aren't able to travel to the big city for specialized heart care.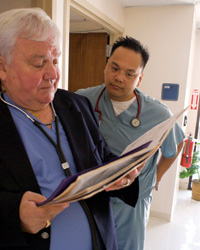 Once a week he travels an hour from Houston to Eagle Lake to treat 15 to 20 patients who often can't pay for their medical care. They have given him baked goods and fresh grown vegetables to show their appreciation for what he does for them - and for their community.
"To me, whether patients can pay for their medical care or not, all deserve to be treated with respect. They are to be valued as human beings ... patients to me aren't just a number," says Mahoney.
He explains that medicine, for him, was a calling, not something he did for the money. Or the prestige. Or the honor of wearing the white coat. He's been able to bring something much needed to the practice of medicine - a small-town bedside manner and values.
"Sometimes all it takes is talking to the patient and getting down to the root of the problem ... that involves a great deal of listening and making patients feel comfortable. Getting to know them. That's what sets a good cardiologist apart from the others," says Mahoney. "It's very important to me that all of my patients, young and old, black and white, and everyone in between who leave my office know that somebody cares about them. If you can't do that ... if you've lost an interest in actually caring about each individual as a person, then it must not be your true calling."
Having saved lives from the rice paddies of Vietnam to the cotton and grain fields of southeastern Texas, Mahoney sets a high standard for future humanitarian award honorees. Sometimes an award confers distinction upon the recipient; sometimes, it's the recipient who confers honor upon the award. With his selection, Ferris' first humanitarian award already has the kind of real prestige that usually takes many more years to accrue.