After 22 years of self-described "bean counting" as a certified public accountant, Edward (Ted) Lunt realized that he had reached one of life's crossroads. Lunt was looking for something fresh, something different and something challenging. His support system was already in place. He was blessed with a loving and supportive family consisting of his wife, Kathleen (Kay), and their four children. While his personal life was rock solid, Lunt felt that maybe his entrepreneurial spirit was calling.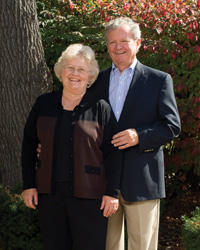 "I knew I was never going to be in accounting for the rest of my life, and I had always been looking for some kind of career change," says Lunt, who in 1960 arrived at what today is Ferris State University believing success in life is built on a foundation of education. Lunt recalls the long hours he devoted to scrubbing classrooms to make ends meet, while Kay worked at the Big Rapids Community Hospital as a registered nurse. His path to success led to a Bachelor of Science in Business Administration (with emphasis on accounting) from Ferris.
"Over the years, the one thing I knew was that accounting was a great background for any future plans or any opportunities that came along," says Lunt, who left Ferris for a job at a Saginaw accounting firm. He later obtained his certification as a CPA and became a partner in that firm. Still, there was that entrepreneurial itch to scratch.
"While talking with a friend after seeing some elaborate miniature-style golf courses in Myrtle Beach, S.C., we began to question why something like that could not work in Michigan," recalls Lunt. "We spent many hours looking at the Traverse City market counting cars, motel rooms, condos, campsites and crunching the numbers to come to the conclusion that we could be successful there. Based on the research we did, we put together a financial projection package; the numbers looked pretty good and that started us on the first course in 1982."
Adventure Golf Development Corporation began with Lunt and his partner, Ed Graft. Time has been good to the once-small corporation: today there are 28 "adventure-style" miniature golf courses around the United States which operate under the name Pirate's Cove Adventure Golf.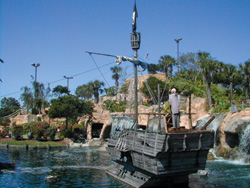 In addition to the miniature golf business, the partners have gone on to develop and operate several other businesses, including motels and restaurants. Lunt's favorite business, however, is the chain of golf courses. The evidence is all around him. In his Midland, Mich., office he maintains a collection of aerial photographs of many of the courses, which are as far north and east as Bar Harbor, Maine; as far south as Orlando, Fla.; and west to Rapid City, S.D.
The courses stick to the pirate theme, but with aspects that are unique to each venue. In Lake Buena Vista, Fla. (pictured at left), you can putt your way through the world of 18th century pirates, enjoy walking over footbridges in one area, and under waterfalls in another. In Lincoln, N.H., visitors golf in the scenic northern New Hampshire landscape among the ruins of pirate ships on a 36-hole course.
According to his wife, success did not come by accident or luck. A lot of sweat and energy went into establishing these golf courses over the years, says Kay, who has been right at Ted's side every step of the way — trusting his judgment and respecting his hard work. "I knew him well enough to know he knew what he was doing and what he was getting into. When I saw all the homework that both he and Ed did, I knew they both understood what they were doing."
Each of the Pirate's Cove courses is a separate entity financed individually by banks and investors. Still, Pirate's Cove is a family affair. Pride is obvious in Lunt's face as he describes how the corporations have grown and how so many people he thinks of as family have helped to make it possible. "I've got a couple kids who are in the business now so I'm backing off a little more these days," adds Lunt, whose family includes Kay, their children Carole, Thomas, Michael and Brian, and 10 grandchildren ranging from less than 1-year-old up to a first-year student at Kendall College of Art and Design.
Pirate's Cove represents more than a string of miniature golf courses. When Lunt thinks of the company and its success, he considers who made it really happen, and that's the people who are the Pirate's Cove family. "Annually in the winter we have meetings with our managers and spouses as a 'thank you' and a re-grouping for the next season. Without them, we would never have made it. These employees are great people who we are very proud to have in our group and on our team."
The courses are the fruits of his ingenuity, labor and passion. For a full list of locations and more, visit www.piratescove.net.