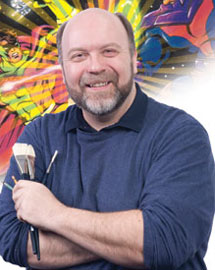 When he was 4 years old, Scott Rosema's mother brought home a Popeye comic book from the hospital where she was working. "I remember looking at the drawing of Popeye with those big huge bulging forearms and thinking, 'that's not right,' so I tried drawing a real arm. I just kept being fascinated by the notion that I could take something that I was looking at and make it come to life on paper," says Rosema (K'79).
Ever since then, Rosema has been making some of our most recognizable cultural figures come to life on paper, from Batman to X-Men villain Apocalypse. He has, however, changed his view about big bulging forearms.
THE LANDSCAPE OF THE IMAGINATION
Temujin Studio is located in a modest strip mall in Muskegon, Mich., Rosema's hometown. The studio houses a small retail section in the front where a wall of Rosema's original framed comic book art for Space Ghost, X-Men and Tiny Toons is for sale, while the opposite wall has fine prints of his own creations. The front window is hung with stained glass creations by his wife, Suzie (AHS'75). Behind the cash register there are drafting tables, work tables and metal storage racks all bulging with brushes, pens, tubes of paint, picture frames, reference books and works in progress. At first glance the studio might not seem to have the same cachet as a left-bank garret or a SoHo loft but located near the Lake Michigan shoreline, Temujin is just down the road from a unique geography that left a lasting impression on Rosema's imagination.
"I love this whole area," says Rosema. "I grew up only a couple of miles from Lake Michigan among farmland, swamps, woods, creeks, fields and dunes – an incredible variety of geography. I would watch a cartoon like Jonny Quest with all these globe-trotting adventures, and when I went out to play I could go to areas that resembled a desert sand dune, or a Louisiana swamp."
Rosema took his imagination and passion for making images come to life on paper to Kendall College of Art and Design, where he got his first professional job through a job board. Rosema says that he was the only Kendall student at the time who was pursuing cartooning "openly and unabashedly," so the job post he saw definitely caught his attention.
"A local union was looking for some anti-corporate cartoons," recalls Rosema. "I went to a big meeting where people looked at me kind of suspiciously. They gave me $50 for something that took maybe an hour to do and I thought, 'Wow, this is going to be a great job!'"
SHARK, AUGUST AND SPACE GHOST
That first job led to work in a couple of different ad agencies doing illustration, drawing and graphics. Then after a stint with a local buyers guide circular, Rosema spent eight years with the Muskegon Chronicle creating ads, doing artwork and even producing an anti-drug tabloid comic book entitled Shark with writer Roger McKenzie, best known for introducing a harder-edged noir element into the Daredevil series during the late 1970s and early '80s.
After leaving the Chronicle in 1990, Rosema began drawing comics for some of the country's biggest publishers.
"I had read in a trade magazine that DC Comics, whose parent company was Warner Brothers, was looking for people who could draw Bugs Bunny and all of the other characters," says Rosema. "I whipped up four or five pages in my sketchbook and took them down with me to a convention in Chicago. They said, 'Yeah, that's good. You're hired!' Four days later I got a script in the mail and started working."
Warner Brothers provided Rosema with a global audience. As penciler for the comics, Rosema provided the original artwork (before being inked and colored) for the series that was distributed not only in the United States, but in countries ranging from Belgium to Brazil.
The high points of Rosema's cartooning career include producing his own superhero title, August, published by Arrow Comics, and getting the chance to bring Space Ghost to life as a comic for a brief period of time when Archie Comics had the rights to Rosema's favorite childhood character.
"I drew the comic in '97, 30 years after watching the cartoon on TV. I loved all the bombastic action, color, the voice work, the music," says Rosema. "When I got the phone call, I couldn't help but think of how lucky I was. Out of the millions of people who watched the cartoon, I was the one who was producing a comic book faithful to the original. It was cool."
In fall of 2008 he shared his professional drawing experience when he began teaching at Muskegon Community College.
ALTER-EGO
There aren't many to-do lists that include such cryptic reminders as "Darth Vader" and "fix broken glass house" right next to each other, but Temujin Studio has one.
"Just today I phoned the Florida Department of Health about doing a series of superhero illustrations for them, and I e-mailed the artwork for a label for hot sauce to a company in Connecticut," says Rosema, running down some of the items on his lengthy and color-coded list of pending and recently completed jobs. "I'm working on comic book covers and turning one of the Muskegon Fury hockey players into a superhero for a limited edition print. I did caricatures for the chamber of commerce's gala dinner. I'm developing a religious superhero for a line of T-shirts and I have my personal line of art prints."
Susie Rosema has plenty of items on the list, as well. And even though her stained glass and his superheroes don't seem to go together at first glance, there are indeed stained glass superheroes in the display case and plenty of other ways in which the pursuits of the two are intertwined. They first met when Scott called Susie "out of the blue" after seeing photos of her clay sculptures – a fateful introduction that led to more than 24 years of marriage. And Scott played an integral part in helping Susie follow her creative impulses full-time.
"A stained glass store in Grand Rapids wanted to get a studio going. They had a job and needed a designer," recalls Susie. "They called us because, when I used to get my supplies from them, we'd show them the projects we did and they loved them. So Scott pulled this wonderful, tight design together. They got the job and asked me to build it. I quit the dental tech business and went to work for them before doing it on our own."
Many of the superheroes that Scott has drawn are alter egos that must carefully be kept separate from their everyday identities – Superman and Clark Kent; Batman and Bruce Wayne; Spider-Man and Peter Parker. Even such a seemingly anomalous skill as being a professional voice talent (including having been a local radio personality and recording an audio book) derives from his passion for this quintessentially American art form.
"I grew up in the 1960s, the era of those great Hanna-Barbera super-adventure-action cartoons, Scott says. "They used great voice talent: Mel Blanc, Gary Owens, Ted Cassidy [Lurch from the Addams Family], Don Messick [voice of Dr. Quest in the Jonny Quest cartoons] and on and on. I was blessed with natural deep pipes, and I would sit and imitate these voices for hours."
Taken altogether, Scott's own superpower is one which is probably more coveted than any other – the inner strength it takes to make a living out of the thing you love the most.
"I've always had this Captain America attitude following what I felt was right," Scott says. "I'll probably die at my drawing table. I suppose at some point in the distant future I might stop pursuing jobs that earn me money, but I'll never stop drawing."