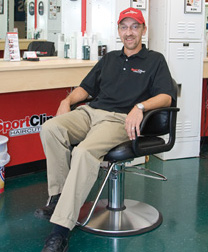 Nestled in the heart of western Muskegon County, an area once covered by acres upon acres of blueberry fields, Stacey Patulski's (AHS'92) hopes and dreams are coming to fruition. A mostly rural area once known for its orchards has given way to the urban expansion of malls, restaurants and other assorted shops. One of those newer businesses is part of one of the nation's fastest-growing barbershop chains, SportClips.
Since nearly all guys need a haircut, Patulski has big plans to tap that market with SportClips franchises in West Michigan. His plan started with a store in Muskegon followed by two more stores that should be open and running this year in Grandville and Grand Rapids. SportClips, as its name suggests, is not your typical barbershop. For the true sports fan that lives and breathes the 24-hour sports news cycle, SportClips gives men the opportunity to have their hair trimmed in a relaxing, sports-themed atmosphere with athletic events televised at individual barber stations and elsewhere throughout the shop.
"I love sports, and I really liked the fresh and new approach to haircuts with sports," Patulski says. "I think it's something new and unique, and it really works for me because of the sports theme and the sports memorabilia I already had. Sports are definitely a passion of mine so this really was natural for me. I was looking for an investment."
Entrepreneur magazine, in its Jan. 2007 issue, ranked SportClips as the 72nd-largest franchise in the United States, up from the 81st spot it occupied in 2006.
A Fan of the Family
"I had a unique opportunity to spend time with my daughters and, with this job, I can own three of these and keep my full-time job," says Patulski, who also owns Manistee Auto Spa, LLC, a self-serve car wash acquired in 2005 ­ the same year the family business, AMPTECH, an electronic assembly manufacturing business, was sold. "For me, my full-time job is my kids."
Patulski, who lived and breathed Bulldog hockey as an undergraduate, never lost his passion for sports. He remains as passionate about his hockey now as he was back then. But, for all the passion he has for hockey and sports in general, Patulski has an even greater love ­ the love he has for his family. After AMPTECH, which started once upon a time in his mother Alice Wilson's kitchen, Patulski found himself in search of a new venture. His wife, Michelle, and their daughters, 6-year-old Lauren and 4-year-old Alyssa, have become even more precious to him. Few people know about the challenges life can deal an individual or a family better than Patulski.
"Our 4-year-old was born with a rare liver disease known as 'biliary atresia,'" he says. "This disease has no known cause and therefore no known cure. At four weeks of life, Lauren underwent a surgery called the 'Kasai' with hopes to extend the time before the inevitable, a liver transplant. The survival rate is very low for children born with this disease. Lauren has been the one percent doing well and has not required a liver transplant yet. This was a life-changing event for our entire family."
Lauren's health, which helped put life and family in the proper perspective, has led Patulski to appreciate the value of family perhaps more than even the average man or woman probably could.
"Our family has raised more than $20,000 for the American Liver Foundation during the past three years," shares Patulski. "We coordinated a Liver Walk event in Ludington, which raised over $10,000 alone. We moved from the Free Soil area to Spring Lake to begin our new venture in SportClips and to be closer to DeVos Children's Hospital."
A Well-Groomed Fury and Rampage
So far, the business has been good and his expansion plans are full speed ahead.
"One of the things I really like about this business is that once you get everything in place it can almost run itself, with the day-to-day operations," said Patulski, who spent 10 years as a Michigan High School Athletic Association registered high school basketball official. "So, the goal is to concentrate on the marketing aspect and spend more time outside the business rather than working so much inside the business.
"SportClips has been a great opportunity for me. I can remember not really wanting to live in a city, but now I absolutely love it and my girls love it, too," he adds. "I've been able to make a lot of good business relationships."
Passionate about the sports he loves, the time Patulski spent as an undergraduate at Ferris helped strengthen that love for competitive athletics. All those nights in Ewigleben Ice Arena watching Ferris hockey games fueled a passion that helped pave his way into franchise ownership in one of the fastest growing barbershop chains in the country. He will never forget his roots, however. Ask Patulski about Bulldog hockey, and he smiles. Having the recent opportunity to meet with Ferris head hockey coach Bob Daniels was a big-time thrill for Patulski. That passion for hockey and sports in general has led SportClips to become the official haircutter of the Veterans of Foreign Wars, the Grand Rapids Rampage and the Muskegon Fury in addition to being affiliated with the National Basketball Association and the National Hockey League.
"I fell in love with hockey because of Ferris and the time that I spent at Ferris," says Patulski, "After the first time I went to a hockey game at Ferris, I was hooked on it, and I was practically living in that arena during my time at Ferris. To me, there's nothing like the college hockey atmosphere and that is one of the many reasons I loved my time at Ferris."
Thanks to his growing investment in SportClips, this avid sports fan has been able to stay in the game and also stay close to his family.
For Patulski, it's a winning combination.