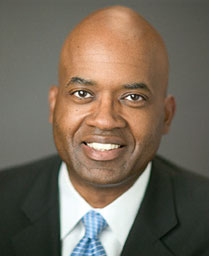 For one young man growing up in Brooklyn, N.Y., Big Rapids and the campus of Ferris State College seemed like just the place for a new beginning, a fresh start, somewhere he could begin to make his mark on the world. And that's exactly what Paul Doyle did.
Doyle (E '79) came to Ferris in 1974 with the hope of establishing a foundation for his life and career. It needed to be a place where he could live a good life and broaden his horizons.
"I could have easily stayed in New York and gone to a big city school. But that's not what I needed," says Doyle. "I felt in order to be successful, I needed to experience living in a place that was totally opposite of where I was from. People thought I was crazy, that I was going to a place where no man had gone before. But I knew that to be successful I had to move forward, and outward."
Still, when he first came to Big Rapids he had what some in the five boroughs (himself included) would call a New York-centric mentality.
"I flew into Grand Rapids and thought Big Rapids was just another borough, like Brooklyn is to Queens," laughs Doyle. "So, I hailed a cab at the airport, figuring in just a couple of minutes I'd be starting my new life. Well, 55 minutes later I wound up on campus after passing by corn field after corn field. That was my introduction to Big Rapids, causing my big city mentality to undergo some serious humbleness."
Growing up in a south Brooklyn apartment, Doyle grew up intensely and fast. He knows what it is like to live in poverty, which made him realize early on that he wanted to be somebody ­ not just a number on another governmental statistic report.
"I wouldn't have traded my upbringing in the projects for anything, though," Doyle says. "It gave me my drive in life. I had a lot of people support me during my early years and throughout my journey. Now it's my turn to pay it forward. When you grow up seeing people live in crisis all the time, nothing else motivates you more."
Going Forward
Part of Doyle's inspiration came from his grandfather who managed his own newspaper stand on Madison Avenue in Manhattan. Blind. "My grandfather was blind since his 30s and lived until he was 102," says Doyle. "You know what he taught me? He taught me how to listen to people, not just see the person. To truly listen, listen to their heart."
Along his journey Doyle has had mentors, people who have supported him, whom he calls his "life board of directors." Among all of them, it is his mother who has had the biggest impact on him.
"I was the youngest of five and the first to graduate from high school and go to college. As I was growing up, she's the one who nurtured a compassionate spirit," he says. "My mom is an intuitive and patient woman, and taught me that everyone has a set of different circumstances to deal with in life…and to be less judgmental. I'd have to say she gave me the core to my character. My grandfather gave me his business sense."
Tutelage also took the form of legendary head coach and Ferris Athletics Hall of Famer Jim Wink when Doyle, a six-foot five-inch forward, played on both the JV and varsity basketball teams at Ferris. That experience afforded him the opportunity to travel, meet people from different backgrounds and build communication skills to interact with diverse groups of people.
After graduation, Doyle coached both women's and men's basketball teams at Ferris for several years before heading back to his roots in New York and beginning his career in the health care field. Since 1985 he's been working in the health care industry in west Michigan, including being director of service strategy for Spectrum Health's Healthier Communities program. During his tenure with Spectrum, he supported the creation of innovative strategies and programs to improve the health of west Michigan. Health care systems across the country have taken notice of the positive outcomes demonstrated through this award-winning, evidence-based approach and want to know how to achieve the same success in their own communities.
To spread his expertise, Doyle recently started his own company, Paul T. Doyle and Associates, LLC, contracting with health care organizations and businesses across the nation to assist them with organizational transformations and help them to revamp or restructure how they provide their services to diverse populations. According to Doyle, diversity and organizational cultural competence are focal points of his newly formed company, along with addressing community health care disparities.
"When you're working in underserved populations to improve health, you learn a doctor's office is sometimes not the first place they seek health information," explains Doyle. "They get information from their friends, their church, their neighbors…that's where they learn first. Giving access to resources and knowledge within their own communities and providing people with a trustful environment to interact with health care is critical to the success of any community-driven health improvement strategy."
Back to School
Making the most of his education and years of experience, Doyle spends many hours of his personal time volunteering in his community. He is the founding board chair of the Grand Rapids African American Health Institute, board chair of the Grand Rapids Community Foundation, president of the Kentwood Board of Education and a board member of West Michigan March of Dimes.
On Feb. 23, 2008, Doyle had the honor of coming back to his alma mater with his wife, Celeste (whom he met at Ferris), to serve as honorary basketball captain for the men's basketball game against arch-rival Grand Valley State University. Formally recognized before the game for his accomplishments and community service, Doyle realized what a journey it has been, to make his mark and achieve his dreams.
"Studying at Ferris gave me more than just an education; it was a life-enhancing experience," says Doyle. "I could canoe down the Au Sable or the Muskegon River. Travel to Tawas to go smelt dipping. Ski in Petoskey. The likelihood of experiencing those types of activities would have been very slim while living in the projects. It's part of what made me who I am today."