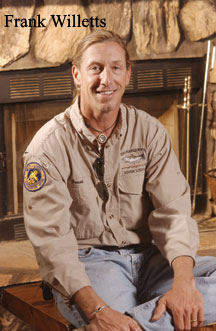 It's every angler's dream ­ to rise in the morning, look out the window and see the sun rising over a misty river. Then to step outside, rod and reel in hand, drawing a deep breath of fresh spring air, while tying on the first fly of the day ­ hoping to catch that trophy brown trout that got away yesterday. Ah!
The place to make this dream come true is nestled in Lake County near Baldwin, Mich. The Pere Marquette River Lodge is a full-service fishing destination, whose motto is, "We're not in the business of catching, we're in the business of fishing."
Frank Willetts (T'89), Brad Ahrens (T'91) and Howard Utter (B'88) are partners in the only Platinum Level Orvis Dealer and Orvis Endorsed Lodging Outfitter Guide Service in the Midwest.
Willetts, owner/operator of the lodge since January 2005, lives the life most sportsmen only dream of. "I usually get up around 4:30 a.m.. Sometimes I work in the fly shop. If my staff is working that day, I can meet the clients, introduce them to their guides, make sure they get on the water okay ­ then the real rest of my day starts," Willetts laughs.
"I could have a radio show, a television show or a casting lesson to do, or I may have my own guiding trip to prepare for. At the end of the day, I always make sure the clients had a good time on the water, check with the guides and then listen to all the fish stories being told during dinner."
The 10-room lodge, complete with knotty pine construction, rustic décor and mounted wildlife, sleeps 34 and has been the site of family reunions, annual friends' weekends and business retreats. Back in the woods are cabins for rent within sauntering distance of the river. Those, along with the lodge's Pine Hollow House and River House, can accommodate up to 38 more people ready to exaggerate the length of their catch.
A Place Out of Range, But Within Reach
Willetts says the lodge draws people from all over the United States, many of them from places we think of as outdoor destinations, including Alaska, Washington, Florida, Montana, Colorado and Wyoming.
"We had a guy call last week from Chicago wanting to arrange a trip for him and his son," recalls Willets. "I asked how he found out about us, and he said that he read about us in American Angler as one of the top eight places in the world to visit before you die."
Willetts also has a significant international clientele coming to the lodge. "We were visited by people from 22 countries last year. Just the other day we scheduled a guide for someone from London, England."
The lodge offers fly fishing packages throughout the year ­ as well as day and night fishing, fly-tying classes, casting classes, youth classes and even a class on entomology (or the study of bugs, especially those which fish find most appealing). "We also do quite a few corporate retreats every year. We've had managers from a large cereal maker, a brass-fitting manufacture uses our facility for its retreat and we've had some of the top trauma surgeons from Chicago here," says Willetts. "It's funny when you see a corporate guy going down the river playing with his cell phone, trying to get a signal, and 20 minutes later he finally realizes he's not going to get one."
Ahrens and Utter were attracted by the chance to be a part of the lodge when Willets outlined the opportunity. "Howard and I became involved when Frank came to us in search of partners," says Ahrens."Being an avid hunter and sportsman, I was naturally interested."
Utter, an Accountancy grad, was equally interested. "Frank is truly passionate about fly fishing and can tell a mean fishing story, so I was intrigued by the thought." Utter and Ahrens leave most of the day-to-day operations to Willetts, preferring to concentrate on the overall business and its direction.
Since graduating, Utter has been involved in business transactions in a variety of industries. He says that the Accountancy program at Ferris laid the groundwork for his ability to analyze, understand, counsel and operate many types of businesses ­ including fishing lodges. That foundation provided him the confidence to take the leap into many different business deals.
"I've learned over the years that it's imperative to stay sharp through self-education," says Utter. "Two of the biggest lessons I have learned are to step outside of your comfort zone in a big way as often as possible, and that success depends greatly on how you deal with challenges."
Ahrens graduated with a degree in Plastics, and after a few years with stops at Ford Motor Company, Azdeland GE Plastics, he started his own plastics supply and engineering services business, PMPS, LLC. "The education I gained at Ferris was the launching pad for getting me to where I am at today," he says. "Of course, it didn't prepare me for ownership of a fishing lodge! But previous successes enabled by my education provide a foundation that allows me to pursue diverse ventures."
The Pere Marquette Runs Through It
In his novel A River Runs Through It, Norman Maclean writes, "In our family, there was no clear line between religion and fishing." Willetts' love for fishing, which has its own evangelical edge, began at a very young age. He started fishing off the end of his family's dock when he was just two years old. Until recently, however, he was the only member of his family to practice the art of fly fishing.
"I grew up on a lake and started fishing off the end of the dock with my dad when I was two," recalls Willetts. "I was the only one in my family who fly fished. Everyone else was a Great Lakes fisherman, although I've got my little brother converted. He still fishes the big lake, but he gets more enjoyment out of the river now."
Lake County is definitely the place for the anglers Willetts converts to the river ­ and people with other outdoor passions, as well. State and federal lands comprise 48 percent of the county, making it an outstanding place for hiking, bird watching, swimming, camping, cross country skiing and wildlife viewing. Snowmobilers and RV riders enjoy several hundred miles of trails while the county's thousands of acres of national forest are popular with hunters. And, of course, the Pere Marquette is known worldwide as a river for fly fishing and scenic canoe trips.
Is the Pere Marquette River Lodge successful because of its many outdoor options, its distance from cell towers or because its well-stocked fly shop carries such intriguing choices as Hex Nymphs, Hares' Ears and Egg-Sucking Leeches? Whatever its greatest attraction, after a few minutes on the river it's likely that you'll be okay if a call from the office is the only thing that gets away from you.
To learn more about the Pere Marquette River Lodge visit www.pmlodge.com.