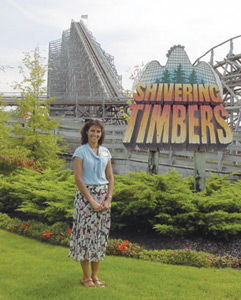 Camille Jourden-Mark (B'88) grew up in Deer Park - not the town in Illinois, the Zen Buddhist monastery in Vietnam or the area of Texas where Sam Houston defeated Mexican General Santa Anna. The Deer Park of Jourden-Mark's childhood was every kid's dream - an amusement park.
"Deer Park was a small petting zoo with more than 100 deer and animals and Storybook Lane," says Jourden-Mark, who tours the park with a walkie-talkie and cell phone in hand, both of which regularly crackle and buzz. "In 1968 the Jourden family, my parents, started adding rides. In 1988 we built the Wolverine Wildcat, our first roller coaster. That's when we also became Michigan's Adventure."
In 2001, the Jourden family sold the park to Cedar Fair, which owns a dozen major amusement parks, including Cedar Point. Today, Michigan's Adventure, just north of Muskegon, Mich., draws more than 550,000 people a year. Jourden-Mark is vice president and general manager.
A Tale of Two Parks
As you get out of your car, you hear screaming.
You'd be surprised if you didn't.
The first thing you see as you enter the park is Shivering Timbers, a huge wooden roller coaster which seems to rise up out of the ground like a series of massive waves held up by scaffolding.
"Shivering Timbers put us on the map. It was built in 1998, has a 125-foot drop and is ranked in the top 10 wood coasters in the world. For a regional park in west Michigan, that's pretty phenomenal," says Jourden-Mark.
Shivering Timbers is just one of five coasters at the park, including a much smaller wooden coaster, Zach's Zoomer, named for her oldest son. "Not every kid gets his grandpa to buy him a roller coaster," says Jourden-Mark.
Michigan's Adventure has both traditional land-based rides and a water park ("Two parks for the price of one!" is their slogan). In 2006 - 50 years after Deer Park first opened its doors - the park added Grand Rapids, a logging-era themed ride that carries visitors through rocky canyons, geysers and a waterfall.
"Grand Rapids is the single greatest capital expansion ever in the history of the park," says Jourden-Mark. "It actually cost more to build than Shivering Timbers, which was a $3.5 million ride ­ although you couldn't rebuild the coaster for that amount today. Grand Rapids is about a $5 million ride."
The Ride to Here
Jourden-Mark graduated from high school in 1984 and attended Saint-Mary-of-the-Woods near Terre Haute, Ind. After a year she transferred to Notre Dame, which had been her goal. "And you know, I just wasn't happy there," she says. After a semester, she transferred again, this time to a different Michigan university, but had trouble with having credits transfer.
At that time, her boyfriend and future husband, John Steven (Steve) Mark (EHS'87), was attending Ferris State University.
"My husband is from Michigan and was going to school at Ferris. "Classes at Ferris started later, so in the fall of '86 I went and met with people from the Public Relations program. We wrote up a plan for me to finish with just two additional years."
She graduated just in time to help re-launch the park, now named Michigan's Adventure.
"The grand opening was May 28, 1988, the same day as commencement, which I skipped to be here," recalls Jourden-Mark, whose original plan was to own her own ad agency. "It was tremendous. We had coverage all over the state and nation. I had committed to my father to work for one summer, and then I'd start sending out resumes."
The Jourden's hired a marketing firm, which encouraged them to pursue more group sales and pointed out some of the opportunities they were passing up.
"It was hard for me to believe at that point because we were just a little park, and I wanted to go on to something bigger," she says, smiling. "Then we had record seasons year after year. After a couple of years, I just couldn't imagine leaving."
All in the Family
Despite being owned by Cedar Fair, Jourden-Mark's involvement makes Michigan's Adventure a family affair. After graduating from Ferris ­ in addition to staying on at the park ­ she married Steve Mark (who she met at the park) and who today is Michigan Adventure's vice president of construction and maintenance. And even though she doesn't literally live at the park, she's raising her children there.
When the park was sold in 2001, Jourden-Mark stayed on as head of marketing and operations. At first, she worried that the family-business model wouldn't mesh with a more corporate approach.
"When my father started to talk about selling, I was just broken-hearted. I thought that would be the end here," says Jourden-Marks. "But it was a wonderful transition."
One of her biggest concerns was child care. Jourden-Mark wanted to continue working at Michigan's Adventure, but didn't want to put her children in daycare. Her son Zach was eight when the park was acquired; her son Alex was four, and she had a newborn daughter, Katelyn.
"When I interviewed with Dick Kinzel, Cedar Fair's CEO, I was still a nursing mom. I said, 'If you want me to stay, you'll never find anyone who wants the park to succeed as much as I do, but I don't want to put my kids in daycare.' He said he didn't see why I couldn't continue doing what I'd been doing successfully already. I was so impressed at the human touch and family values demonstrated in the acquisition. It was a wonderful opportunity for me to be able to continue running the park with my family, as I had when the park was family owned."
In 2002, Cedar Fair promoted her to general manager. She continues to have her children with her at work. She has a playroom just off her office, a piano in her office for music lesson practice and, of course, the Funnel of Fear and Sea Dragon just outside.
The Adventure Today
This year, Michigan's Adventure opens on May 16, with the park's annual Physics Day for high school and junior high students to learn about the physics behind amusement rides. After that, the park will close briefly to prepare for its yearly Rock the Coast Christian music concert. "We do it right in the water park. We set the stage up in the empty wave pool so it kind of makes its own amphitheater."
While an amusement park looks like all fun and games, a lot of work goes in to the opening every year. Although Michigan's Adventure employs only about 30 full-time year-round staff, it hires about 1,200 summer workers. There are restaurants that need food, games that require prizes, and rides that must meet strict safety standards. There's also a catering area that can accommodate groups ranging in size from 50 to 5,000. "It's almost like the park has many little businesses," explains Jourden-Mark.
As she walks along past the Corkscrew and Scrambler, Jourden-Mark occasionally stops to pick up a stray bit of trash ­ as do all the other Michigan's Adventure employees, many of whom call out "Hi, Camille!" as she passes.
So if you find yourself heading north of Muskegon on U.S.-31, you might consider stopping at the place Jourden-Mark still considers her old back yard. She's got a heck of a rumpus room.