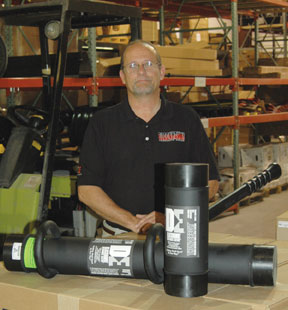 With the slogan "Nothing Shall Stand in Your Way!" a Ferris alumnus and entrepreneur has cleared away any obstacle to his success. No joke.
At the end of a cul-de-sac off the main road leading into Southport, N.C., stand two large modular industrial buildings. There are no signs out front to say what service the business provides, or what product it produces.
Inside are specially modified drills and saws, a stand with an epoxy machine, a well-ventilated painting station, and a whole range of partially assembled tools designed to help police and military personnel take the bad guy by surprise.
Standing in front of a mobile home door that has been set up for a
promotional video shoot, Marty Wozniak (EHS'80) barks out his latest inspiration. "I've got it!" he yells above the noise of machines starting up and the Black Crowes playing over the building's main stereo system. "We'll call it the 'Trailer Trasher'!"
With that, Wozniak takes his newest tool and neatly pops open the locked trailer door.
Welcome to Dynamic Entry.
Gritty Inspiration
An earlier company video simulates a police raid on a drug house. Officers in night-vision goggles break down the front door of the house with Dynamic Entry's Monoshock Ram (a heavy black cylinder with two flexible handles), and once inside they force open an interior door with a Thor's Hammer (a smaller cylinder affixed to an angled handle that keeps the user out of the line of fire once the door is open). The scene harks back to one that set Wozniak, a Criminal Justice major, on the path to designing and manufacturing state-of-the-art breaching tools.
"After graduation, I accepted a position in Gillette, Wyo. I started out as a patrol officer and quickly made it within a year to the detectives division, then out of the detectives division into the Northeast Wyoming Drug Enforcement ­ a local, state and federal task force team," explains Wozniak. "I then started working undercover. We would buy the narcotics, bust these places and it marveled me that there was never good equipment for the tactical entry part of the raid. People were using homemade rams, kicking doors down, getting stuff from the fire department; it was just nuts.
"Then my roommate, a fellow officer, was murdered in an ambush by a guy who was tweaked-out on methamphetamine. That was the defining moment in my life. I knew it was time for me to get out of law enforcement, although it took a couple of years to clean up some loose ends. After that, I left and came down to this beautiful place."
Once in Southport, Wozniak earned his teaching certificate, taught basic law enforcement training at the local community college and also managed a company's security department.
But the memory of kicking in doors and hitting them with borrowed sledge hammers remained. Wozniak teamed up with a man who was manufacturing entry rams. His business partner passed away just as sales began to take off.
As with any new business, Dynamic Entry had its birth and growing pains. Because raids on meth labs had become increasingly dangerous ­ between doors electrically wired and potentially explosive chemical fumes ­ Wozniak had not only to design his tools for ease of use and functionality, they had to be non-sparking and non-conductive. He says that those early days were "like a high school science project run amuck."
In addition to research and development carried out, literally, in a kitchen sink, the marketing side of the business had equally humble beginnings.
"My first sales were dealing rams out of the trunk of my car at trade shows, hoping to make a sale because I had no money," recalls Wozniak. "We started on credit cards, and I lived on hot dogs." That was in 1999.
Dynamic Entry then partnered with a company called BlackHawk, who became its biggest distributor.
"I remember that I got a little corner of a page in their catalog for a couple of my tools. The next year I got a couple more tools in the catalog," says Wozniak. "Next thing you know, I've got five pages in the catalog that goes to a quarter of a million different agencies for police, law enforcement and military throughout the world."
In the Post-9/11 World
Behind where the now-open mobile home door stands inside Dynamic Entry's second building sit pallet after pallet of rams and tactical tool kits awaiting shipment to Iraq and Afghanistan.
Although Wozniak's experience was in police and drug enforcement work, his breaching tools are increasingly finding a military application in a world fighting terrorism on several fronts. Since the events of 9/11, orders have increased. Wozniak built his first building. Orders continued to strengthen, so he added more manufacturing equipment and constructed a second building.
Because of that, Dynamic Entry is increasingly global. Not just in terms of shipment of tools (Wozniak notes such destinations as Poland, the Czech Republic, China and Japan) but personally, as well. Wozniak finds himself traveling extensively to talk to clients. Recent trips have taken him to England, France and Germany. Not to mention crisscrossing the United States.
Wozniak doesn't have to look far for an example of the concrete fruits of his travels. From one of the shelves holding tools in various stages of manufacture, Wozniak grabs a newly minted tool consisting of a shaft just short of a yard long with something akin to a slender wood-splitting wedge on one end, a pointed "break and rake" glass-busting head on the other. It's Dynamic Entry's UK Hallagan Tool.
"We designed it for the British SAS, because they do a lot of window entries," Wozniak says, demonstrating the tool with a mixture of familiarity and reverence. "They wanted something that could break and clear a window, and still have the ability to pry open a door. Around the world, officers are requiring better, more specialized equipment that's easier to carry and more effective. We have the brand and name recognition for quality, so it's easier for us to take things to market, because customers know we would never bring anything to market that's going to fail."
Dynamic Growth
Just six years after selling rams from the trunk of his car, BlackHawk Products Group, who already marketed and distributed Dynamic Entry tools, acquired the company, appointing Wozniak as brand manager.
"Marty will be able to focus on what he does best; designing and creating innovative new products that will better serve the men and women out in the field fighting on the front lines, be it in Iraq, London or New York City," says Mike Noel, BlackHawk's CEO and president.
And in addition to the kind of exposure BlackHawk will give Dynamic Entry professionally, Wozniak's designs also are quickly becoming a part of popular culture.
Near that mobile home door is a poster (signed by the creative staff) for the video gameTom Clancy's Rainbow Six: Lockdown, with a stylized soldier in camouflaged fatigues sporting an assault rifle. The game features Wozniak-designed breaching tools. Dynamic Entry equipment has also appeared in the television series 24, Law and Order: Criminal Intent andCSI; the movies Along Came a Spider and Mission Impossible III; as well as in books, magazines, and all the major broadcast and cable news networks - to name just a few.
With the kind of growth that even a high-tech start-up would envy, how does Wozniak see Dynamic Entry expanding?
"The goals in the future…" Wozniak muses, as if wondering himself for a moment. "We will have a much larger international presence. That may mean a manufacturing or shipping facility in Europe to handle the needs of our overseas clients. And we'll continue to work on new technologies as military and law enforcement personnel encounter new threats in the field."
With that, Wozniak heads out the door for a trip to the mall to return a pair of recently purchased hiking boots whose soles have begun to separate. He's been preparing for a trip to South Africa by breaking them in, and now needs to start over on that task.
For other things, he clearly does not have to start over. For those, he's already knocked down the right doors.