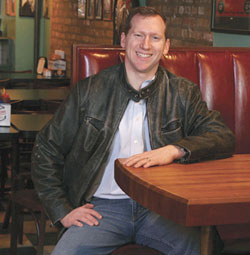 Derek Rettell wants to bring great barbecue to your neighborhood
The small stage near the front of the Smoke Daddy Rhythm and Bar-B-Que is bare during lunch hour save for a sound mixing console balanced on some plastic milk crates and a chrome-plated microphone resting in its stand. The front door features a poster for the Urban Hog Wranglers, some of the free jazz and blues that packs in patrons seven nights a week.
The pressed tin ceiling and the walls are painted green the ceiling darker than the walls, on which hang framed vintage sheet music for such hits as "Charlie Brown" by The Coasters and Otis Redding's "(Sittin' on the) Dock of the Bay." Booths line one wall, a bar with well-worn barstools another, while tables with hard-backed wooden chairs take up most of the rest of the floor space. Cardboard six-pack beer carriers hold squeeze bottles of barbecue sauce and napkins.
Smoke Daddy is one of five Chicago eateries owned by Derek Rettell and his partner, Doug Dunlay. Like his other establishments, Smoke Daddy is a part of its neighborhood, attracting Chicagoans living nearby. Unlike his other restaurants, however, Rettell plans to take his barbecue far beyond Wicker Park.
"This is the concept that we're going to take regionally," says Rettell over a lunch-time plate of pork ribs, BBQ beans and cornbread. "We have a second location opening in 2007. There's not a lot of great barbecue in the Midwest right now. If you look at Michigan, Indiana, Illinois, Wisconsin and Ohio, which is our regional marketing target in the next five to 10 years, we really feel we can do very well."
This past year, Smoke Daddy's has been featured on two different Food Network programs: BBQ with Bobby Flay and Rachel Ray's Tasty Travels. It's been good publicity for the restaurant's barbecue sauce, which is blazing a trail for Smoke Daddy's expansion.
"We've been working on the sauce ever since we heard from our guests about how much they loved it," explains Rettell. "We made it in-house and then sent it out to a company to reproduce. For weeks we sat down with barbecue sauces and sampled them. There are worse fates!"
Rettell will market the sauce through Smoke Daddy, as well as Treasure Island, a higher-end, whole-foods style store with seven Chicago-area locations. "There's one going right next to our new location. That will be part of our marketing strategy ­ bring Smoke Daddy into a neighborhood, grow the brand there and start distributing the sauce to build the brand recognition because it's a pretty unique name."
The Ingredients for Success
Rettell's not sure where his epicurean and entrepreneurial spirit comes from, but it started at an early age.
"I had my first business when I was 15, making desserts out of my mom's kitchen," recalls Rettell. "I knew I would eventually own my own place, even as I was learning from other people."
And from Ferris State University, which is how he got introduced to the Windy City.
Rettell took a trip to Chicago in May of 1991 to attend the National Restaurant Show as a junior at Ferris. "I fell in love with the city and knew right then that I was going to live here," he says.
While at Ferris Rettell also took advantage of internship opportunities, including one for Marriott on Marco Island ­ an experience he says solidified his career plans. "You need that real-world experience. It was the smartest thing I ever did."
In 1992 Rettell got a job with Houston's restaurants, which brought him to Chicago. But he didn't settle in permanently. "I was single. I'd travel anywhere. Since 1987 I've lived in 13 different states and had 21 different addresses. I was willing to do that, work 80 hours a week and sacrifice everything for my career."
It was at Houston's that Rettell met his business partner. Rettell was opening general manager for their Bandera concepts and trained Dunlay to take over that position in Chicago when Rettell went to expand the company in California.
In 1998 Rettell quit his job and moved back to Michigan to take care of his father, who passed away later that year from cancer. After that, Rettell says, he took stock of the long hours he'd logged in someone else's kitchen. "I realized I was never going to work that hard for someone else again." Even when he did go back and earn a paycheck, it was to prepare himself for hanging out his own shingle.
"I worked for Disney to learn everything about the business," he says. "I opened all their ESPN Zones as food and beverage director. I had design control over the restaurants and the kitchens and the bars, which was one of the skills I was missing."
With that experience under his belt, he, along with cousins Doug and Mike Dunlay, openedDunlays on Clark, featuring such "modern comfort food" as Mama-Lou's Wild Mushroom Meatloaf and Nola's Finest Jambalaya.
A Match Made in Lincoln Park
Turning away customers is not good for business, but that's what Rettell and his partner found themselves doing at Dunlays on Clark in the heart of fashionable Lincoln Park; there wasn't a lot of space at the bar for diners to have a glass of wine while waiting for a table. To solve that problem, they opened a wine bar and bistro in the space next door, even though it had a low drop-ceiling and looked as though making it into an intimate and appealing space would be a challenge. Then they poked some holes in the ceiling.
"We saw these wooden trusses and said, 'Oh my God!' We exposed all the wooden beams and blasted and stained them," says Rettell. "The space has a really unique feel to it. Some people think they're in a wine barrel; some people think the belly of a ship. It's really taken off."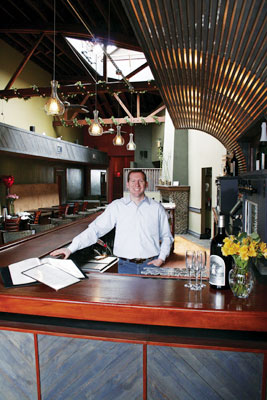 Chicago Locations:

Dunlays on Clark
2600 N. Clark St.

D.O.C. Wine Bar
2602 N. Clark St.

Frasca Pizzeria & Wine Bar
3358 North Paulina St.

Smoke Daddy
1804 W. Division St.

Dunlays on the Square
3137 W. Logan Blvd.
Rettell was surprised that after D.O.C. Wine Bar opened in April of 2005 it became a popular dating spot ­ maybe because of all that warm wood and the intimacy of the bar's cozy seating areas. "We never thought it would be a date place, but now we're on Match.com and these other sites as a place to meet because it's safe, it's affordable, and it's conducive to that kind of conversation."
In the 'Hood
When Rettell talks about his Dunlays locations being geared toward the neighborhoods they're situated in, he knows about that from experience. He and his wife, Kate, live just down the street from Dunlays on the Square, which faces one of the few green spaces in the area. The fact that the area isn't yet upscale, along with its view, was actually one of its attractions.
"It's not Lincoln Park, but we beat our 2004 sales there our first year on the Square. We're one of just four restaurants in the entire neighborhood."
Even if the neighborhood isn't yet upscale, Dunlays on the Square combines a sophisticated feel with the comfort of a neighborhood hang-out, just like Dunlays on Clark.
Rettell and the Dunlays opened the Logan location during a period of intense activity for the pair, although what he says is a calmer period now doesn't really sound that way. "We've been in this location since January 2005, which was just three months before the wine bar opened up. We had construction on both places going at the same time. It was a crazy year," says Rettell. "Doug got married; I got married. We had three new places open. We'll only do the Frasca this year, and then next year we'll open a Smoke Daddy and at the same time a breakfast/lunch place in a complex by Millennium Park."
The Frasca Pizzeria and Wine Bar, which opened on May 1 of this year is actually the first concept the pair had and features thin crust, Neapolitan-style pizzas baked in an 800-degree oven and an Italian-influenced menu. Situated in Lakeview, Frasca is another neighborhood place designed to appeal to families and vinophiles alike.
Frasca's opening (now with additional partners Josh Rutherford and Robert Kabakoff) seems like a great indicator of the neighborhood's vitality, although when speaking of his own neighborhood, he uses another cultural yardstick. "When Starbucks came in, that was a big coup. We weren't too upset, because that meant we'd made the right decision. If you see a Starbucks in the neighborhood, you know you're doing well."
If Rettell has his way, the next measure of success will be a neighborhood Smoke Daddy, because a double skinny latte is nice, but it's no match for a slab of spare ribs with a side of sweet potato fries and smoked corn on the cob. And, of course, some blues.