Not everyone who makes it into the Rock and Roll Hall of Fame sings, raps or launches off on obligatory guitar or drum solos. The hall also has non-performing inductees, such as legendary rock impresario Bill Graham, and businessman and Arista Records founder Clive Davis.
Graduates of Ferris State University's Music Industry Management major are helping to shape the music industry at a time of some of its greatest changes. Crimson & Gold talked to some recent grads to see how the next generation of industry professionals is making sure that the beat goes on.
Steve Bertogli (B'05) works for Sony BMG from their branch office in Manhattan. While you might suspect people in the MIM program are led in that direction through their musicianship, for Bertogli his degree fit his career aspirations exactly.
"I knew I didn't want to major in music ­ although I always had it in my mind that I wanted to work for a label and be involved in music," says Bertogli . "That was a big factor in why I went to Ferris, because it was a business degree."
Bertogli is RCA Music Group's East Coast sales assistant and works on projects with record labels Arista, J, RCA and RCA Victor. He assists with such retail outlets as Circuit City, Barnes & Noble and FYE stores to position new releases. Another major part of his job involves tracking sales in markets along the east coast as well as monitoring current market conditions for the group.
Armed with a degree specifically geared to the music industry, Bertogli is positioned to help Sony BMG conduct business in a retail environment being affected by rapid changes in technology.
"Digital downloads of albums and ring tones are huge right now ­ they're new, they're exciting. Traditional retail may be declining, but it's definitely not over. A lot of people will never have an i-Pod, never download a song. Those types of customers are big with artists like Rod Stewart ­ there are people still buying records."
In addition to his desire to work in the music business, Bertogli wanted to work in a major metropolitan area ­ and you can't get more metro than New York.
"The cool thing about working here is that almost every night there's a show to go to," says Bertogli . "Not long ago I was at a party for Alicia Keys, and I had a good talk with Gavin DeGraw, who's an up-and-coming artist.
"At 24, like I am, you just have to take the chance because you might never have it again. It's pretty much what's gotten me here. And my degree. I'm very happy with both choices."
On Oct. 17, 2000, perhaps the most recognizable piece of rock'n'roll memorabilia ever to go on sale ­ the white Steinway Model "Z" piano on which John Lennon composed the song "Imagine" ­ fetched £1,450,000 at auction.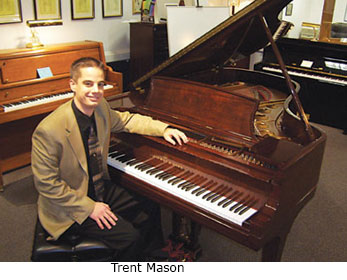 Trent Mason's (B'04) customers may not be quite in that stratosphere, but they nonetheless know how to do things in style.
"I've been talking to a customer, setting up an in-home presentation for him," says Mason, who works for M. Steinert & Sons, the country's second-oldest Steinway dealer. "We're going to have a Steinway artist at his house to do a little recital on the grand piano he bought. He's going to have a wine-tasting, since he has a wine cellar. His house is pretty spectacular."
M. Steinert & Sons has been with Steinway since 1869. Mason's route to their Natick, Mass., showroom illustrates MIM's close ties to business. In Mason's case, both his internship and ultimately his job came from contacts made at the International Music Products Association trade show.
"A gentleman left his business card at our booth. He owned a piano store in Honolulu, which is where I served my internship. The next year, Steinway's head of sales training spoke with [Music Industry Management Program Coordinator] Dan Cronk at the trade show, and I ended up getting in touch with him. Later I got a call from Steinway's regional rep. I gave him my permission to pass on my resume to stores. M. Steinert & Sons flew me out for an interview and offered me the position."
Steinway's attention to detail ­ from hand-crafting its instruments to keeping an eye out for the best talent to represent them ­ maintains the company as a major force in an industry (one out of every five Americans plays a musical instrument) that seems otherwise focused relentlessly on the high-tech.
Of course, if you don't have the money for Lennon's famous Model "Z", or even a more standard concert grand, which can still top $80,000, Mason has other options for you.
"The Roland digital pianos are nice ­ they use Steinway samples."
Maybe you've read about rock bands that insist on having only red M&M's in the dressing rooms or bottles of some obscure Norwegian vodka. But what about an act whose contract stipulates an altar call? That's actually the case for one of the groups represented by Jeff Roberts & Associates, a contemporary Christian booking agency in Nashville, Tenn.
"We're handling 30-some artists right now," says Tom DeKorne (B'03) . "We have styles ranging from breakthrough acts like Casting Crowns and Rebecca St. James, to rock and rap groups."
How did he go from studying civil engineering to being an agent with a roster that include acts such as Skillet, KJ-52 and Seventh Day Slumber? Back in 2000, DeKorne was going to another school when Shauna McCulley invited him to hear a show she was helping produce ­ the band Five O'clock Shadow playing at the Rankin Art Gallery.
"I'd already decided that civil engineering wasn't for me, and the show was just a jaw-dropper," DeKorne recalls. "I said, 'You can make money doing this?' I got my transfer papers done and switched to Ferris."
Newer, up-and-coming bands are the focus of DeKorne's position as Jeff Roberts' rock/artist development agent. "We have three senior agents handling the larger events and pitching our entire roster, but they can't take the time to focus and develop some of these new artists, so that's where I come in."
DeKorne enjoys working with bands to meet their whole range of needs ­ from making sure they have enough money and bookings to survive on the road to helping shape their sound and image.
"Watching an artist's career and ministry develop on the road is the best part of my job," says DeKorne . "One group we have deals with suicide and depression. They get e-mails that say, 'I was going to kill myself and went to your show and found a new life'. For me, it's inspiring to represent bands I believe in."
When the Jeff Roberts & Associates-represented group ZoeGirl attended the 27th Annual ASCAP Christian Music Awards at Richland Country Club in Nashville last year, Gerilynn Zettel (B'03) helped put on the show.
"It's like planning a wedding with all the seating charts and guest lists," says Zettel . "We have some of our hit songwriters perform that night. We honor the writer of the song, but not necessary the performer ­ although sometimes it happens to be the same person."
Zettel is a membership assistant with ASCAP, which protects the rights of those songwriters through the licensing and collecting of royalties ­ and much more. ASCAP (the American Society of Composers, Authors and Publishers) sponsors songwriting workshops for members, and this spring is hosting the first national conference on songwriting and composing in Los Angeles. Helping with such events is one of Zettel's favorite parts of her job, one she hopes to focus on exclusively in the future.
"I enjoy working on the special projects, like the Music Row Ladies Golf Tournament we sponsor to raise funds for cerebral palsy," says Zettel .
The MIM program has definitely established itself in Nashville, where Shauna McCulley (B'03) also works for ASCAP.
McCulley came to ASCAP after working for Sony in Dallas. "I was the Columbia promotions assistant before they closed, so I've been through my first downsizing already. Everybody's restructuring. The whole atmosphere of the business is changing," McCulley says. Through her contact with Zettel , she found another job in Nashville's competitive music scene.
"Mostly I deal with the writers; everyone from people who don't even know where to begin or why they should join ASCAP to the top writers in the industry."
Both McCulley and Zettel got their first jobs through internships and stress the importance of viewing that as a way to enter the business. Zettel went right to the top to arrange her internship.
"I was at a conference and introduced myself to the vice president of ASCAP," recalls Zettel . "I knew he was the VP, but didn't quite understand what that meant at the time. I told him I'd love to intern for ASCAP in Nashville and gave him my card. He said he was going there next week and would have somebody get in touch. On my first day people asked me, 'How do you know the VP?' They didn't know how to react to me at first."
Like Steve Bertogli at Sony/BMG (the same company that downsized McCulley ), Zettel sees lots of changes. "Downloads have been on the rise, rather than piracy, which is a good thing. There are lots of challenges, but lots of opportunities as well."
With their MIM degrees, both Zettel and McCulley are set to help songwriters ­ and the industry generally ­ make the most of those opportunities.