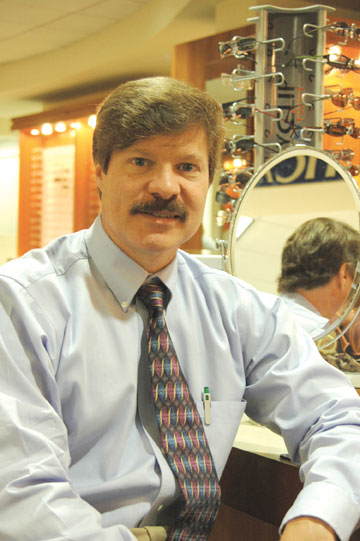 Some health-care professionals still make arena calls.
On a typical day, Paul Marvin (O'86) gets to work at about 8 a.m. at one of Horizon Eye Care's six locations. After seeing between 15-20 patients in the morning, if Marvin is at HEC's downtown Charlotte, N.C., location, he'll put in half an hour on the exercise bike he keeps in his office while listening to a lecture on his i-Pod (anything from Civil War history to quantum entanglement). Then he's ready for his afternoon patients.
On a less typical day, he might work with the NFL's Carolina Panthers (HEC is the Panthers' official eye care provider), or attend to the vision needs of the Charlotte Checkers minor league hockey team.
And on a less typical evening, there might be an emergency call from a rock star's tour manager, requesting (okay, demanding) Marvin drive to Bobcat Arena to get the singer's contact lens unstuck so he can perform a sold-out concert. "He had already irritated his eye a bit," says Marvin. "He gave me this 'Friend Of' pass. I could go anywhere I wanted, so I stood over at the side of the stage with the families."
It's easy to see that Charlotte, has been good to Marvin.
Primary Caregiver
Between graduating from Ferris and getting to Charlotte, Marvin joined the optometry staff at the University of Miami's world-renowned Bascom Palmer Eye Institute in 1986. There he met and married his wife, Judy, who was a second-year resident at the time. From there the couple moved to San Francisco, where they both worked at a clinic at which Judy had a cornea transplant fellowship. In 1988 the couple moved to Monroe, N.C., and a few months later to Charlotte, where they joined Charlotte Eye Associates, which would eventually merge with another firm to become Horizon Eye Care.
The varied settings in which Marvin has worked - especially in Miami - provided him with a wide range of clinical experience that he brings to bear in his current position.
"The people who came to Bascom Palmer had some very bizarre diseases," says Marvin. "I saw cases of bilateral diffuse uveal melanocytic proliferation [a rare syndrome causing vision loss in patients with systemic carcinoma] or diffuse unilateral subacute neuroretinitis [a progressive parasitic disease], which I haven't seen since I left there."
Marvin was able to make use of his broad experience as soon as he got to North Carolina. At that time, the state was one of only two states that had a therapeutic drug bill for optometry.
"Optometrists basically had the ability to treat glaucoma, inflammatory conditions and so on with drops, pills, ointments - anything short of surgery," Marvin explains. "We have an injectable law going into effect now, which will even further expand the scope of primary care. People come in for a new pair of glasses and say, 'Oh, by the way, my eye has been itching for three months.' I've always been able to treat that person. Today, all 50 states have passed some sort of therapeutic bill for optometrists."
Seeing Double
Marvin attributes much of his success in the vision care field to his study at Ferris' Michigan College of Optometry - and that happened because of his identical twin.
"My brother's roommate, Bruce Bridgewater, went to Ferris for Optometry. I was up at Michigan Tech, where I did my undergraduate biology degree. He kept asking my brother what I was going to do. Finally, my brother got me to drive down and talk to Bruce. I said I was going to Wayne State for a year and study applied immunology since I'd already been accepted. But then I applied to Ferris, and voila. I think it's the best optometry school in the nation.
"I'm convinced that I had the greatest professor on the face of the earth in optics - Mike Keating. He was absolutely phenomenal. The sign of a great teacher is someone who makes you enjoy going to class. It's sort of like watching 24 - if you didn't go to his class all the time, you felt like you missed an episode. There wasn't a professor at MCO I didn't like."
Horizon Eye Care continues to expand. Marvin says HEC currently has 17 staff members and expects that to grow to 19 by next summer. Overall, HEC has more than 150 employees.
"It's a lot of fun. I still enjoy practicing," says Marvin. "They'll have to pry my cold, dead fingers from the phoropter when I finally pass away. It's something different every day."
And the name of the rock star? Marvin can't say - but you can check out Horizon Eye Care (including their privacy statement) at www.horizoneye.com.