Basketball, history, race and transcendence come together in director James Gartner's big-screen debut.
Plenty of directors would be happy to break in to feature films with some small, independent project which, with luck, might get limited distribution after a screening at Sundance, or some lesser-known film festival. In James Gartner's case, both seasoned actors and newcomers to the screen made up the cast of Glory Road.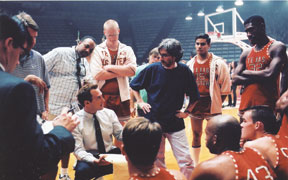 Gartner's first feature film received a little bit more attention than that. Made for Disney with producer Jerry Bruckheimer ­-- one of the most influential people in Hollywood --­ Glory Road opened nationwide to positive reviews in February and topped the box office for its opening weekend.
The film explores the racial tensions surrounding the 1966 championship Texas Western basketball team, which was the first in NCAA Division-I play to start five African-Americans players. While most directors would handle almost any subject to get their first directing credit, it was only the compelling theme of the movie that finally convinced Gartner to take a break from his highly successful career as a commercial director.
"I've done a lot of national commercials over the last 17 or 18 years for products such as Coke, Pepsi, American Express, Visa and a number of other campaigns," Gartner says, speaking from a ski resort in Utah, where he's on vacation between projects. "Jerry Bruckheimer had approached me in the past on projects prior to Glory Road, but I never felt the projects were quite right for me."
It was at Ferris that Gartner began to hone the media skills that would culminate in his being sought out by Bruckheimer ­ as well as some of the nation's largest corporations.
Glorious Days
Gartner's interest in media began early in life. He admits to being obsessed with radio from an early age ­ even putting together a little recording studio in his mother's fruit cellar. He nurtured that passion at Ferris by working at the campus radio station, then known as WFRS. "When I first arrived at Ferris in September of 1968, I went to the radio station, which was then in the student center, and applied immediately ­ literally that first day," recalls Gartner. "I look back on my college days as probably the best years of my life. It was all centered around the radio station. Those were great, glorious days."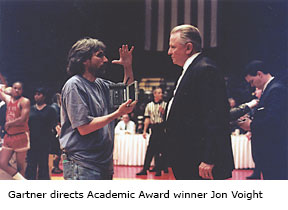 One of Gartner's fondest memories of the University is the "Give a Kid a Christmas and Give a Damn" event that he put together with fellow WFRS staffer Rich Detro. They organized a Christmas program that collected and distributed toys for an area orphanage. "Rich and I did a lot of on-air spots to promote the campaign and really got the whole campus involved."
Gartner became business manager (and later general manager) at WFRS and serviced many of the station's accounts. There was one particularly "tough character" he met in that capacity who taught him a lot about advertising. "I remember Tom Judson, of Judson's Hardware. During the winter he also sold ski equipment to students," says Gartner. "I went there with a bunch of very boring spots I had written. He said, 'This isn't going to appeal to college kids. Go back and write some more.' So I went back and wrote, I think, some very good scripts that I still have filed away somewhere. So I went back with about a dozen scripts, which he separated into two piles. He handed me one of the piles and said, 'Okay, use these.' In the spring I went back and asked him how things went. He said, 'I can't say I sold any more ski equipment, but I've never seen as many students in here as this year.' Then he said, 'As I see it, it's your job to get them in the door and it's my job to sell the equipment.' That's the mission of a good commercial. I use that story to this day."
From WFRS, Gartner went on to work at WBRN in Big Rapids, WLAV in Grand Rapids and WQXI in Atlanta. From there he worked in Los Angeles before settling down in Salt Lake City for almost 15 years, where he worked at an advertising agency, before making his home in Traverse City where he lives today.
Gartner finds that living away from Los Angeles helps him keep perspective. "I live where I live to keep my feet on the ground," says Gartner. "You can get lost so easily living in L.A., and I just didn't want to go there ­ didn't want to go there physically, and didn't want to go there spiritually."
A Winning Team
One of the challenges Gartner faced in his directorial debut was the wide range of background his actors had, both in terms of their basketball skills and their acting. Since Glory Road features so many on-court scenes, it was important for the film's authenticity to have actors with ball-handling skills. "In some cases when I was casting, a player was the priority and other times the actor was the priority," says Gartner.
"Derek Luke, who played Bobby Joe Hill, was an actor above a player. He was in movies like Friday Night Lights and Antwone Fisher. On the other end of the spectrum is Schin Kerr, who played David Lattin. This guy didn't know what a camera was, but he was a professional ball player over in Europe. For those who hadn't played a lot of ball, we had a 'boot camp' about two weeks before we started shooting, where they were drilled all day long by my basketball choreographer, a guy named Mike Fisher."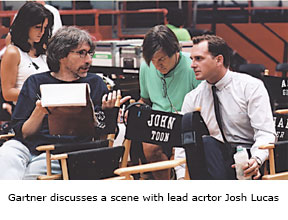 In addition to finding the right combination of basketball and thespian skills, many of the actors also faced the daunting challenge of portraying the emotions of African-Americans living, studying and playing sports during a time when landmark civil rights legislation was just two years old and the fight for equality was a dangerous undertaking.
"Al Shearer [who portrays Nevil Shed] walked out of the bathroom in that scene [in which his character was severely beaten] with this wonderful, haunted look on his face," Gartner says. "I asked him where that came from. He said he felt the guilt for never directly feeling the level of racial hatred of that period that the people who came before him had to deal with."
The Road Ahead
Gartner says that being a commercial director was good preparation for tackling a feature film. "In commercials you face everything. One day you're directing a comedy, the next day you're doing something emotional, then you might do a period piece. They're little 60-second or 30-second movies. In some ways they're much more challenging. In a commercial, every frame counts."
Just as Gartner was in no hurry to rush in to his feature film directorial debut, he's also in no hurry to reprise that role. While he sees many similarities between directing commercials and movies, the big difference is the length of commitment to the project. Glory Road occupied Gartner for almost two years, while with a commercial "you're in and out of it in three weeks," says Gartner. "Right now I'm working on some commercials for Chase Bank. I suspect there's the possibility I'll do another film in the future. I'm reading scripts, but it took me eight years to find this one."
When asked to name his favorite film, Gartner is hesitant to answer. "It's like trying to name your favorite Beatles' song," he says. Still, two of the films at the top of his favorites list are To Kill a Mockingbird and Schindler's List. Like Glory Road, they're films that combine art, authenticity and a social conscious ­ a winning combination worth waiting for.
Photographs by Frank Connor, courtesy of Disney Enterprises, Inc. and Jerry Bruckheimer, Inc.