Colonel Gail Wojtowicz takes Air Force planning "To the stars, through our endeavors."
It's no surprise that security is tight at the Pentagon. There are searches of backpacks, lots of picture IDs hanging from lanyards, and checkpoints whose turnstiles open after scanning a visitor's temporary badge.
It is surprising that one of the first things a visitor sees, after climbing a flight of stairs to its main corridor, is a Dunkin' Donuts. There's also a Baskin Robbins, Subway, a hair salon and a Bank America branch.
"We even have the Department of Motor Vehicles in here so that people can register their cars without having to leave the building," says Colonel Gail Wojtowicz (B'77). After tours of duty from Hawaii to Diego Garcia, Col. Wojtowicz is based out of the world's largest and most famous office building where she is chief of the Air Force's Transformation and Future Concepts division.
The Gee-Whiz Factor
"What we're about is looking at stuff that has military applications 20-plus years from now," explains Wojtowicz, sitting in her office surrounded by mementos and photos of her career and travels. "Those things that we think have potential we'll take a little further down the line and ask the various teams to develop."
Some of the technology in Col. Wojtowicz' sights is on the edge of science fiction, or what she calls "a little gee-whiz," such as directed energy in the form of lasers and high-powered microwaves.
"When we played a war game on this about a year ago, a 3-star general here said he thinks this is the next weapons race," says Wojtowicz. "We have to have our defenses against it. As soon as a sensor locks on to you, your laser has to kill it before it can kill you. These are all split-second things. Also, the whole non-lethal field is pretty interesting right now."
In the nearer term, the Air Force is looking at innovative uses of existing technology. While we hear a lot about outer space, Col. Wojtowicz sees a large potential role for what she terms "near space." Aircraft akin to high-altitude weather balloons could help greatly expand "line-of-sight" communications, which would be invaluable in such mountainous terrain as Afghanistan.
One impetus for TFC's thinking is post-Cold War strategy - especially the challenge of failed states that harbor terrorists. American involvement in Afghanistan is an outcome of that challenge, symbolized most poignantly by the attacks on the World Trade Center and the Pentagon, which is where Col. Wojtowicz was on the morning of Sept. 11, 2001.
From the Ashes
"At that time I was working in the Office of the Secretary of Defense in the policy area,"Wojtowicz recalls. "About 9 in the morning, someone heard about a plane in New York flying into the towers. One of my co-workers said, 'You know, if it happened there, it could happen here.' Within 20 minutes, we heard what sounded like a very loud explosion."
Col. Wojtowicz remembers an orderly evacuation of the building, and medical personnel responding to those at the point where American Airlines Flight 77 hit the southwestern side of the building. For the remainder of the day, she watched the news coverage as so many Americans did, but also witnessed the events at the Pentagon first-hand from her apartment just a block-and-a-half away.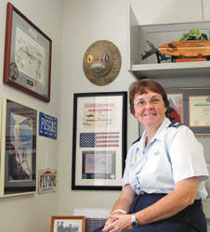 "My boss called me that night and said, 'Gail, we need to let you know that we're all coming to the office tomorrow.' I said, 'Sir? I'm on the 15th floor of my apartment building. Did you know the Pentagon is still on fire?' He says, "Yeah, we're aware of that, but Secretary [of Defense Donald] Rumsfeld wants to make a statement. You work for the Office of the Secretary of Defense, and we need for you to come in to the office.'"
With its main corridor lined by brightly lit shops, and its spotless, labyrinthine warren of offices and meeting rooms, there's no evidence now of the attack. But in the aftermath, Col. Wojtowicz says the atmosphere was surreal.
"It was almost like the soundtrack to a movie where the noise is kind of hushed," she says. "Sunlight fell across the Pentagon parking lot, smoke hung in the air, then there were the helicopters making it sound like a war zone. For the next week probably at least twice a day false alarms caused us to evacuate the building."
Officials vowed to repair and strengthen the Pentagon within one year. In a reconstruction push dubbed the "Phoenix Project," construction workers did just that, and also brought the project in under budget as well as ahead of schedule.
Today, a small memorial room with an adjoining chapel at the site of the impact is the only testament to the events of that day. In the memorial, large black tablets engraved with the names of the 184 people who died stand in dramatic relief to burnished metallic walls. A larger, park-like memorial is currently under development.
A Passion and a Calling
Her current posting at the Pentagon is Wojtowicz' fourth. Previous Washington responsibilities included being senior advisor for analysis and Air Force issues. Col. Wojtowicz also has been commander of the 92nd Operations Support Squadron at Fairchild AFB in Washington state; Rand Fellow in Santa Monica, Calif; and commander of the 715th Air Mobility Operations Group based at Hickam AFB in Hawaii. She has logged more than 2,900 flying hours in the KC-135 Tanker in refueling missions of the SR-71 spy plane for its missions over Russia and Europe, and taken part in Operations Eldorado Canyon, Desert Calm, Enduring Freedom and Iraqi Freedom.
It all started at Ferris.
With three brothers in the Air Force, Col. Wojtowicz wanted to enter the military after high school. At her parents' urging, she agreed to attend college, choosing Ferris to study Commercial Art. Ultimately, she ended up teaching at Ferris when she was just 25. This was at the time of the Iran hostage crisis, which rekindled her determination to pursue a military career.
"I had a student I was counseling at the time in my marketing class, a Vietnam veteran and we chatted about the military," Wojtowicz recalls. "That conversation really made a huge difference. I came in that fall, became an Air Force navigator and have loved most every minute since. I enjoyed teaching, loved working with the students, but this was a passion and a calling. It's a whole lot easier to get out of bed in the morning and come to work when you have that kind of inspiration."
Hers is a career that has traditionally been more open to men than women - although recent attempts by Congress to limit the front-line exposure of women in battle was rebuffed by the services, which points out the increasing importance and integration of women in the military.
However, there are still challenges. While Col. Wojtowicz hasn't been sexually harassed ("I'm not one who puts up with a lot of crap," she says), she has met some resistance.
"There was a planning exercise, so I was going to fly out to the [U.S.S.] Eisenhower for a week to participate," Wojtowicz says. "They just said, sorry, there's no place for women's bathrooms, so you can't come. I had to tell them, 'It's about my mind, not my bladder, guys.'"
Other cultural traditions also present challenges. Col. Wojtowicz was assigned to Riyadh, Saudi Arabia for three months during Desert Storm. "Initially, they were going to send me to Dahran, but AF leaders said there weren't enough men to supervise me out there, and that was something that was important to the Saudi culture."
Chosen to Lead
Although it doesn't appear in her official USAF biography under the heading of "Major Awards and Decorations" next to her Legion of Merit honor, Col. Wojtowicz was nonetheless Ferris State University's Female Athlete of the Year in 1977. She sees a link between that achievement and her successful military career.
"I never saw myself as the best athlete, but I was consistently picked to be the captain of the team," she says. "If you've got any sports background you'll do well in the military, because the military is about teamwork."
Because of her experience in college and traveling softball teams, Wojtowicz played on men's teams both at Mather AFB in California, and also during a Royal Air Force posting in Mildenhall, England.
"There were hardly any other women I knew of who were participating," Wojtowicz recalls. "My guys took particular glee whenever I fanned an opponent. Needless to say, the guys on the other team would razz whoever struck out."
If Wojtowicz makes general in the next year or so (which she calls a "crapshoot"), it will be only the most recent sign of something she has proven for 25 years ­ that she can compete with the big boys.