With national TV coverage and celebrity owners such as Jon Bon Jovi hyping the sport, Arena football is in the spotlight -- and Sparky McEwen is in it, too.
When I was younger I had dreams of winning games, that last-second score, but I would never see myself being in the position of making the throw or the catch or the run," explains Grand Rapids Rampage Head Coach Sparky McEwen. "I always saw myself coaching."
Last fall, the Rampage of the Arena Football League tapped former Bulldog quarterback McEwen to start a new era for the team. Coming off a 1-15 season in 2004, McEwen knows it's going to be a tall order.
So now he's barking out directions to his players who sweat on exercise bikes, pump iron or perform conditioning exercises to get ready for their season opener against the Arizona Rattlers. In a television commercial for the Rampage, McEwen walks into a locker room full of players and writes the word "Excuses" on a blackboard. With two bold strokes of chalk he X's out the word, glares at his players and walks out.
Watching him put his real-life players through their paces, his acting job doesn't look like much of a stretch.
A Student of the Game
Although McEwen says his dream has always been to coach, he has had his fair share of playing time. As quarterback for the Rampage during their inaugural 1998 season, he had a 2-1 record as a starter. He appeared in five games altogether, passing for 477 yards and four touchdowns, while rushing for six scores. In fact, it's his on-field experience that he says has prepared him for his current head coaching position. As a Bulldog, McEwen played seven different positions: quarterback, receiver, corner, safety, kick-off return, punt return and special teams.
"I became a student of the game at Ferris," McEwen says. "Playing multiple positions, you have to sit in on all those meetings, you have to do all that study."
It takes a lot to commit to that much responsibility. It was exactly McEwen's sense of responsibility that landed him at Ferris in the first place. NCAA Division-I Ball State University recruited him as a senior out of Creston High School in Grand Rapids, where he later returned as head coach. But that was not to be.
"My wife, Janelle, was my long-time high-school sweetheart. She ended up pregnant with my son who's now a senior in high school," McEwen explained. "At that time, I felt like I had a huge responsibility in having a child at such a young age. I did not want to run from the fact I was going to be father. I was raised to be a strong man and a responsible person."
Instead of attending BSU, McEwen opted to remain closer to home and attend Ferris. He's never regretted the decision. In addition to the multiple positions he played on the field, he credits the coaching staff at Ferris, especially head coach Jeff Pierce, and former head coach Keith Otterbein, with instilling in him a team-player ethos.
"They asked me to be a team player, and throughout my career I've prided myself in the type of players I want around me ­ team guys."
It's exactly that characteristic he's looking for in another Bulldog who will be key to a Rampage turnaround - receiver Clarence Coleman.
The 12-Month Season
Coming off two seasons with the Buffalo Bills of the National Football League, Coleman is among a growing number of players who are going back and forth between the two leagues.
The Miami native says that the speed of the game is the biggest difference between the NFL and AFL, and says he's ready for the new challenge.
"Sure, it's a lot faster ­ everything happens much quicker. The ball gets to you a lot faster, then you have to be aware of the walls. But if I can come from Florida and be in Big Rapids for four years, I can deal with it!" Coleman says, cooling off between workouts.
Coleman is keenly aware of the hard work it takes to get to the professional level and stay there. For the pro athlete, the season never ends.
"Your off-season isn't really your off-season ­ that's when you do most of your training," Coleman says. "If you train in the off-season and push yourself, then the regular season is all business; you just have to maintain. Even though I was home during the off-season, I was still doing two-a-days so that when I got back to camp I'd be in shape and I could just concentrate on football."
While Coleman is happy to be with the Rampage, he'd like to be part of the stream of players going from Arena Football to the NFL, as well as the other way around.
"If I produce, I should get an opportunity," the former Harlon Hill Trophy finalist says. "If you work hard, good things happen."
Home Town Crowd
As part of the requisite hoopla for the beginning of a new football season, fireworks explode and a blimp hovers over the field. Somehow, the fireworks display and radio-controlled blimp are all the more amazing for being indoors. Members of the Rampage's Rage dance team shake glittery pom-poms in time to recorded music bouncing off the rafters of VanAndel Arena in downtown Grand Rapids. The cheering reaches a crescendo as the Rampage kick-off to the Arizona Rattlers in front of some 10,000 fans as wisps of smoke from the fireworks dance around in a spotlight's beam.
McEwen is on the sideline - right where he wants to be. Coleman, sidelined for at least two weeks with a hamstring injury, is not.
By game's end, most the game statistics are close, but turnovers cost the Rampage as they fall to the Rattler's 58-38.
Despite being a native of Grand Rapids, McEwen downplays any additional pressure that might come with wanting to get a first win under his belt early.
"When I think of pressure, I think of the people who are fighting for our country. That's pressure," McEwen says. "I'm doing something I love to do. It's a bonus to probably be the only guy I know of coaching at the pro level in his home town. It's just a dream come true."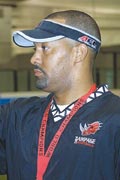 Charles "Sparky" McEwen
2005, Grand Rapids Rampage, Head Coach
2004, Oklahoma City Yard Dawgz, Assistant Head Coach/Offensive Coordinator
2001-03, Grand Rapids Rampage, Offensive Coordinator
2000, Grand Rapids Rampage, Offensive Assistant/Scout
1998, Grand Rapids Rampage, Quarterback
1996-2003, Creston High School, Head Coach
1987-1990, Ferris State University Bulldogs, Starting Quarterback
McEwen was the Rampage's offensive coordinator during the team's three best seasons, which included winning ArenaBowl XV in 2001. Under his direction, the Rampage's offense scored more points than any other team in the American Football League. All told, McEwen's offenses have scored more points and averaged more total offensive yards in the past four seasons than any other in the AFL and arenafootball2. He and his wife, Janelle, have three children: Charles ("Little Sparky"), A.J. and Ja'nae.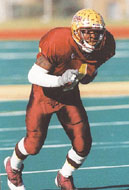 Clarence Coleman
2005, Grand Rapids Rampage
2002-03, Buffalo Bills, Wide Receiver
1998-2001, Ferris State University Bulldogs, Flanker
As a Bulldog, Coleman finished as the NCAA Division II's all-time leading receiver with 323 catches for 4,983 yards. He also closed out his career at Ferris holding 11 career and single-season records. In 2003 Coleman grabbed eight catches for 69 yards in 14 games with the Buffalo Bills.