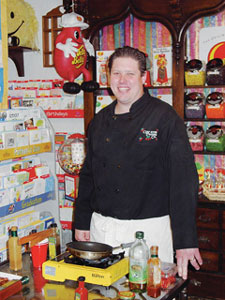 The West Michigan region is among the nation's leaders in the production of cherries. Maybe you've bought a pint or two from a roadside stand and eaten them fresh, or used Michigan cherries as pie filling. But have you ever garnished a sandwich with cherry mustard, or dipped a tortilla chip in raspberry and cherry salsa?
If not, Eric Nittolo (AS'95) wants to expand your palate.
Nittolo owns Carp River Trading Company, based in Traverse City in the heart of cherry country. Carp River produces salsas, finishing sauces, mustards, grill sauces and more. The company began in 1986. Nittolo, who bought CRTC eight years ago, says gourmet sauces help people leading fast-paced lives to make good food without a lot of preparation.
"I want to show people that it's possible to make good food and do it easily," Nittolo explained while performing a demonstration at the Old Pioneer Store and Emporium in downtown Big Rapids. "I'm an ethnic Italian from New York, so food is culture. For me, designing a product no one has ever tried before becomes an obsession. It's a very humbling experience to see people enjoying what you love to create."
During his demonstration, Nittolo made a salad of baby spinach, toasted walnuts and sliced strawberries topped with his Cherry Mustard Balsamic dressing, stir-fried chicken with spiced with Cherry Peanut Ginger Wasabi sauce served over rice, and strips of seared sirloin glazed with Ultimate Cherry Grilling sauce. Hungry yet?