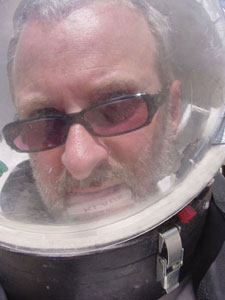 Back in 1974 when he enrolled in General Astronomy I at Ferris, Kurt Klaus probably didn't dream he'd go to Mars - or, at least as close to it as you can get without a spaceship. Last spring, the Boeing geologist took part in a 15-day simulated visit to the red planet as part of an engineering and science team at the Mars Desert Research Station near Hanksville, Utah.
Klaus and his fellow scientists embarked on the simulation to better understand the environmental, engineering, psychological and physiological challenges human expedition crews would face on an actual mission to Mars. Boeing's Space Exploration Systems sponsored Klaus' stint at the research station. SES is leading an effort with Northrop Grumman to design and build the Crew Exploration Vehicle, a key component in NASA's bid to enable astronauts to travel to the moon, Mars and beyond.
The Mars Society, a privately funded group, selected Klaus as part of an 11-member volunteer team that focused on three critical mission elements: crew, mission support and habitat development. Teams are selected for two-week rotations at the research station on a regular basis. "The opportunity to contribute to a vision for human space exploration doesn't come around very often," said Klaus.
Klaus works with Boeing's NASA Systems' Information Technology and Business Development as a science liaison between engineering, business development and the planetary science community. Additionally, he represents Boeing on a NASA community-based forum providing science input for planning and prioritizing Mars exploration activities.
Klaus shares knowledge learned from his team's hard work with peers, students and educators. Working with the Johnson Space Center, Klaus speaks with students about the mission, and recently addressed an American Institute of Aeronautics and Astronautics conference.
AIAA is a professional society that encourages original research, aerospace education, professional development and public interest in the aero and astronautic fields. Klaus is also looking forward to a future Mars Society expedition to Devon Island in the Arctic.